While we at Valuentum tend to prioritize independent thinking over following the herd, we believe investors large and small can benefit from ideas generated outside of their own portfolios-we don't think anyone would be disappointed piggy-backing Warren Buffett into shares of Berkshire Hathaway 25 years ago, for example.
We wanted to profile a stock owned by prominent investors Seth Klarman and David Einhorn. Genworth Financial (NYSE:GNW) is a financial services company engaged in international and domestic mortgage insurance, as well as wealth management. When the US housing market collapsed, Genworth flirted with bankruptcy and since has experienced volatile price performance.
Based on a price-to-book ratio of less than 0.25, a price-to-tangible-book ratio of approximately 0.30, and our fair value range, we think shares of the insurer look inexpensive. However, we're not interested solely in cigar butts, and given Genworth's enormous amount of financial leverage, it probably goes without saying that looking into the company's operations is incredibly important.
One of the most important segments of Genworth's operations is its US mortgage insurance. Mortgage insurance is often required for real estate transactions, but private (non-FHA) insurance is necessary when down payments account for a small percentage of the total sale price. Lenders pay for the insurance, which is simply added into the price of the mortgage. Needless to say, that area has been a sore spot for Genworth during the past few years, as seen below (Image source: Genworth Annual Report).
US Mortgage Insurance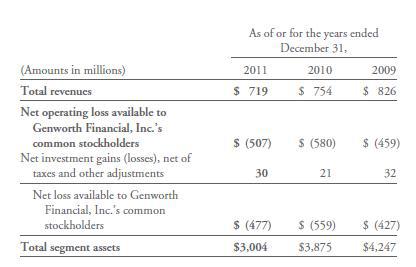 However, losses in the US are moderating, with the firm's net operating loss standing at $106 million through the first 9 months of 2012 (compared to $417 million during the same period a year ago). We think performance will improve as the final waves of defaults work through the system.
But as the US improves, performance in Australia appears to be declining. Operating earnings in the Australian segment-one of Genworth's largest markets-are down more than 40% through the first 9 months of 2012. After the country experienced fantastic price appreciation as its resource economy boomed in the 2000's, prices have stagnated during the past two years. Though the Australian economy doesn't appear to be imploding by any stretch of the imagination, it may be reasonable to assume that losses will increase in this geographical segment for Genworth in coming periods. However, accelerating growth in China could help boost Australia's broader economic fortunes and help Genworth mitigate these housing headwinds to a degree (Image source: Genworth Annual Report).
International Mortgage Insurance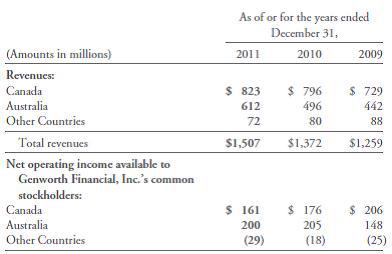 Canada is also a large market for Genworth, which, as in the case of Australia, is viewed by some as exhibiting "bubble-like" characteristics. Profitability in this segment has weakened considerably during the past few years (as shown in the image above), but earnings are roughly flat through the first 9 months of 2012. Mortgage lending practices have been widely-known as being much more conservative in Canada than those in the US prior to the recent Financial Crisis, so even if housing prices slump, we aren't anticipating a US-like collapse.
In addition to mortgage insurance underwriting, Genworth engages in several areas of wealth management including fixed annuities, long-term care insurance, and life insurance. The segment (shown below) has been a definite bright spot during the past few years (Image source: Genworth Annual Report).
Wealth Management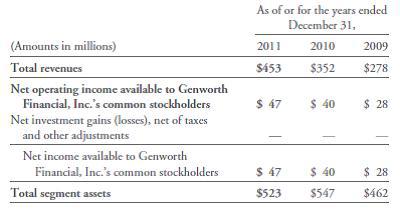 However, the performance of the company's life insurance business hasn't been that great recently. Earnings have fallen well over 50% through the first 9 months of 2012, but management indicated a desire to improve the returns of the business. From the company's third-quarter conference call:
In our U.S. Life Insurance business, our primary focus is on improving the performance of the in-force business through long-term care in-force price actions, life block transactions and refinancing of life reserves. We're also working to improve the new business profile of both life and long-term care by managing portfolio sales, as well as redesigning products to reduce risk, to improve profitability and to maximize capital efficiency. The goal is to provide regular ordinary dividends to the holding company beginning in 2013.
As with any insurance company, re-investing float received from premiums is a key driver of income, but the prevailing low interest rate environment has constrained investment income generation. We think better management of the float will likely be required to help drive the firm toward our intrinsic value estimate, while helping book value grow at a faster pace. However, higher returns will come with higher risk.
Overall, we think Genworth has some hurdles in its path to improving profitability. Both Australia and Canada could be challenging during 2013, but we think the company can offset downward pressure by improving operations in the life insurance segment. Several potential catalysts, including an IPO of the Australian business, could generate some capital for the company to repurchase shares at its deep discount to book value. However, we just can't get comfortable with the firm's risk profile, and while we're keeping a very close eye on its stock, we're not jumping head-first into the shares in our Best Ideas portfolio at this time.
Disclosure: I have no positions in any stocks mentioned, and no plans to initiate any positions within the next 72 hours. I wrote this article myself, and it expresses my own opinions. I am not receiving compensation for it (other than from Seeking Alpha). I have no business relationship with any company whose stock is mentioned in this article.