Tuesday morning, wireless giant Verizon (NYSE:VZ) reported decent fourth quarter results. Verizon's revenue during the fourth quarter was slightly better than consensus estimates, growing 5.7% year-over-year to $30 billion. Earnings, adjusted for special items including a $1.55 per share pension charge, fell 27% year-over-year to $0.38 per share, which was worse than anticipated, even after netting out a $0.07 per share impact attributable to Hurricane Sandy.
Verizon's wireless segment led the way, with service revenues jumping 8.5% year-over-year, to $16 billion, and total segment sales growing 9.5% year-over-year, to $20 billion. Customers continue to migrate to smartphone plans which carry higher prices and superior margins. Retail postpaid ARPA (average revenue per account) jumped 6.6% compared to the same period a year ago, to $146.80. While EBITDA margins fell 80 basis points year-over-year to 41.4% during the fourth quarter, full-year EBITDA margins improved to 46.6%, a 180 basis point increase. The fourth quarter included the iPhone 5 (NASDAQ:AAPL), which we think weighed on margins, as well as the adoption of 4G LTE activated phones that lead customers to consume larger amounts of data. Postpaid churn was roughly flat at 0.95%.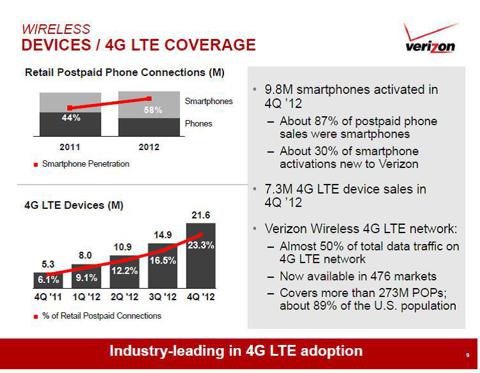 Image Source: Q4 2012 VZ Earnings Presentation
Due to its superior network speeds and fantastic phone lineup, Verizon continues to be a best-in-class wireless provider, while not facing the same margin pressure of lower ARPU/ARPA customers that plague competitors like Sprint (NYSE:S). As users continue to consume more data, Verizon's superior network differentiates its service against competitors, though competition could intensify if the Sprint/Clearwire (CLWR) deal closes. Still, for the time being, Verizon's network prowess makes its product hard to beat.
Verizon's wireline business saw revenues decline 1.5% year-over-year, to $10 billion. However, its consumer business increased 4.1% compared to the prior year as the company's FiOS service grows. Consumers have shown a willingness to pay for the video, Internet and phone package, with FiOS ARPU hovering above $150 (compared to $105 for the total segment). Given the importance of these services and the relative value proposition, we think segment ARPU can continue to grow into 2013. Wireline EBITDA margins remained strong at 21.3% (22.1% excluding the impact of Sandy).
Although Verizon's earnings per share looked lackluster, the company continues to be an absolute cash cow. Operating cash flow for 2012 grew 5.7% year-over-year to $31.5 billion. Free cash flow declined slightly compared to the prior year, but we like the firm's investments to maintain its wireless network leadership. Overall, we continue to like the company's position in the wireless market, and it is our favorite dividend growth name in the telecom space. We are considering adding the company to the portfolio of our Dividend Growth Newsletter (but only if we can acquire it at the right price).
Disclosure: I have no positions in any stocks mentioned, and no plans to initiate any positions within the next 72 hours. I wrote this article myself, and it expresses my own opinions. I am not receiving compensation for it (other than from Seeking Alpha). I have no business relationship with any company whose stock is mentioned in this article.
Additional disclosure: AAPL is included in the portfolio of our Best Ideas Newsletter.