Diversified medical and consumer products firm Johnson & Johnson (NYSE:JNJ) reported solid fourth-quarter results Tuesday morning. Sales jumped 8% year-over-year to $17.6 billion, roughly in-line with consensus expectations. Earnings were slightly better than anticipated, growing 5.3% year-over-year to $1.19 per share-after adjusting for several special items.
Johnson & Johnson's international expansion outpaced its domestic growth, with international sales jumping 8.9% on a reported basis (11.2% excluding currency) while its domestic business grew 6.8%. The acquisition of Synthes was the big needle-mover in the period, as it was responsible for 5.6 percentage points of the total sales increase. For the year, the growth rate of the firm's Medical Devices and Diagnostics' segment exceeded that of other segments, though pharmaceutical results were also strong. Though the firm isn't a pure play on devices and diagnostics like other companies, including Dividend Growth portfolio holding Medtronic (NYSE:MDT), Johnson & Johnson has become the biggest devices and diagnostics firm in the world, as the slide below clearly reveals (Image Source: Q4 2012 JNJ Earnings Presentation).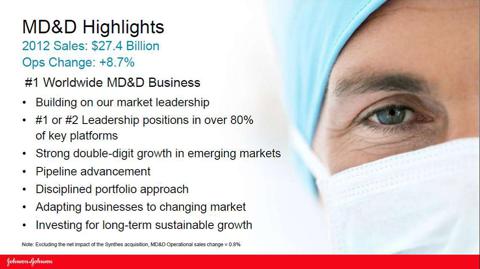 Important demographic trends, including that people are living longer (and sometimes living unhealthier lifestyles), offer powerful tailwinds that we think will help propel future expansion at J&J. Although some may see the drive of the US government to lower healthcare expenditures as an impediment to the firm's growth, we think the rest of the world--primarily fast-growing countries such as China and Brazil-have a long way to go to achieve similar healthcare demands as those of the US.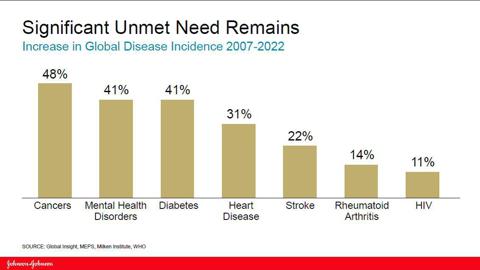 The chart above reveals the projected increase in global disease incidence through 2022, which could help J&J's pharmaceutical business (and its consumer products business, which focuses on healthier alternatives). If such projections prove to be in the ballpark, we think J&J, as well as the entire medical space, will benefit significantly in the years to come. In particular, the company's projections for increased incidence of diabetes (shown below) could mean that big returns are in store for those that cater to this need, including Novo Nordisk (NYSE:NVO)-possibly the best pure play on this growing trend (Image Source: Q4 2012 JNJ Earnings Presentation).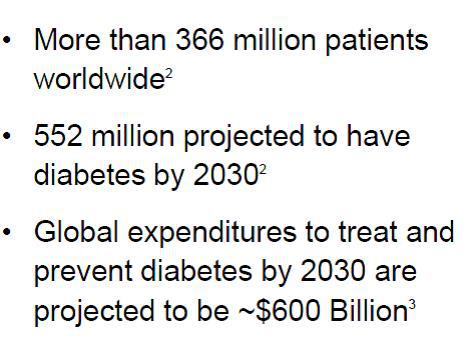 Looking ahead to 2013, J&J provided underwhelming guidance for earnings per share, which it expects to come in the range of $5.35-$5.45 for the year, below consensus expectations of $5.49. Though the Street was clearly looking for better 2013 guidance, we're not disappointed, as we believe the company is well-positioned to benefit from powerful, long-lasting tailwinds with respect to healthcare.
As a result, we plan to hold steady with our J&J position in the portfolio of our Dividend Growth Newsletter. The firm's results and guidance also strengthen our conviction in holding the diversified healthcare ETF-Health Care Sector SPDR (NYSEARCA:XLV)-in our Best Ideas Newsletter portfolio.
Disclosure: I have no positions in any stocks mentioned, and no plans to initiate any positions within the next 72 hours. I wrote this article myself, and it expresses my own opinions. I am not receiving compensation for it (other than from Seeking Alpha). I have no business relationship with any company whose stock is mentioned in this article.
Additional disclosure: JNJ and XLV are included in our actively-managed portfolios.