Should I buy Monster Beverage (NASDAQ:MNST)?
I've always been a heavy user of energy drinks, my favorite being Monster Energy. But should I add it to my investment portfolio? Let's find out.
MNST is down to $47.82 (January 22), a long way from its 52 week high of $83.96, after reports of healthcare issues due to consumption over high-caffeine products. However, I believe the share price will recover for the following reasons;
- Although MNST is a relatively small company (market cap 8.12B as of January 22), they've managed to build a great reputation, for a large part due to sponsorships of sports events, mostly in motorsports. For example, it has been the lead sponsor for the Isle of Man TT Races for many years. They also pay famous musicians and athletes to endorse their product. These include rapper Tech N9ne, Metalcore band Motionless in White, and former Guns and Roses guitarist Slash.
- It may be a buyout target for large companies like Coca-Cola (NYSE:KO) or PepsiCo (NYSE:PEP). With share prices as low as they are now I feel this is a likely scenario.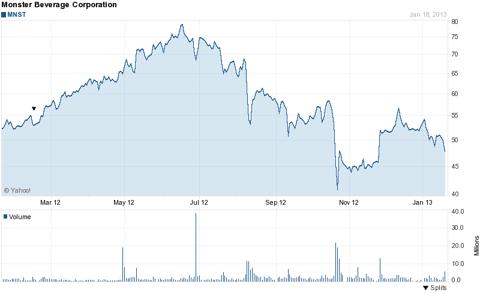 Click to enlarge
- Share price has dropped down from over 80$ to the 45-50$ range in about half a year. (picture from Yahoo Finance)

Click to enlarge
- Earnings per share (EPS) have been rising for the last couple of years. (picture from Dailyfinance.com)
Source : Google Finance
Monster Beverage Corporation, formerly Hansen Natural Corporation, is a holding company. The Company develops, markets, sells and distributes alternative beverage. The Company's category beverages brand names include Monster Energy, Monster Rehab, Monster Energy Extra Strength Nitrous Technology, Java Monster, X-Presso Monster, Worx Energy, Peace Tea, Hansen's, Hansen's Natural Soda, Junior Juice, Blue Sky, Hubert's and Vidration. The Company operates in two segments: Direct Store Delivery (DSD), whose principal products consists of primarily energy drinks, and Warehouse, whose principal products consists of juice based and soda beverages. In December 2011, the Company acquired PRE Beverage's assets which include a line of prebiotic and probiotic digestive wellness ready-to-drink beverages and powder drink mixes, containing specially formulated blends by Jarrow Formulas.
So, should I buy MNST?
I still have a lot of faith in this company, and the recent reduction in share price will allow me to get it a discount. If my budget allows it, I'll take a small position in MNST somewhere in the next couple of weeks, provided the stock price stays at its current low.
Do you have shares in MNST? Why/Why not? Please comment!
Disclosure: I have no positions in any stocks mentioned, but may initiate a long position in MNST over the next 72 hours. I wrote this article myself, and it expresses my own opinions. I am not receiving compensation for it (other than from Seeking Alpha). I have no business relationship with any company whose stock is mentioned in this article.