Big Pharma is back big time. Bristol-Meyers Squibb (NYSE:BMY) and Pfizer (NYSE:PFE), for instance, have outperformed the S&P500, both in the short-run and in the long-run. Should investors buy into the rally?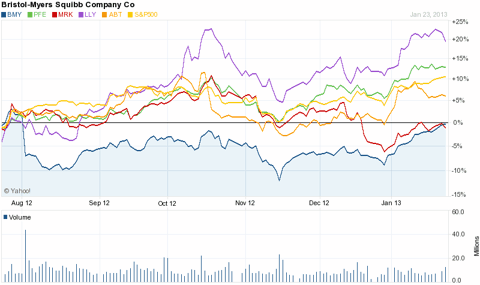 Click to enlarge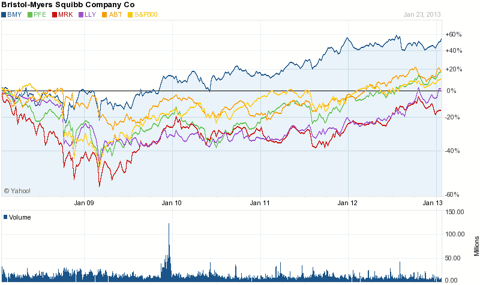 Click to enlarge
Based on the recent earnings reports from Bristol-Meyers-Squibb this morning, the short answer is "yes," especially for long term investors, as the economic and financial fundamentals of the industry are great.
First, Big Pharma stands to benefit from the soaring demand for medicine driven the massive aging of baby boomers that began around 2005, as the first baby boomer cohort crossed the age of 60. This trend is expected to last until 2024, when the last cohort crosses the age of 65. The portion of the world's population that is over 60 is expected to reach 30% by 2025, compared to 20% in 2000.
Second, Big Pharma continues to enjoy hefty profit margins, ranging from 21% to 31%, with quarterly earnings and revenue growth stabilizing after several years of decline-due to blockbuster product expirations.
Third, it pays hefty dividends, ranging from 1.70% to 4.0%, compared to 1.88% for S&P 500 stocks.
Big Pharma financial performance statistics in 2012:
| | | | | | | |
| --- | --- | --- | --- | --- | --- | --- |
| Company | Bristol-Meyers Squibb | Pfizer | Lilly (NYSE:LLY) | Merck (MRK( | Abbot Labs (NYSE:ABT)* | SPY |
| Dividend | 4% | 3.6% | 3.70% | 4.0% | 1.70% | 2.18% |
| Operating Margin | 28.63 | 31.27 | 21.96 | 23.41 | 21.84 | -- |
| Quarterly Earnings Growth | -- | -14.20 | -11.5 | -4.4 | -0.40 | -- |
| Quarterly Revenue Growth | -30.1 | -15.90 | 7.30 | 2.2 | 540.90 | -- |
*New shares
Source: Finance.yahoo.com
Fourth, a strong pipeline of new products, some of which have already gained FDA approval. Pfizer and Bristol Myers Squibb recently announced positive results on their blood thinner drug; Abbott reported positive results for a Hepatitis C Regimen; and Lilly reported positive results for its Metastatic Gastric Cancer drug; and its new Alzheimer's drug.
Fifth, Wall Street is facing a slow growth world market environment that favors non-cyclical over cyclical stocks.
I particularly like Bristol-Myers Squibb , which reported better than expected earnings on Thursday morning-beating analyst estimates both on the top and bottom lines. The company has faced two challenges in recent years. The first challenge came from the expiration of its blockbuster anti-platetet drug Plavix in 2012. The second challenge came from budgetary cuts for Medicaid and Medicare. Yet the stock is trading near its five-year high. I believe it is a buy, for three reasons: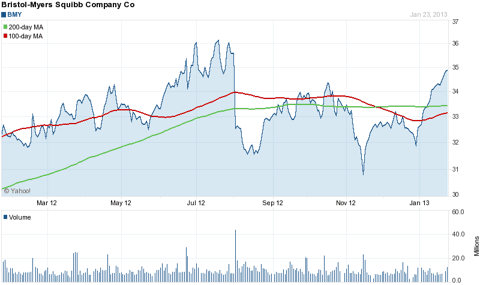 Click to enlarge
1.Strong financials. Hefty operating margins, above its peers, Abbott Laboratories, Eli Lily and Merck.
2. A strong pipeline of new products, some of which have already gained FDA approval.
3. A string of acquisitions that help the company refill its pipeline. Last Saturday, the company paid $5.3 billion for Amylin Pharmaceuticals, the maker of two diabetes drugs, while last February, it acquired Inhibitex.
A Few Words of Caution: Big Pharma is facing a number of headwinds that may derail the recent rally. First, a strong product pipeline doesn't guarantee that these products will get FDA approval. Second, a shortfall from the fiscal cliff, the prospect that the US government cut expenditures across all categories, including healthcare. Third, the oligopolistic nature of the healthcare industry, which has the power to dictate drug prices, and even drop coverage, as was the case with Questcor Pharmaceuticals (QCOR).
The bottom line: Most of the bad news is behind for big pharma stocks. And with interest rates at record low levels, they offer an attractive alternative to money markets and CDs. Hype, however, shouldn't be a substitute for due diligence.
Disclosure: I am long BMY, PFE, LLY, ABT. I wrote this article myself, and it expresses my own opinions. I am not receiving compensation for it (other than from Seeking Alpha). I have no business relationship with any company whose stock is mentioned in this article.