I recently investigated some of the biggest oil companies (by sales) on the U.S. stock market to see if there is still an opportunity to identify an investment that might offer a suitable margin of safety for a value investor. Another criterion for my investigation is a solid dividend yield. My analysis is based on the financial statements of the company for the last five years. The focus is on identifying a trend.
Market
Background information on the Chevron Corporation (NYSE:CVX) can be found on the company website. Since 2009 Chevron's market price has increased from its low of about $60 to the current price of about $115 per share, as is shown in the graph below. That is almost a doubling of the market price in four years' time.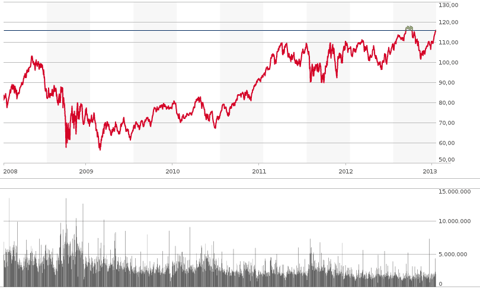 Income Statement
Looking at the income statements from the last five years, as shown in the table below, we can conclude that as of 2009 the company's sales revenue is growing steadily on a year-to-year basis. However it has not reached its per-crisis sales revenue of $275 billion. Also if we expect the quarterly trend to continue, 2012 sales revenue will end up below that of 2011. According to the analyst consensus it will end up around $246 billion, or a decrease of about 3%. For the net income and the EPS (Earnings Per Share) it is the same story. However here the expected decrease is between 5% and 7%. This flattening off in the sales revenue and net income is a cause for concern for all oil companies, where the reserves are decreasing and the hunt has been for new oil and gas for the past couple of years.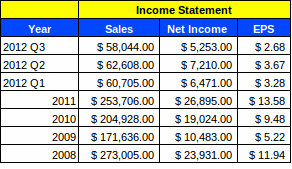 Note: All values in the table are in millions of USD (except for per share items)
Balance Sheet
Chevron has a very solid balance sheet, as is shown in the table below. As for the last reported quarter it has about $21 billion in cash and cash equivalents, or about $10.73 per share, on its books. The equity is growing at a steady pace, on average about 10%. Also the shares issued have been declining the last couple of quarters. Very positive signs for a value investor. The intangibles are about 3.5% of equity, again a good sign.

Note: All values in the table are in millions
Cash Flow
Looking at the cash flow statements over the last five years, as shown in the table below, we can be very positive. Here we find the strong point of this company, and maybe all big oil companies: the ability to generate huge amounts of cash. Operational cash is growing year on year with even the first three quarters in 2012 outperforming 2011. For the last quarter the company's operations produced about $13.30 per share. This is more than the cash it currently has on its books. The company has also been adding to its cash reserves in the last quarters, a sign that we could expect significant investments or purchases in the near future, as also stated in this article. However the company has not disclosed any information about this yet.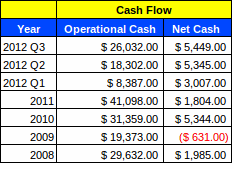 Note: All values in the table are in In millions of USD
Dividend
Currently Chevron is paying a dividend of $0.90 per quarter, or about 3.13% per year. With the dividend taxed at 15%, this is about 2.66% annually. It is not the biggest of the dividend payers between the oil giants but, as can be seen in the table below, it is steadily increasing its dividend year on year. On average about 7% per year, with an increase of more than 13% for 2012.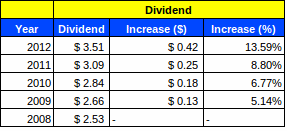 Price ratios
All ratios in this analysis have been compared with the share price of $115 (23/01/2013). The price ratio I prefer is book value. Book value is calculated by dividing equity (asset - liabilities) by the amount of outstanding shares. For the last quarter this is (226,864 - 93,923) / 1,957.18 = $67.92.
In this calculation the intangible assets are included. To be more precise I prefer to only look at the tangible assets in a company, as shown in the table below with the letter T. For this we will subtract the intangible assets from equity, which gives us a net book value of $65.55. Not a big difference in this case. Most of the big oil companies don't carry a lot of intangibles on the books. For instance Exxon Mobil Corporation (NYSE:XOM) has zero intangibles on its books.
Based on the current share price we pay a premium on net book value of about 75.5% for Chevron. Or a Price to Book (P/B) of $115 / $65.55 = 1.75. Compared with Exxon Mobil's P/B of about 2.5 this could offer a suitable margin of safety for a value investor.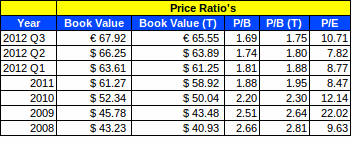 The Price to Earnings (P/E) ratio is calculated by dividing the share price by the EPS for a particular year. In the table the quarters are therefore multiplied by 4 to get an indication for 2012. Normally a P/E ratio below 16 is considered good. I personally do not agree with this figure. For me P/E means the amount of years a company has to produce a similar net income to justify its current share price. So a P/E of 16 in my eyes means 16 years of equal net income. That is a very long time indeed. Over the last five years we see for Chevron an average P/E of about 16, not a positive sign. However for the last couple of quarters, due to the increase in net income, the P/E has been reduced to about 9 for 2012 (as stated before on a quarterly level this is not an exact science). Or in other words the company needs about nine years of similar net income to justify its current share price.
Efficiency ratios
To look at the financial efficiency of the company we will look at the ratios as shown in the table below. Profit margin is an indicator of a company's pricing strategies and how well it controls costs. I consider companies that have a profit margin above 20% to be excellent and between 10% and 20% to be good. Here Chevron has shown a great improvement over the last couple of years. It has one of the best profit margins amongst some of its peers I have researched (XOM, RDS.A, BP and E).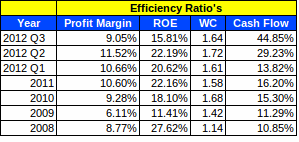 Return on Equity (ROE) is calculated by dividing net income by equity for a full year. For the quarters I have therefore multiplied by 4 to give an indication. As a value investor I consider this one of the most important ratios. It shows how efficient the value (equity) in the company is used to generate a net return. I consider companies with a ROE above 20% to be excellent.
Working Capital (WC) ratio gives a good indication if the company is able to pay off its short-term debt. You get WC by dividing current assets by current liabilities. If WC is higher than 1 it is good, if lower not so. In general if the WC is higher than 2 it again is an indication of inefficiency. The extra cash is doing nothing at that moment. Thus Chevron's working capital is very well managed.
The final indicator used is operational cash flow/sales ratio. Here we divide the operational cash by the sales revenue to see the company's ability to turn sales into cash. The higher the number the better. We see that this ratio is growing year on year, quarter on quarter. A very positive sign and all in all a very well managed company with excellent efficiency ratios.
Conclusion
Based on the analysis it can be concluded that Chevron is slightly overvalued in the marketplace. The current market price of $115 is assuming that Chevron is able to grow its ESP in the coming year. There is no real indication from the presented sales and income figures that it is able to do so at this moment. However the company has a significant amount (21 billion) of cash and cash equivalents on it books. So it may be able to acquire one of its smaller competitors to grow its sales.
Considering its P/B of 1.75, compared with, for instance, Exxon Mobil's 2.5, it could offer a suitable margin of safety for a value investor. This together with a net annual dividend of about 2.66%, which has been growing for 7% per year on average.
Looking at the efficiency ratios we have to conclude that this is a well managed business. Its profit margins are one of the best compared with its peers. ROE is excellent and the amount of sales it is able to turn into cash is very impressive indeed.
Considering all things in combination with the premium of about 75.5% on net book value, I believe that this stock could create an opportunity for a value investor. Especially if, with a bit of good timing, you could get Chevron for a slightly smaller premium and thus higher dividend yield.
Disclosure: I have no positions in any stocks mentioned, but may initiate a long position in CVX over the next 72 hours. I wrote this article myself, and it expresses my own opinions. I am not receiving compensation for it (other than from Seeking Alpha). I have no business relationship with any company whose stock is mentioned in this article.