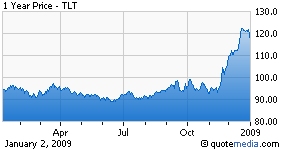 While many investment bubbles popped in 2008, U.S. Treasuries could be the next big bubble to burst, Barron's Andrew Bary says. Thanks to fears over the global economy and stoked by the credit crisis, investors piled into Treasuries in 2008, driving yields to levels not seen in half a century. The almost unstoppable rally hasn't left much wiggle room, and prices could fall sharply if yields do rise in 2009. Among the risks: stronger-than-expected economic growth; a weaker U.S. dollar; any sign of inflation; and a rise in gold prices.
The bear market may have begun Wednesday, Bary warns, when prices of 30-year bonds tumbled 3%, and shed another 3% Friday. Some savvy bond managers, including Pimco's (AZ) Mohamed El-Erian, share the sentiment: "Get out of Treasuries," he warns, "they are very, very expensive." The 30-year bond, which now yields 2.82%, could drop 25% if the yield went back up to 4.35% - where it stood as recently as November.
On the other hand, fixed-income investors will find no shortage of opportunities in other corners of the bond market. Bary likes:
Junk - with an average yield of about 20% (vs. 9% a year ago), investors could do quite well even amid growing default rates. (ETF: iShares iBoxx $ High-Yield Corporate Bond (HYG))
Munis - AAA munis now yield 5-6% - about double that of Treasuries (and tax free!).
Long term preferreds - carry an average yield of 8%, 5.5% more than Treasuries, and are taxed at a lower rate (Bary mentions Bank of America (BAC) and Morgan Stanley (MS)).
"The only part of the bond market that you need to be bearish on is Treasuries," Jim Paulsen of Wells Capital says. "The other sectors are attractively priced."
So who's on the other side of the trade? Merrill Lynch economist David Rosenberg, who correctly called the housing bubble, says imploding household net worth and 3% GDP contraction could make the rally linger through 2009 or even into 2010. "Sustained negative wealth effects from the slide in housing and equity prices will reinforce the uptrend in the personal saving rate, creating a highly deflationary environment as job losses mount and push the unemployment rate up toward 8.5% in the coming year," he writes. Bary thinks Rosenberg's outlook is overly grim.
::::::::::::::::::
Investors looking to short the U.S. Treasury market can use ETFs, including the Ultrashort Lehman 20+Year Treasury ProShares (TBT) and the smaller Ultrashort Lehman 7-10 Year Treasury ProShares (PST) but also simply selling short any of iShares' government bond family, including (from short-end to long-end) SHV, SHY, IEI, IEF, TLH AND TLT.
Sean Hyman says the time has come to take profits on bonds - and move into gold.
Larry MacDonald is worried investors looking to short the bond bubble may be jumping the gun. He says watching from the sidelines might be the best bet, for now.
John Lounsbury takes a telling look at how the yet-to-pop Treasuries bubble shapes up compared to other recent burst bubbles.