I recently got into a discussion with a commentator here on Seeking Alpha, during which I cited Tessco (NASDAQ:TESS) as an example of a company that had a history of creating shareholder value by means of buybacks. He challenged my case, which got me thinking, and the result is this article. It examines the company's history of buybacks and attempts to form conclusions as to the effect on shareholder value. There are two main sections, the first analyzes the buybacks from 2004 to the present, the second presents my opinion on the company.
I. Buyback Analysis
click to enlarge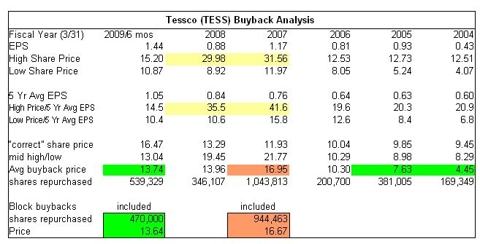 Click to enlarge
Tessco's fiscal year ends 3/31, so they are currently in FY 2009. The company did a 3/2 split (stock dividend) during the period shown, and all figures are split adjusted and arranged by fiscal year. As a starting point, I compare the price the company paid to buy back shares to two possible yardsticks, a mid high/low price for the year, or a "correct" price which I computed as a multiple of 5 year average EPS. I use 5 year average EPS because if smooths over the year to year variations, which can be sizable for an electronics distributor such as TESS. In this case the multiple is 15.74, not too bad when applied to an average for a growing company.
As can be seen, the sun was shining brightly on Tessco in FY 2007 and 2008, and the shares traded at a high of 41.6 X 5 Year Average EPS. Looking at the buybacks, 2004 and 2005 look good – the company bought the shares back at prices well below the average market price and will below an objective standard of value. Again, buybacks for the first 6 months of FY 2009 don't look too bad.
The debatable buybacks occurred during FY 2007, especially the large block of shares. The company used its credit line to make the purchase, securing covenant waivers from its lenders in order to get it done. From a logical point of view, if the selling party had put 1 million shares onto the open market, at a time when there were approximately 6 million outstanding, I would question whether shares would have climbed up as high as the 31.56 high. The price paid, when compared to market prices during that year and the next, is less than the mid high/low so the transaction makes sense from that point of view.
At the time, I had a large, low cost position, and felt management had done very well buying back the shares, as I liquidated my holdings at a substantial profit. That profit might not have been available if the block of a million had gone out onto the open market. Today, with shares trading at 9.xx, the 2007 price paid of 16.67 seems high. Going forward, I just bought some shares at 9.37 and if management continues to buy shares at today's prices it will probably enhance the value of my holdings.
II. Opinion on Tessco
Overview – the company describes itself as: "a leading provider of integrated product and supply chain solutions to the professionals that design, build, run, maintain and use wireless, mobile, fixed and in-building systems." There are three segments: (1) network infrastructure; (2) mobile devices and accessories; and (3) installation, test and maintenance. I see an electronics distributor with strength in wireless products.
Growth & Margins – 5 year revenue growth averages out to 9.4% per year. Like many distributors, margins are thin. Net income as a percent of revenue has averaged 1.27% over the past 6 years, but stands at 1.6% for the past four quarters. The attraction in cases of this kind is that if management can increase margins even by a few basis points the effect on EPS can be dramatic. The risk is that there is little margin for error and for example credit losses on accounts receivable could loom large because of the razor thin margins.
Management has margins firmly and continuously in mind. Efforts to increase them include the use of house brand merchandise (approximately 10%) and a strategy of competing on service/availability as compared to price. As noted, margins have improved lately, suggesting management's efforts are bearing fruit.
Customer Concentration - an issue for Tessco is that its business from time to time develops concentrations with large customers: currently that would be AT&T Mobility at 25%. Nokia checks in at 7%. A few years ago it was T-mobile: when that relationship ended there was considerable concern as to how Tessco would adjust to the reduced sales and keep expenses in line. CEO Rob Barnhill said at the time that the plan was to "raise the bridge or lower the water." The company managed through the transition successfully, creating a good buying opportunity.
Outlook and Conference Call – I browsed the transcript on Seeking Alpha. There were only two analysts on the call, about on par with past calls. The company is not heavily followed, potentially an advantage for a small investor who is willing to do the work. Questioning focused on margins, key customers, industry trends, inventory and outlook. Barnhill is confident in the face of difficult conditions and reaffirmed full year guidance at 1.35 - 1.50 per share. The call took place before the bottom fell out, so the outlook and guidance could be viewed as dated.
I am not much of a student of trends in the electronics and communication industry, but I think wireless is bound to be a growing field and I consider management capable in positioning the company as the situation evolves.
Barnhill stated that inventory is up somewhat based on a strategy of improving service by having product available on the shelf. Not something you really want to hear ahead of a slowdown: however, as I recall this question has come up on previous conference calls. My impression over the time I have followed the company is that inventory is managed along lines that are supportive of sales and cost-effective.
Target Price – at Friday's close of 9.27, Tessco trades at a TTM P/E of 6.5. Based on 5 year average EPS and my belief that management will respond effectively to coming challenges, my target price is 18 within two years. Tangible book value is 10.44 per share, providing margin of security. Over the past 7 years, the company has always traded at 1.4 X tangible book or better sometime during the year, and is now at .9 on that metric.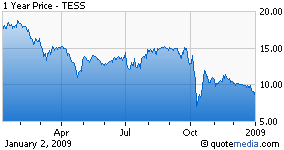 More buybacks? - On 12/3/08 Tessco negotiated a modification to its 50 million dollar line of credit, increasing the permitted share repurchases from 15 million to 25 million. Given their history of using the credit line to buy back shares, and noting that the shares seem attractively priced, quite possibly more buybacks are planned. If these occur (or have already occurred) at prices less than tangible book, shareholder value would definitely be enhanced.
Debt – as of 9/28/08, long-term debt, including the current portion, together borrowings under the line of credit, represented 13.6% of shareholder's equity. The line of credit had about 2 million (out of 50) used. This is a low debt position with good credit availability.
Disclosure: I am long shares of TESS and plan to monitor and accumulate.