Experience in biotech investing teaches us that it is a probability game if nothing else. As a company advances a drug candidate through clinical stages, the probability of success (FDA approval) increases and thus concomitantly its speculative value.
So it is no wonder that we have been scratching our heads over the current valuation of Cyclacel Pharmaceuticals (NASDAQ:CYCC), whose lead drug candidate, Sapacitabine, is in the most advanced stages of clinical development under an SPA with the FDA in treating patients with high-risk AML, and with no fair market valuation assigned to it.
The company's current market capitalization is a paltry $50 million with $20 million in cash. Based on sum-of-parts analysis (see tables below), we believe Cyclacel is at least worth a market cap of $250 million, which makes the company one of the most undervalued biotech companies and attractive value propositions on the Street today.
Sapacitabine: the next big drug that is about to shift the paradigm in treatment of AML, MDS
The most recent data on the Seamless trial at last year's ASH conference provided further support and promise of the drug's potential efficacy. The multicenter study, initiated in February 2011, has been enrolling patients on pace and is expected to present positive top-line data in 2H13 allowing for a mid-2014 NDA filing and an early 2015 approval. Having been designed under an SPA agreement with the FDA, we believe regulatory risks of the Seamless trial have been somewhat mitigated. The positive update on enrollment and most recent interim data has since brought Cyclacel back onto the main stage, but not without garnering skeptics.
Since ASH, the stock price has been trading in what we can only describe as a classic game between longs and shorts. From October 2012 to today, short interest rose from 28,000 to 1.5 million shares. In December 2012, the volume in option activity of thousands of contracts trading at almost no premium for the January and April 2013 expirations suggest a coordinated effort by the same short sellers (manipulators) to suppress the price of the stock. As hard as they had tried to break the stock below the $5 threshold, the stock has held, implying an accumulation of shares by fundamental investors who better understand the data and are awaiting the opportunity to drive the stock price to its fair value.
Moreover, the announcement in October 2012 of updated data from an on-going, multicenter, Phase II randomized trial of sapacitabine in older patients with intermediate-2 or high-risk MDS after treatment failure of front-line hypomethylating agents, such as azacitadine (Vidaza) and/or decitabine (Dacogen), adds yet another interesting thread to the drug's value proposition.
The most recent data reported median overall survival to date of approximately 8 months. And median overall survival for 41 out of 63 patients with 10% or more blasts in their bone marrow of approximately 9 months. "MDS patients have a poor outcome after treatment failures with front-line therapies. The updated survival data support previously reported data indicating that sapacitabine is active in this patient population," said Hagop Kantarjian, M.D., Chairman & Professor, Department of Leukemia, The University of Texas MD Anderson Cancer Center and principal investigator for the study. "Median survival for patients with intermediate-2 or high-risk MDS following treatment failures of hypomethylating agents is 4.3 to 5.6 months. We urgently need effective therapies for these patients."
According to Dr. Garcia-Manero, "the updated survival data reported from this sapacitabine study in MDS patients after treatment failures of hypomethylating agents are impressive in our experience…If they are reproduced in subsequent studies, sapacitabine may become a new treatment standard for older patients."
The urgency to find effective treatments in both AML and MDS remains. While current therapies have been approved for the treatment of high-risk MDS over the past decade, the benefits have proven to be marginal at best. And not since 1969 has there been a new drug to reach frontline treatment of AML. Sapacitabine has the blockbuster potential to be used in both a frontline setting for treatment of patients with AML and in a secondary setting for patients with high-risk MDS, which according to our sum-of-parts analysis would give the company a ~$250 million market cap, and an estimated 18-month share price of ~$27.00.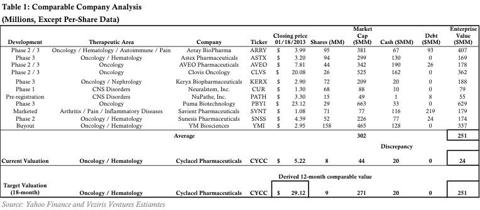 The Seamless Trial - AML
Any questions around the design of the trial were thoroughly answered by CEO Spiro Rombotis in his investor call at the BIO Investor Forum in October 2012. In the context of treating the illness, it is most significant to note that age matters in these studies; the older patients get the less of a chance of survival. Therefore, it is perilous to compare data from Seamless with that of other studies that may be in younger patients (i.e. Decitabine in Europe).
What we do know about the population of 70 plus is that for them the current standard of care, intensive chemotherapy, or low dose, does not provide a meaningful improvement in life beyond a six-month threshold; the median survival in the older population is about 4.6 months. And should these patients not receive treatment, then the survival is expected to be around 3.6 months. Both facts provide a meaningful benchmark for the control arm of this disease should patients be given best supportive care.
The Seamless phase 3 trial, hence, was designed to show improved efficacy in extending overall survival in patients with de novo or secondary AML with decitabine as control since they are unfit for chemotherapy; in essence, to keep AML in check for as long as possible and demonstrate the promise to convert the disease into a chronic paradigm. The on-going study doses 300mg of Sapacitabine orally BID for three days a week for two weeks in alternating cycles.
According to the study published in The Lancet on October 15, 2012, the Seamless trial, guided under an SPA agreement with the FDA, was optimally designed to show its synergistic potential in combination with hypomethylating agents, which have shown encouraging results with low-treatment-associated mortality and good survival, despite the low rate of objective CRs.
Moreover, overall survival was selected as the trials primary endpoint based on findings that suggest "survival in patients with AML could be improved by controlling the disease with low-intensity therapies that have favorable safety profiles rather than by aiming for a higher proportion of patients to achieve CR with intensive, toxic therapy."
In September 2012, Astex received regulatory approval from the European Commission to market Dacogen in Europe based on a phase 3 trial that compared decitabine to patients' choice with physician advice of either supportive care or low-dose cytarabine (Ara-C). The median overall survival in patients taking decitabine (7.7 months for decitabine patients, compared to 5.0 month for patients in the comparator arm; HR=0.85, 95 percent CI: 0.69 to 1.04, p=1.08).
An updated analysis of mature survival data confirmed this strong trend for improved overall survival and provided clinically significant evidence of the efficacy of decitabine (HR=0.82; 95 percent CI: 0.68 to 0.99; nominal p=0.037). While EU regulators took a broader view of Dacogen's clinical benefit in AML mostly likely because there was no approved treatment for patients at the time, the FDA sent Astex a Complete Response Letter on March 6, 2012 based on the opinion that the study had not reached statistical significance at the protocol defined endpoint, and that all "alpha" (statistical power) had been spent.
Understanding the FDA
With the Dacogen trial in mind, the Seamless study set out to enroll 485 patients, however, in patients ≥70 years of age in a randomized, open-label setting. While still in the early days of the study, there are some indicators that signal promise for the drug. From the non-control arm of the study, which is Sapacitabine-Decitabine alternate cycle, the median overall survival is about 8.5 months. Whereas in the same population in the Decitabine alone control arm in the Seamless study, it is 6.3 months. Another hint of early efficacy, which hematologists use, is the rate of death at 60 days.
In a disease where patients are given nothing, the median overall survival is three months. The significant drop in 60-day mortality demonstrates the efficacy of an alternating dose schedule that allows the cells to remain in check and prolongs survival. Another important indicator will come only toward the end of the trial where survival data will be most meaningful. It is flawed to focus on the separation between the curves on the Kaplan-Meier graph at the 50% survival level. The approval of Tarceva for the treatment of pancreatic cancer is case in point.
The Kapler-Meier curve for the phase 3 trial that gained FDA approval for Tarceva shows a consistent separation through to the tail-end of the curve, exhibiting statistically significant survival benefit. Likewise, investors should direct their focus on the tail-end of the curve where it will be clear to see a durable maintenance effect; whether Sapacitabine and Decitabine together can beat Decitabine alone. The Dacogen trial that failed in the US did so because the p value was 0.1079 at the prespecified analysis level (higher than 0.05 required for success) despite the separation, but reached 0.037 at the end of the study and enough to garner approval for the drug in Europe.
Valuing The History Of Oncology
The biggest question for investors, however, surrounds the details of the Seamless trial design; more specifically, the decision to dose patients with Dacogen not having done so in a previous phase 2 trial and to do so on an alternating schedule. Investors have expressed their views that the Seamless study carries additional risk not knowing the synergistic effects of Sapacitabine in combination with Dacogen. The history of oncology, however, would suggest that such concerns are unfounded and investors solely focused on standards of clinical trials in other indications clearly misunderstand the landscape of AML, which has no trial precedence as a standard to compare.
Not to mention, the vast heterogeneity and polymorphic nature of the disease that has made it tougher to target the disease. Before Avastin began its randomized phase 3 trial in metastatic breast cancer against active control, it ran a phase 2 dose escalation study that provided data to support a combination, active-controlled phase 3 trial. If the reason why investors are shying away from Cyclacel is because of the risk in trial design then Cyclacel presents an even more attractive investment opportunity based on the discrepancy between the perceived value proposition and the actual value proposition of the company in light of our analysis.
Sapacitabine - MDS
The need for a relevant control arm to substantiate efficacy has been the pain point for many trying to unlock the value of the data from the trial design. Spiro has aptly pointed out that since most of the patients drop out after three months there is no feasible way of achieving meaningful six-month plus survival data. In addition, running a phase 2 trial against an active control presents an ethical conflict for doctors that puts patients at risk.
Conducting an active-controlled study would also run the risk of enrolling patients who are with the genotype lasting more than one year on Vidaza (30% population), which would skew data in not showing meaningful survival benefit. It has been demonstrated that HMA therapies in MDS do not show a meaningful benefit. And despite the fact that the majority of the patient population in the phase 2 study was double refractory (25%) and triple refractory (36%), Sapacitabine still doubled overall survival. The bigger picture for Sapacitabine focuses on tapping into the High-Risk MDS market. So far, the data presented in October has made the drug a serious asset for Big Pharma to acquire.
Investment Opportunity
Over the past forty years, the science community has yet to develop an approved drug treatment for patients with AML. Current standard of care therapies for refractory patients or patients who are not eligible for intensive induction chemotherapy include Vidaza and Dacogen, which are drugs currently approved only for MDS, but are used in an off-label setting, and offer minimal survival benefits. Conservative estimates see the current combined market opportunity for an approved drug in AML and MDS to be upwards of $2 billion. Should Sapacitabine be the first approved drug in AML, it would then quickly absorb the entire AML market opportunity and take much of the market share away from Vidaza and Dacogen in MDS.
The progress of the Seamless trial and recent data from the Phase II trial in MDS give us confidence that Sapacitabine has a considerable advantage over the competition in accordance with the opinions of Dr. Kantarjian and Dr. Garcia-Manero, renowned doctors in hematology. The competitive landscape includes Sunesis Pharmaceuticals' (NASDAQ:SNSS) Phase III candidate Vosaroxin, Celgene's (NASDAQ:CELG) Phase III trial with Vidaza, Astex Pharmaceuticals' Phase I-II drug SGI-110 DNMT inhibitor (NASDAQ:ASTX), and privately-held Ambit Biosciences' Quizartinib currently in Phase 2 clinical studies.
The discrepancy surrounding Cyclacel's valuation lies around the fact that Cyclacel is considered by investors to be in a compromised financial position whereby it will have to raise additional capital before it can complete the Seamless trial and submit an NDA by 2014. The perception around cash shortage is what investors see as the proverbial rub.
Seasoned biotech analyst and investor John McCamant recently gave an interview pin-pointing the attractiveness of Cylacel versus a company like Astex while also explaining the discrepancy in valuation:
We can talk about share prices and all these other numbers, but [Cyclacel's] market cap really dials us in. For a phase 3 company, that's an unusual valuation. The recent price rise probably increases the odds that the company can go out and raise some money. But Wall Street is skeptical when it comes to unpartnered small biotech companies. It is hard for these types of companies to gain traction or get any visibility. At the end of the day, if Cyclacel keeps doing its job and delivering good data, the valuation will take care of itself.
With $20 million in cash, the recent $20 million common stock purchase agreement with Aspire Capital Fund, and the announcement of $1.9 million Translational Medicine Grant Award from the UK Biomedical Catalyst to advance development of CYC065, and additional UK tax credits, Cyclacel will have enough cash to see its operations through the end of 2014 despite investor consensus otherwise.
In addition, the positive data out of the Phase II MDS study has garnered the company due attention from potential partners. Certain near-term catalysts, which include Seamless patient enrollment progress update, updated survival data from Seamless in 2H13, DSMB interim analysis, and MDS registration pathway meeting with the FDA, could well propel the stock price to much higher levels in the near term.
With enough cash to last the company an additional three years of development, Cyclacel will become a more attractive investment opportunity for investors who now see the issue of cash as risk-mitigated.
Disclosure: I am long CYCC. I wrote this article myself, and it expresses my own opinions. I am not receiving compensation for it (other than from Seeking Alpha). I have no business relationship with any company whose stock is mentioned in this article.