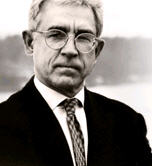 Barron's interviews Laszlo Birinyi, founder and president of Birinyi Associates. An old-timer, Birinyi notes that many once-useful indicators are no longer of much use, including odd-lots (used to be an indicator of what retail investors were doing), and mutual fund cash holdings (funds are so large that an 8-10% cash position is not making a market bet). One indicator he does like is to track the number of stocks down 50% from their highs: At the recent bottom, 322 of the S&P 500 stocks were down 50% from a year ago - an "extremely oversold condition" when you consider that the previous high was 130 in July 2002.
Last month, Birinyi published a note titled S&P 750: The Bottom. Barron's asks him what led him to that conclusion:
A few things caught our eye. One was that we started to have some very bad days in November but the market still recovered. On Dec. 5, the unemployment news was really terrible and yet the market recovered that day, with the S&P closing up 3.7%. To us, those are signs of a positive market where people are starting to look beyond the bad news.
He also notes that the greatest decline in a bear market is at its end: 70% of the recent decline occurred in its last quartile.
Conventional wisdom says small-caps lead the way in a turnaround, but Birinyi says his research doesn't bear this out. He's also not enthused about growth stocks, noting past glamor names like IBM (NYSE:IBM) no longer command the attention they once did.
Likening investing to a football game, Birinyi says we're in the fourth quarter - and behind by four points. "You are not going to complete a 60-yard pass. So you have got to go for six 10-yarders or whatever." The idea for now, he says, is to take small bites out of fleeting opportunities. Stocks he likes include GE (NYSE:GE) (can't beat an 8% dividend), Amazon.com (NASDAQ:AMZN) (Kindle rocks), and Hess (NYSE:HES) (it's a solid company - buy low and sell high).