More positive reports this week on commercial real estate construction from the American Institute of Architects and firming/rising residential home prices from FHFA: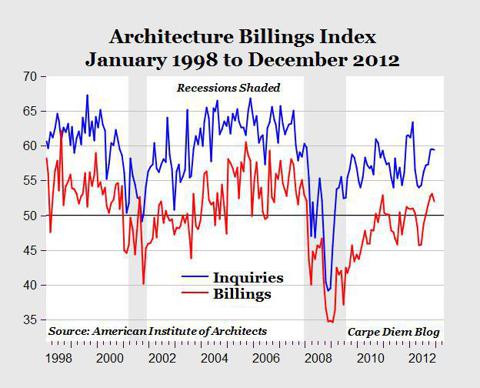 1. The American Institute of Architects reported this week that:
Business conditions at architecture firms continue to improve. As a leading economic indicator of construction activity, the Architecture Billings Index (NYSE:ABI) reflects the approximate nine to twelve month lag time between architecture billings and construction spending. The American Institute of Architects (NYSEARCA:AIA) reported the December ABI score was 52.0, down from the mark of 53.2 in November (see red line in chart). This score reflects an increase in demand for design services (any score above 50 indicates an increase in billings). The new projects inquiry index was 59.4, down slightly from the 59.6 mark of the previous month (see blue line).

'While it's not an across the board recovery, we are hearing a much more positive outlook in terms of demand for design services,' said AIA Chief Economist, Kermit Baker. 'Moving into 2013 we are expecting this trend to continue and conditions improve at a slow and steady rate. That said, we remain concerned that continued uncertainty over the outcomes of budget sequestration and the debt ceiling could impact further economic growth.'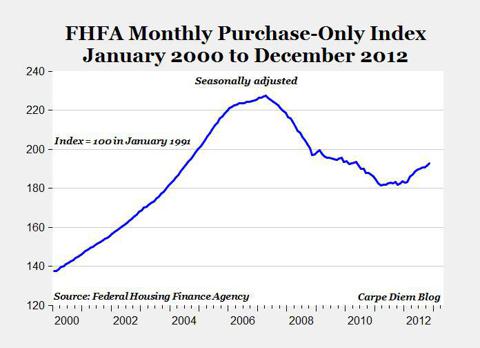 2. The Federal Housing Finance Agency (FHFA) reported yesterday on its House Price Index (HPI) for November, based on the purchase prices of houses involving conforming, conventional mortgages purchased or securitized by Fannie Mae or Freddie Mac. The FHFA index of national home prices is more comprehensive than the 10 and 20 major metro areas that determine the two Case-Shiller indexes, and includes both small cities and major cities like Houston (not one of the 20 metro areas in Case-Shiller). Like the Case-Shiller indices, the HPI is a repeat-sales index, meaning that it measures average price changes in repeat sales or refinancings on the same single-family properties. Here are some highlights of today's FHFA house price report:
November home prices increased by 0.6% on a seasonally adjusted basis compared to October, posting the tenth back-to-back monthly increase in home prices starting in February. The last time there was a streak of 10 consecutive monthly increases in the HPI was back in early 2006, more than six years ago. The November HPI at 192.84 was the highest level for home prices since May 2010, more than two years ago (see chart above).
The November HPI (seasonally adjusted) was 5.64% above its year-ago level following a 5.54% year-over-year increase in October. The back-to-back increases in the HPI above 5% in October and November marked the first time that home prices have increased more than 5% for two consecutive months since the summer of 2006. Further, the year-over-year increase in the November HPI was the 10th consecutive monthly increase in the HPI from its year ago level. The last time that occurred was more than five years ago in 2007.
This is more evidence this week of a U.S. housing recovery (residential and commercial), with signs that commercial construction will continue to improve this year based on the ongoing gains in the ABI, a leading indicator of nonresidential construction activity over the next six to nine months.