A while ago I cautioned and warned all those who have sold Research In Motion's stock (RIMM) short to take the opportunity when the stock corrected from $15 to $12 to cover, because they will not get a second chance (please consider: Research In Motion Short Sellers Will Not Get A Second Chance).
But as I wrote a few days ago (please consider: Research In Motion - Possible $56 Stock Price In 12 Months?), not only did short sellers not cover, but added to their short positions while the stock has kept going up and up. To date, since my original recommendation the stock is up about 150% and short sellers have kept shorting.
Now I don't know if short sellers have covered since the begging of the year, but based on past behavior, I would probably say they have not covered anything.
So the question is, if and when they have to cover, how high can the stock go? The answer is a lot. Below is today's intra-day chart and as you can see the stock is still going up, in spite of the fact that Apple (NASDAQ:AAPL) and Nokia (NYSE:NOK) are getting killed, both for different reasons.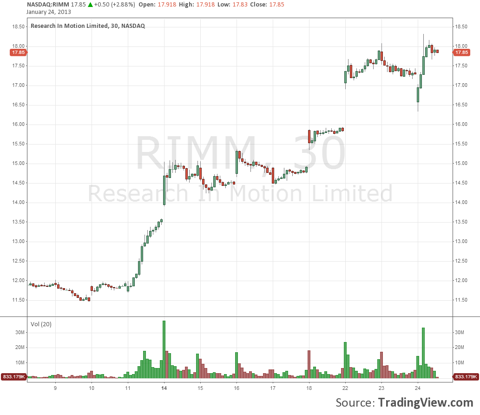 And just when you thought that the news was not bad enough for RIMM short sellers, out of the blue Reuters reports that Lenovo, the Chinese PC manufacturer, said that it has already talked to RIMM about the possibility to buy the company to boost its mobile business:
"We are looking at all opportunities -- RIM and many others," Lenovo Chief Financial Officer Wong Wai Ming told Bloomberg in an interview at the World Economic Forum's annual meeting in Davos, Switzerland. "We'll have no hesitation if the right opportunity comes along that could benefit us."

Wong said Lenovo has spoken to RIM and its bankers about various combinations or strategic ventures, the Bloomberg report said. Earlier this week, RIM shares surged to a 13-month high after its chief executive, Thorsten Heins, said RIM might consider strategic alliances with other companies, including a possible sale of its handset business, following next week's launch of devices powered by RIM's new BlackBerry 10 operating system.
My take: even if Lenovo does not take the company over, it is probably in talks with RIMM to license the company's software and make BB10 devices. And an OEM agreement between RIMM and Lenovo means BB10 handsets will probably be sold all over China and the world. And if short sellers don't know what that means, it is positive for the company.
So the question remains, with all this news out on RIMM, that I see as very bullish, when are short sellers going to cover? I don't know, but if you see a spike to the tune of 30% to the upside one of these days, it will probably be them.
Disclosure: I have no positions in any stocks mentioned, and no plans to initiate any positions within the next 72 hours. I wrote this article myself, and it expresses my own opinions. I am not receiving compensation for it (other than from Seeking Alpha). I have no business relationship with any company whose stock is mentioned in this article.