Santa may have skipped Wall Street this year but (Saint) Obama's stimulus package, which seems to be growing like Topsy, has brought some New Year's cheer. It now seems certain that the new deal will include tax breaks / cuts of up to $310bn (out of a total package of $775-850bn). As any competent economist will tell you, in theory, these have a greater multiplier (bang for your buck) impact on the economy. This of course makes it far easier for Republicans to swallow. GM (NYSE:GM) and Ford (NYSE:F) were the big winners Friday, up 14% and 7.4% respectively. So round one to the optimists as risk appetite has returned. But remember what 2008 taught us: markets can be very fickle.
Today's Market Moving Stories
Deflation has been defined as public enemy number 1 for 2009 by San Francisco Fed President Janet Yellen and the ECB's Vice President Greek board member Lucas Papademos at an American Economics Association convention. The problem for Europe of course remains that their Central Bank remains a country mile behind the Fed and the BoE in the race to ZIRP. They also don't have a unified fiscal policy to counteract the recession (depression). That said, they expect record low Eurozone interest rates in the coming months and for them to stay there for longer than is currently forecast.
This dangerous decline in prices can be seen all around from UK retail rents falling in 2008 for the first time in 15 years to the shocking key US ISM data, the prices component of which slumped to a low not seen since 1949. There will be a lot more ugly data to come and digest over the next few months.
The London Times speculates that 5% of all small firms may fold in 2009.
A collection of 12 private Japanese think tanks are forecasting a 0.9% contraction in the country's GDP in 2009 even allowing for the 75 trillion yen stimulus package.
It seems that Israeli tanks have more of an impact on the oil price than OPEC these days. Recall the prolonged spike in the price of crude during their ill fated sojourn in Lebanon.
It may be a new year, but the song remains the same for banks with news of an Italian bond scandal. The hapless UBS (NYSE:UBS), Deutsche (NYSE:DB) and Depfa seem to have been the main culprits in the affair which revolves around an allegation that they gave some rather dodgy advice to Italian local authorities on how to manage debt repayments. The liabilities now total €35bn and the authorities are considering suing.
Irish Equities
Closer to home, Davy's stockbrokers have a bullish piece out this morning on Irish equities. Despite the whopping 66% collapse in the ISEQ in 2008 they believe that Ireland still offers investors some world class companies with balance sheet strength, earnings stability and value. They highlight this balance sheet strength as their key theme and focus for their picks for 2009. Their top seven stocks for the New Year are:
CRH (NYSE:CRH), which has the strongest balance sheet in the building materials sector,
Kerry Group (OTCPK:KRYAY), which have debt/EBITDA ratios below 2.0 times with a high free cash flow yield,
Irish Life & Permanent on the basis that they are oversold (?),
DCC, Dragon Oil (OTCPK:DRAGF), United Drug (OTC:UDRGF) and Glanbia (OTC:GLAPF) on the basis of earnings stability.
Data
Inevitably, the focus of the week is Friday's US Non Farm Payrolls number. After last month's dismal figure, economists' average prediction for this time is –550k job losses - bang on November's number! The old adage that forecasts follow price action strikes again.
The main interest rate decision this week comes from the Bank of England which meets this Thursday. They are likely to slice another ½% off base rates.
Today we get US auto sales. It is likely to show the dire straits that Detroit is in and their need of a miracle makeover in double quick time rather than a bailout.
And Finally… Maybe You'd Like To Sponsor An Executive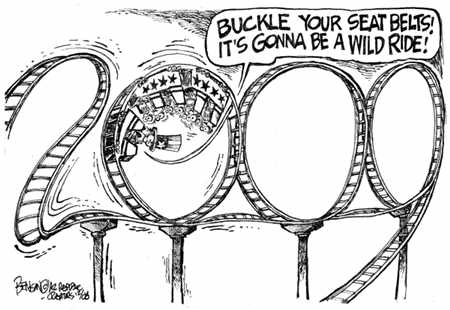 Disclosures: None