2008 was a year filled with ups and downs: market down big time; bankruptcies, job losses, mortgage foreclosures up big time.
All in all, a year of infamy filled with surprise bailouts, re-counted elections (still counting), and a world record ponzi scheme still unraveling. Now what will 2009 bring?
Our guess is more of the same: a continuing downward drift of the market with enough volatility to make trading interesting and profitable. The melt-down of commercial real estate we warned about several months ago is still in its early stages, but will pick up steam as more retailers drop out, mall vacancies rise, and factories close. Add to these woes the world's anxiety about the value of all that paper money being doled out as fast as it can be printed. We are fast losing our economic super-power status, and our creditors (think China, Russia, Saudi Arabia, et al) at some point will want greater collateral than our zero coupon bonds. Eventually interest rates will have to rise, or President-elect Obama will have to put us back on the gold standard. (A rising price of gold will be the signal that the world is giving our US dollar a vote of "no confidence".)
The world's hot spots continue to simmer; and the next event is more likely to be a negative than a positive for the markets.
Do not be fooled by the year-end upswing or any late-in-the-day boosts which the PPT (Plunge Protection Team, run off-books by the Treasury) so quietly provides. Corrections are in the offing. Our compass still points to continuing volatility, including those 3 digit drops that were so frequent last year. These 100 point swings can be an advantage when they carry your favorite trading vehicles down into the Entry Zone and then back up into the Exit Zone. Using Ultra ETFs will give you two or even three times the change in the Index they track. One of our favorites is SDS because of its very close adherence to the S&P 500, and its high daily volume.
But what about those who consider themselves investors, not traders? What should they do?
If they have not already designated a portion of their capital as "risk capital", they should consider doing so now. The percentage will depend on their time frame: obviously, the younger they are, the more time they have to recoup losses sustained in 2008. Retirees who have taken a hit will have to re-think their strategy according to their needs and their proclivity for risk.
There are many closed-end funds (CEFs) that are currently selling at a discount to net asset value (NAV), and which offer a steady dividend flow. These should be considered for both income and growth as the discount shrinks back to its historical norm. And because these are funds, they offer some necessary diversification.
In this category we like the following (in alphabetical order):
click to enlarge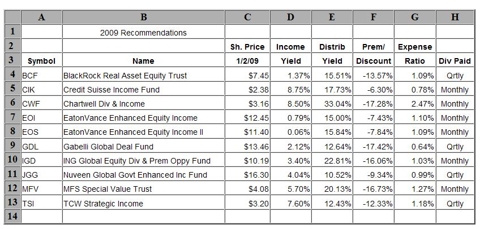 Click to enlarge
Best wishes to all for a happier, and more prosperous New Year.