Step 1
Based on the last couple years, Dow Chemical's (NYSE:DOW) Earnings Per Share easily cover its dividends. This isn't your standard story where the operating earnings are falling below sustainability. This dividend has been stable. In fact, it brags in it's increased or maintained dividends for 96 years. Note that Berkshire Hathaway (NYSE:BRK.A) is on board this company in preferreds. Check the dividends against earnings below and the predictability of revenues and earnings over the past 10 years just below that.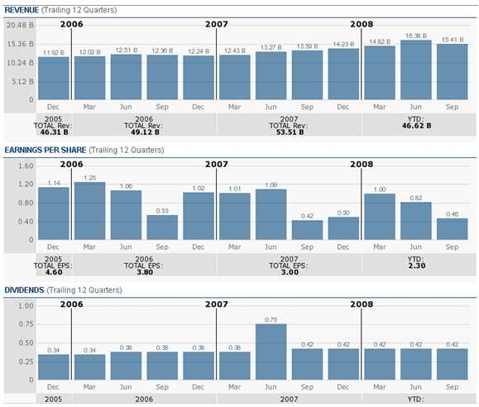 Click to enlarge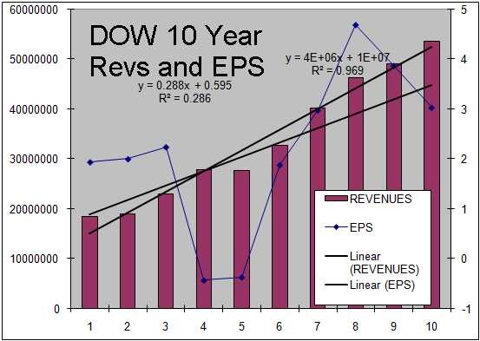 Click to enlarge
Step 2
Buy it for cheap. See the chart below. If you buy now, you're buying around the 52-week low. The PE ratio is 5.6, which implies negative earnings growth. Also, the price/book value is 0.73. This means that if it was liquidated, you'd expect to make money if their assets sell at book value. Also, the PEG ratio is less than 1.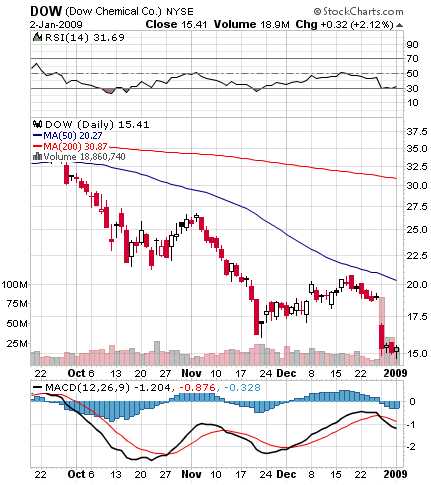 Step 3
Why is it so cheap? Well, there's a Rohm and Haas (ROH) acquisition that looks like it might be falling apart. My point, who cares? I'll take the 10% and be happy. Odds are I'll squeeze out 100% returns before I even catch a dividend because people will be fighting to take the dividend from me and I'll gladly give it to them at $30. This is Game Theory at its best.
Step 4
If you don't believe me, check out the company's last Q3 report and read the news.
Disclaimer: I own DOW. This isn't the kind of company that I usually own, but I really couldn't pass this one up. They're paying me 10% to sit around and wait for a price appreciation that appears to be inevitable.