By G.C. Mays
When Israel Chemicals (NYSE:ICL) inked their own potash deal with China recently it became clearer why Potash Corp (NYSE:POT) went from wanting to increase its stake from 14 percent to wanting to acquire the fertilizer company. An acquisition would give them a new geographic point of distribution into China for Potash Corp as well as a reliable source of revenue for Sinofert Holdings Ltd, another strategic investment.
It is unclear if the deal, which is for the sale of 660,000 tons of potash during the first half of 2013, is with Sinofert. Sinofert is China's largest importer and distributor of fertilizer. This agreement is part of a larger 3 year, 3.3 million ton agreement. According to Israel Chemicals, the sale price per ton is in the neighborhood of the $400 price Canpotex negotiated at the end of December on behalf of its three members.
This deal happens while Potash Corp waits on election results in Israel. Available results show that the greatest number of seats in the Knesset, which is Israel's legislative branch, will go to Netanyahu's party. Potash Corp recently abandoned a bid to increase its stake in Israel Chemicals in June.
Potash Corp has strategic investments that give it geographic diversity as well as operations at various points in the value chain. In addition to its current 14 percent stake in Israel Chemicals, it has a 22 percent stake in Sinofert Holdings, a 32 percent stake in Sociedad Quimica y Minera de Chile (NYSE:SQM), a producer of specialty plant nutrients and chemical commodities headquartered in Chile that gives the company access to the increasingly important South American market. Lastly the company has a 28 percent stake in Arab Potash Company Ltd., headquartered in Amman Jordan that markets and manufactures minerals.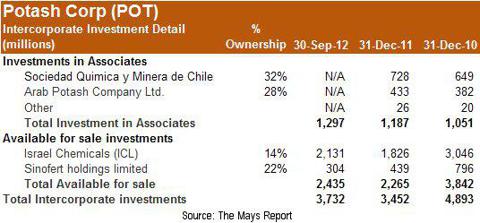 Not all investments affect the investing company's financial statements in the same way. Investments classified as "available for sale" are investments in which the investing company owns less than 20 percent of and does not exercise significant influence over, such as having seats on the board of directors etc. Investments classified as "investments in associates" use the equity method of accounting and are generally investments that the investing company owns between 20 and 50 percent of and they generally exercise significant influence over.
Changes in the value of available for sale investments bypass the income statement and included in other comprehensive income while changes in the market value of investments in associates flow directly to the investing companies income statement in proportion to the percentage of the company owned. Dividends received from available for sale investments flow through to the income statement. Under the equity method of accounting for investments in associates dividends are deducted from the assets value on the balance sheet.
In an article I penned in July 2012 entitled, "Taking a closer look At Potash Corp's Strategic Investments" I wrote:
"I have written on several occasions about Potash Corps high valuation compared to its peer group based on both a price-to-sales and price-to-book basis. If Potash Corp could acquire a controlling interest in both strategic investments each of those relative valuation metrics would move closer to their respective peer group averages. However, this sort of acquisition would be unlikely as the governments of the countries these companies call home would be unlikely to approve a deal just as the Canadian Government rejected BHP Billiton's (NYSE:BHP) bid for Potash Corp in 2010."
At a price-to-sales ratio of 4.4 Potash Corp is still trading well above the peer group average of 2.9. Netanyahu's right leaning party obtaining the most seats could lend credibility to the deal. In my view, the Government of Israel will likely reject a transaction that would essentially give up control of a natural resource just as the Canadian Government did in 2010.
Disclosure: I have no positions in any stocks mentioned, and no plans to initiate any positions within the next 72 hours. I wrote this article myself, and it expresses my own opinions. I am not receiving compensation for it (other than from Seeking Alpha). I have no business relationship with any company whose stock is mentioned in this article.