With the recent quarterly release this week, Apple's (NASDAQ:AAPL) stock price plummeted down over 10% in a day. Partly due to panic among investors and partly due to negative opinion by analysts, Apple suffered a huge blowback in its market worth. But even among this, it was heard from Hugh Johnson, chief investment officer of Hugh Johnson Advisors LLC in Albany, New York- "You have Apple and technology on the one side and the rest of the market on the other side."
In my opinion, there's a lot more to Apple than a simple quarterly release. As Nick Summers wrote in a Businessweek article:
"Even if its days of hyper growth are over, Apple remains an astonishingly profitable company."
So let's dig deeper into this.
Industry Analysis
With the release of iPhone 5 and strong ties with Verizon (US market share of 31.9%) and AT&T (US market share of 35.4%), Apple's share in the smartphone market has shown remarkable rise in the recent quarter. As per a study conducted by Kantar Worldpanel ComTech:
"The iPhone accounted for 53.3 percent of smartphone purchases during the twelve week period ended November 25. That's up from just 35.8 percent a year ago. Android, on the other hand, is down to 41.9 percent from 52.8 percent a year ago.
In Europe, it's not as great for Apple. It's getting pummeled by Android which has 61 percent of the market to the iPhone's 25.3 percent."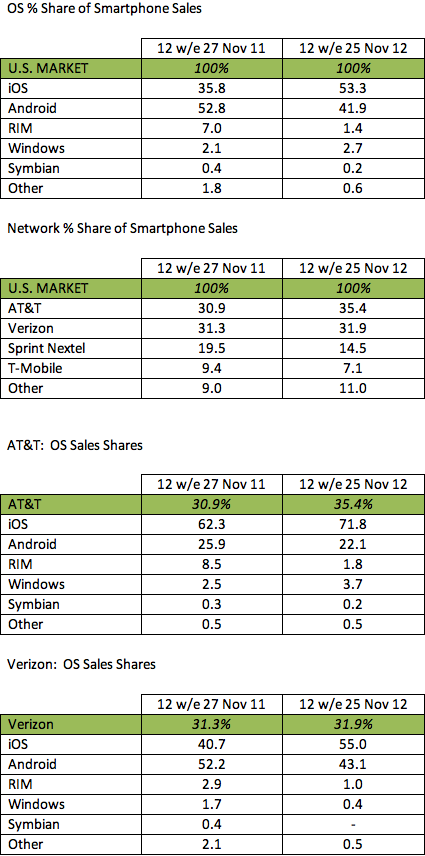 Apart from the US market, Apple is not doing so badly globally either. 61% of the total revenue (MRQ) was derived from international sales, as per the latest quarterly report. Apple's iPhone reportedly hold 5.5% share of all mobile phones in Q3FY2012. Total 428 million units were sold during that period, while smartphone sales increased by 47%.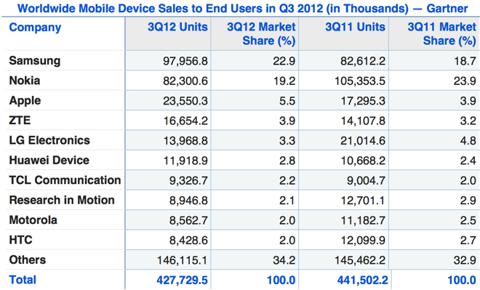 In 2012, iPhone's worldwide market share was 22%, compared to Android's 60.3%. By the end of 2013, iPhone's market share is expected to rise to 23.1% while Android's market share should probably go down to 57.9%. If you are thinking about Google vs. Apple, you should focus somewhere else. According to Gartner's forecast, Microsoft's (NASDAQ:MSFT) market share is going to reach 23.1%, compared to Apple's 21.2% and Android's 50.3%. Now that's alarming! And with Nokia (NYSE:NOK) switching off to Microsoft's Windows platform, it can possibly give Apple a strong competition in the global market.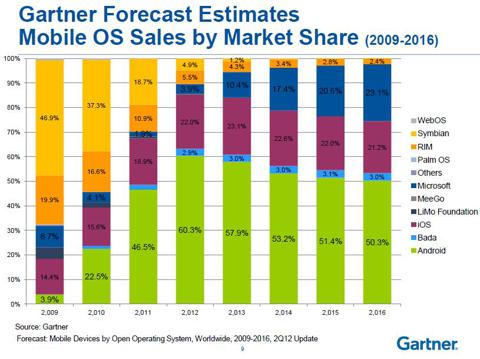 Regarding to the iPad market, it is rising at a steady rate. With around 14% share in the worldwide table market, Apple is still way ahead of others. Sales tanked in the Q4FY2012, probably due to the launch of Samsung's Nexus 7 and Amazon's Kindle Fire HD. But with the launch of iPad 4 (along with iPad mini), iPad sales has gained momentum again in the last quarter.
(Units sold in billions)
Mac sales have increased over time. Here's a chart below.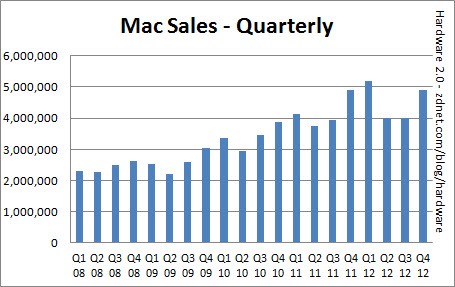 But there's something even more interesting going on. Here's an excerpt from a Mashable article:
"According to data from Asymco, the ratio of PCs sold to Macs sold has been declining for most of the past decade, and it's now at a level that hasn't been seen since the mid '90s. The gap was at its widest in 2004, when there were more than 50x as many Windows machines sold than Macs, but in 2011 the ratio was down to about 20x."
Needless to say, Mac sales are growing faster than PC sales. Moreover, even though Windows OS cover 78% of the market, 11% of the PC market is covered by iPads. So, when we add up both Macs and iPads, Apple's market share stands at 14.6%, followed by HP's 14.1%. Around a year ago, PCs accounted for 90% of the computers sold in the world. Do you think Apple's iOS can rise on par to Microsoft's Windows market?
In short, while the tablet and the PC market is pretty much under control of Apple at the moment, smartphone market can prove to be tricky in the coming few years. And with the 2013 global forecast of 444.53 million units' shipment, this is one of the biggest upcoming markets in this information era. Not to mention, Apple's business focus on China is right on time.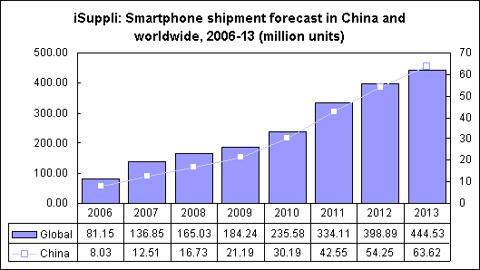 Competition Analysis
Apple's stock price has fallen by over 25.55% in the last 3 months. Is Apple overvalued or just fundamentally wrong at the moment?
Here are a few highlights:
Revenue has increased to $156 billion in FY12, compared to $108.6 billion in FY2011 and $65.07 billion in FY2010. It seems the Great Recession hasn't had too much of effect on the revenue of the company. Needless to say, revenue went hand in hand with the amount of assets.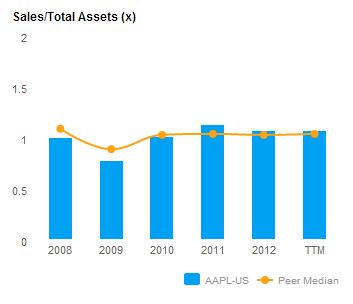 And sales and assets should grow mostly with revenue, not with intensive capital expenditures. And this is what is done by Apple. If you look below, the CAPEX ratio has stayed flat under 20% even when net income and revenue soared up.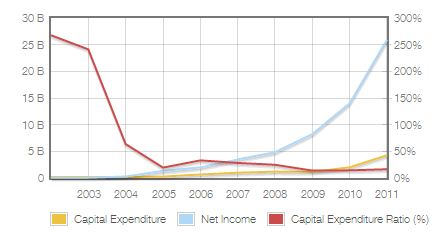 And we get the indication of that from the chart below. Retained earnings have surged by over 50% since 2009.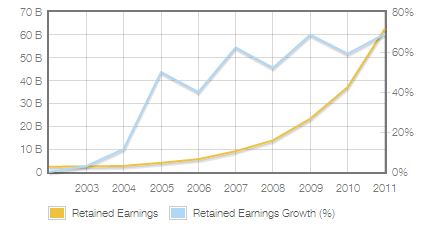 Needless to say, that resulted in the superb increase in return on shareholder's equity (ROE).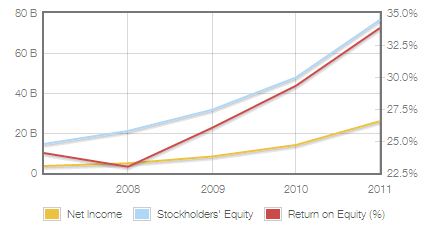 In short, Apple seems to know how to play the game, when it comes to increasing business and sales over time.
Take a look at the table below:
| | | | | | | | | | | | |
| --- | --- | --- | --- | --- | --- | --- | --- | --- | --- | --- | --- |
| Company | EER | PBR | PSR | Total Asset Turnover | Cash Ratio | Gross Margin | Operating Margin | ROE | ROTC | ROIC | Total D/E |
| Apple | 7.57 | 5.30 | 4.00 | 1.07 | 0.76 | 43.72 | 35.12 | 42.84 | 42.84 | 42.84 | 0 |
| Hewlett-Packard (HPQ) | 3.66 | 1.21 | 0.23 | 1.01 | 0.24 | 21.50 | 7.32 | (41.43) | (21.06) | (24.00) | 126.74 |
| Google | 12.01 | 3.61 | 5.51 | 0.58 | 3.35 | 65.17 | 32.22 | 18.66 | 17.38 | 18.14 | 7.23 |
| Research In Motion (RIMM) | 1.79 | 0.70 | 0.39 | 1.41 | 0.52 | 32.92 | 11.49 | 12.37 | 12.37 | 12.37 | 0 |
| Microsoft | 5.75 | 3.86 | 3.49 | 0.64 | 1.93 | 76.21 | 37.97 | 27.51 | 23.05 | 23.24 | 18 |
| Dell (DELL) | 3.04 | 3.49 | 0.52 | 1.50 | 0.67 | 22.49 | 7.43 | 41.86 | 21.87 | 24.75 | 103.78 |
EER = Enterprise to EBITDA Ratio
PBR = Price to Book Ratio
PSR = Price to Sales Ratio
ROE = Return on Shareholders' Equity
ROTC = Return on Total Capital
ROIC = Return on Invested Capital
D/E = Total Debt to Equity Ratio
Valuation Ratios - High EER at 7.57, PBR at 5.30 and PSR at 4.00 tell us that the company is somewhat overvalued compared to industry averages. So does that mean the historic run is over and it is time for the company to shrink back down? To be honest, it is a hard call. From the business front, Apple still seems strong but from the investment front, it might just be a bit overvalued.
Efficiency Ratios - The revenue has been growing at a steady rate since 2007, and asset turnover ratio of 1.07 indicates the money making efficiency of the company. It's pretty much in line with the rest. Moreover, the increasing ROE is confirmed by the zero long term debt position.
Leverage Ratios - Compared to Microsoft's cash ratio of 1.93 and Google's (NASDAQ:GOOG) cash ratio of 3.35, Apple's 0.76 seems pretty modest to me. Although an AppleInsider article said regarding the recent financial release:
"The bizarre turn, which occurred after standard trading stopped on Thursday as Apple presented earnings, means that until trading resumes on Friday, the market has determined that Apple's operations, brand and all associated goodwill are worth just $299 billion or $318 per outstanding share after considering its staggering cash position.

Justifying the temporary selloff, a series of reports described Apple's earnings as "flat," because while revenues were up, its reported profits were the same as the winter quarter of last year. However, as Apple's executives repeatedly pointed out, both back then and today, last year's winter quarter was a full week longer than this year's. "
But the fact that reported profits weren't up was because R&D expenses and SG&A fees were still higher than that in the year-ago quarter. Although the new launches were not in time and in ready condition to be sold and purchased by consumers, this might not be the "beginning of the end".
Profitability Ratios - High gross margin and operating margin indicates barrier to competition entry and operation. And the performance of the management clearly shows in the above-average returns.
Street Analysis
Leverage is expected to go up in the next couple of years. This is highly expected since new inflow of capital might help further in product innovation and market penetration, especially in Asia countries. If managed well, this will further increase ROE.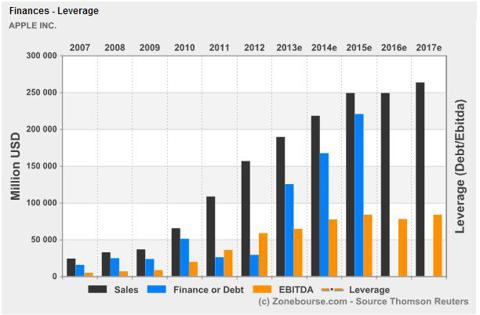 As forecasted above, along with new debt, EPS will increase in the next couple of years.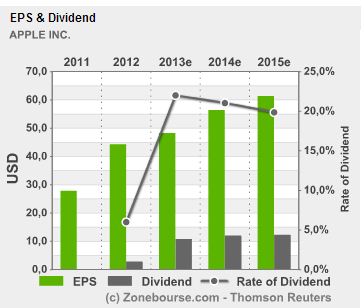 And PE ratio is expected to show limited movement. If you combine the increase of EPS and the flat PE ratio, you get rising market price. And that is what you can expect in the next couple of years, unless Apple completely falters with the new debt.
Conclusion
Strong business performance (with minor setbacks), new expected debt issuances and smart money management - Apple does not seem to be a "Sell" at all right now.
Yes, the market cap has gone down since the latest quarterly release. But should you panic? No, I don't think so. Apple is one of the blue chip stocks in the Information Technology sector. It means that it is in a stronger position to keep innovating for time to come, that is, increasing shareholders' equity and not going out of business. In a few couple of years, we might see Apple making a strong comeback.
In the meanwhile, be satisfied with the hefty dividend income that you get from Apple.
Disclosure: I have no positions in any stocks mentioned, and no plans to initiate any positions within the next 72 hours. I wrote this article myself, and it expresses my own opinions. I am not receiving compensation for it (other than from Seeking Alpha). I have no business relationship with any company whose stock is mentioned in this article.