Background
Codorus Valley Bancorp (NASDAQ:CVLY) is the largest full service community bank headquartered and managed in York County, Pennsylvania. It currently operates financial centers throughout York County, Pennsylvania, and northern Maryland and plans to expand its franchise. This article is a follow-up on articles written in July and October (see 1, 2, 3) on CVLY. Article 3 also listed several industry positives moving forward that should increase the profitability of small regional banks.
Industry Outlook
Standard & Poor's continues to have a positive outlook on regional banks for 2013. It writes, "For these banks in 2013, we expect a 7% increase in net income on flat net revenues reflecting a 3.0% increase in net interest income and a 4.5% decrease in on interest income. These banks are well capitalized, with an average Tier 1 capital to risk-weighted assets ratio of 12.5% at September 30. In 2012, on a price return basis, the S&P Regional Banks Index rose 15.2%, lagging a 24.2% rise in S&P 1500 Financial." (S&P statement in CVLY coverage 1/19/2013)
Recent Earnings Report
CVLY released its fourth quarter earnings on January 14, 2013. The bank showed a nice profit again in the fourth quarter at $0.54 per share. This was $0.01 lower than the fourth quarter in 2011, but the bank's full year net was 60% higher than the previous year. The bank's net income per share was $1.22 for 2011 and $2.03 for 2012. These figures were adjusted for the 5% common stock dividend paid on December 11, 2012. Tangible book value per share has increased to $17.03 per share as compared to $16.86 per share at the end of 2011. Net interest margin has increased from 2011 from 3.73 in 2011 to 3.81 in 2012. This is one of the few regional banks that I follow that has increased its net interest margin.
Dividend Increases
The bank increased its dividend two times in 2012. Early in the year it increased its cash dividend from $0.09 to $0.11 per share. In December, it gave a 5% stock dividend or 1 share for each 20 owned. This means that one receives an additional 5% increase in the cash received from the stock if one were an owner at that time.
Stock Price and Value
All this good news on earnings and dividends has driven up the price of this issue. It has risen from $9.50 per share in January of 2011 to $15.25 presently, a 60% increase. This price rise over the past year is depicted below. (Interactive Brokers)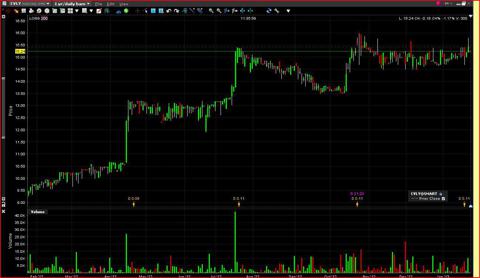 Click to enlarge
The price of the stock appears to have kept up with the good news, but the graph only tells part of the story. CVLY was greatly undervalued at the beginning of the 2012 and has not yet caught up with all the good news on profits and dividends being generated by the company.
The price of this stock is still greatly undervalued when compared to its peers. Its current P/E is 8 while the average P/E of regional banks is 12. If CVLY's P/E were to approach the average of other regional banks, it would show a 67% increase in its price per share. A 67% price increase would move the price upwards to nearly $25.00 per share. The current dividend of $0.44 per share offers a 2.9% return and only represents 19% of net income. Owners of this issue can expect more increases in the dividend going forward.
Inside and Mutual Fund Ownership
Insiders own 10% of the outstanding shares of the company. There has been little change in inside ownership over the past 6 months. Eighteen hundred more shares were sold than purchased by insiders. Mutual funds and institutions own less than 15% of the float which affords plenty of room for institutional buying as these entities become aware of the value residing in this issue. A surge of institutional buying could be the impetus for moving the stock price upward to a level that would value the company in line with its peers.
Ratings
Ford Equity Research has a strong buy on CVLY. It projects that CVLY will strongly outperform the market over the next 6 - 12 months. This projection is based upon its analysis of 3 factors - earnings strength, relative valuation and recent price movement. Ford maintains that CVLY's operating earnings yield ranks above 96% of the companies that it follows. The Street rates CVLY a buy and has a target price of $19.85. It maintains that the stock should outperform the majority of stocks the company rates. Here are some of the reasons The Street lists for CVLY's buy rating:
Price to sales ratio shows a significant discount to peers
Sales growth rate exceeds the industry
Earnings growth rate is expected to exceed its peers
Price to book is .71 whereas peers are 1.29; a significant discount to peers
P/E shows significant discount to peers
Price to Cash Flow is 4.39 whereas peers are 8.95; a significant discount to peers
Recommendation
It is apparent that the price of this issue is primed to move upward. As is true with all stocks, there is always the possibility of a major bear market or the release of some major bad news that could hinder this upward movement. Barring these events, one can expect CVLY to appreciate from 30 to 50% over the next 12 months.
While one waits, CVLY offers a reasonable dividend which is likely to increase again this year. With profits growing, dividends growing and the company being undervalued by almost every industry measure, this issue is a definite buy. Buy this stock for the dividend growth and capital appreciation.
Disclosure: I am long CVLY. I wrote this article myself, and it expresses my own opinions. I am not receiving compensation for it (other than from Seeking Alpha). I have no business relationship with any company whose stock is mentioned in this article.