By Brendan Gilmartin
Caterpillar (NYSE:CAT) is scheduled to report 4Q 2012 earnings before the opening bell on Monday, January 28. The results are typically released at 7:30 a.m. EST with a conference call slated for 11:00 a.m. Caterpillar shares have been breaking out in recent months thanks to an improved outlook for the global economy, particularly in China. Keep an eye on the index futures at the time of the release given the potential magnitude of these results.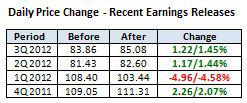 Outliers & Strategy
Caterpillar is likely to report a figure for Earnings Per Share Excluding Items that compares with consensus estimates, due to a previously announced non-cash goodwill impairment charge of approximately $580 million, or $0.87 per share.
The Street is looking for Caterpillar to deliver EPS of $1.70 (range is $1.56 to $1.86/Ex-Charges) on revenue of $16.13 bln, down 6.5% from the year-ago period (Source: Yahoo! Finance).
Look for Caterpillar to possibly provide an updated forecast for 2013:
Earnings Per Share (NYSEARCA:EPS) Guidance (FY2013). The current consensus is $8.55, down from an estimated $9.12 per share for Fiscal 2012.
Revenues Guidance (FY2013): Back in October, Caterpillar said the preliminary outlook for 2013 is for sales and revenues to be about the same as 2012 in a range of up 5% to down 5%. That would equate to approximately $62.7 bln to $69.3 billion (based on estimated 2012 revenues of "about $66 billion"). The estimate is $65.11 bln.

Sympathy Plays: Cummins Inc. (NYSE:CMI), Komatsu (OTCPK:KMTUY), Deere & Co. (NYSE:DE), Terex Corp.(NYSE:TEX) & Joy Global (NYSE:JOY).
Recent News
01/18: Caterpillar announced it will incur a non-cash goodwill impairment charge of approximately $580 million, or $0.87 per share, in the fourth quarter of 2012 after an investigation determined several Siwei (Zhengzhou Siwei Mechanical & Electrical Manufacturing Co., Ltd.) senior managers engaged in deliberate accounting misconduct beginning several years prior to Caterpillar's acquisition of Siwei.
01/18: According to a post on MarketWatch.com, Piper Jaffray upgraded Caterpillar to Overweight and boosted the price target to $113.00 from $85.00, based on fading concerns over weaker demand from China.
01/09: Bank of America reiterated a Neutral rating, but raised the price target on Caterpillar from $92.00 to $100.00, according to a post on Benzinga.com. The increased price target was based on its long-term position as a leader in mining and construction. Shorter-term, however, Caterpillar faces slower growth in mining and construction equipment.
12/12: Caterpillar voted to maintain the quarterly dividend of $0.52/share.
Technical Review
Caterpillar shares have been breaking out in recent months, up about 20% from the mid-November lows. Despite the recent strength, there are warning signs worth noting. First off, the shares have struggled to push through the $98 level after four successive attempts, with the action on Thursday resulting in a bearish "Inverted Hammer" candlestick, implying the rally is overextended. The Relative Strength Index is also coming off the 70-level, suggesting that the momentum is fading. Watch $98 as initial resistance if the results surprise to the upside, with support at the 20-Day SMA near $94.00, with downside risk to $90.00. (Chart courtesy of StockCharts.com)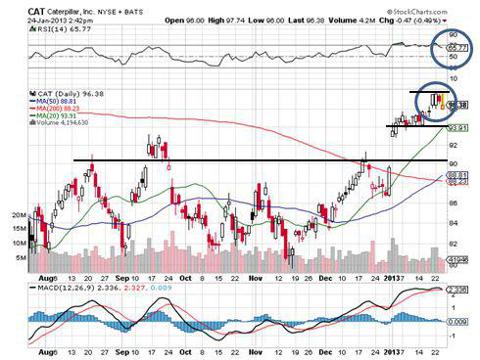 Summary
Caterpillar shares have been breaking out on evidence of a turnaround in China and a pickup in the U.S. housing market. Continued demand for mining equipment is also pushing the shares higher. Against this backdrop, Caterpillar is vulnerable to any missteps, particularly on forward guidance.
Disclosure: I have no positions in any stocks mentioned, and no plans to initiate any positions within the next 72 hours. I wrote this article myself, and it expresses my own opinions. I am not receiving compensation for it (other than from Seeking Alpha). I have no business relationship with any company whose stock is mentioned in this article.
Disclaimer: By using this report, you acknowledge that Selerity, Inc. is in no way liable for losses or gains arising out of commentary, analysis, and or data in this report. Your investment decisions and recommendations are made entirely at your discretion. Selerity does not own securities in companies that they write about, is not an investment adviser, and the content contained herein is not an endorsement to buy or sell any securities. No content published as part of this report constitutes a recommendation that any particular investment, security, portfolio of securities, transaction or investment strategy is suitable for any specific person.