When you talk about cloud computing, Salesforce (NYSE:CRM) comes to mind, and its stock price is way above the fundamental value of the stock. As this industry is fairly new and seems to bring exiting possibilities and accelerated growth, many forget that a stock still needs to be able to generate positive cash flows to justify holding a stake in a company.
This stock has had an impressive run up, all the way up to $170 as of this writing. I will present the reasons why this stock is the short of the year. Data Source: Salesforce's financial reports.
Insiders are selling
Insiders have been selling stock as the share price has gone up these last couple of months: On January 15th, 2013, Graham V. Smith, Salesforce's CFO, sold 1,400 shares, with proceeds of $241,388, selling at an average price of $172.42. Parker Harris, EVP of Technology, sold 4,441 shares with proceeds of $776,064, selling at an average price of $174.75.
Insiders know their company inside and out, and knew that the share price was very high, and wasted no time getting rid of these shares. This tells a lot about what insiders really think of the company's ability to maintain its share price.
Competitors are better investments
Salesforce's competitors have more room for stock price growth, as its competitors' Price to Sales ratio is lower than Salesforce's 8.2x sales. Oracle (NASDAQ:ORCL) has a P/S ratio of 3.6x, and SAP (NYSE:SAP) has a Price/Sales ratio of 5.3x.
Red Flag: Salesforce has too many marketable securities
The company currently has over $886 million in marketable securities, which is more than its fixed assets. This number keeps growing, with CRM acting like it was an investment bank, not a high-growth company.
The fact that the company has so many investments with a 1% yield troubles me, because it sends a message that the company has no better projects or allocation for that cash than to get a yield of around 1% (as per the company's own 2012 Q3 report).It could instead be aggressively acquiring smaller companies, paying dividends, repurchasing shares, entering new business ventures, or allocating its capital into higher-yielding investments.
This policy of allocating cash to 1%-yielding investments could also be an indication that its high-revenue growth year after year could be coming to an end, and its share price could follow.
Margins related to sales are steady but declining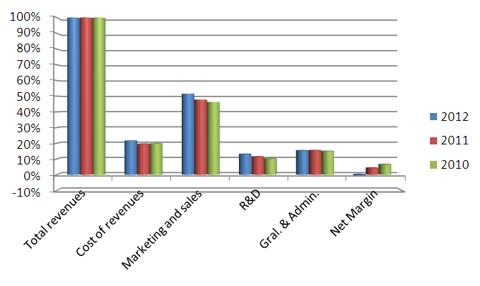 As you can see, marketing and sales costs have been climbing, reflecting more difficulty in selling the company's products and services, consequently eroding net margin.
The bright spot on these margins is that Salesforce is allocating greater resources to R&D, reflecting the company's need to innovate in the expansion of its product portfolio. The margins have been steady, and I have used these assumptions in the DCF valuation projections.
Earnings and Cash flows are not improving
A company's operating cash flow should be positive, as it proves it is operating effectively, growing earnings and operating cash flows. In Salesforce's case, this is a red flag, as the company has razor-thin operating cash flows, which are largely driven by depreciation charges, which positively affect the operating cash flow of the company.
Piotroski's F-Score: 4 out of 9
According to Piotroski's way of evaluating a company's operations, which I go into detail in my article about the F-Score, this company scored 4 out of 9. Next up are the results.
| | | |
| --- | --- | --- |
| 1. ROA | 0 | Negative return on assets |
| 2.CFO | 1 | Positive Cash Flow from Operations |
| 3. ΔROA | 0 | Decreased return on assets |
| 4. ACCRUAL | 1 | No accounting red flags |
| 5. ΔLEVER | 1 | Decreased its interest-bearing debt |
| 6. ΔLIQUID | 0 | Worse current assets to current liabilities ratio |
| 7. EQ_OFFER | 0 | Issued more equity |
| 8. ΔMARGIN | 0 | Decreased net margin |
| 9. ΔTURN | 1 | Increased asset turnover |
DCF Valuation tells it like it is
Next up is a discounted cash flow valuation, in which I share the assumptions used so you can see what needs to happen for the company to be valued at each price level.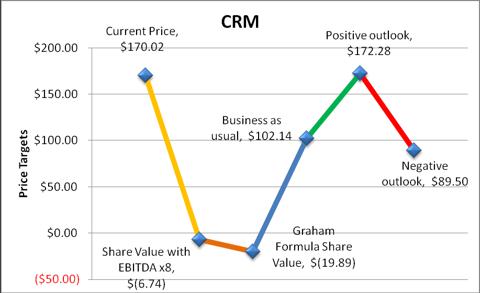 As always, I have incorporated three scenarios for this company:
Business as Usual
In this scenario, I was very optimistic regarding the company

's revenue growth, which will grow at 37% in 2013 and 2014, then 30% in 2015, 25% in 2016 and 15% to perpetuity.

The company

's gross profit margin will still hover around 78-79% each year.

S,G&A expenses as a percentage of revenues will be lower, as the company will buckle its belt and achieve great benefits with its major expense (marketing) and others, lowering these expenses to represent 78% of sales in 2013, 70% in 2014 and 2015, then 65% in 2016 and 57.5% to perpetuity. The company

's last 5-year average is 75.3%, and has a growing trend in the last two years.

Investing cash flows will continue to represent 20% of sales in 2013 and will lower each year, and range from $0.311 to $1 billion in its highest year, considering the company continues its acquisition of smaller companies and purchasing marketable securities each year.
The financing cash flows are positive each year, driven by equity offerings and/or taking on debt, at a rate of $0.28 billion each year.
Price Target: $102.14
Optimistic Scenario
In this scenario, the revenues grow like never before, at a 40% rate from 2013 until 2015, and then slow to 35% (2% away from its best revenue growth year, 2011), and continue growing 25% to perpetuity.
The gross profit margins remain at 80%, something that has not happened since 2010, disregarding competitive pricing pressures.
S,G&A expenses are reduced drastically, and represent 70% of sales in 2013, 65% in 2014, 62.5% in 2015 and diminish to represent only 50% of sales in 2016 and to perpetuity.
Even though the company has tremendous revenue growth, its investing cash flows still range from $1 billion and keep diminishing, only investing around $0.41 billion to perpetuity.
The financing cash flows are positive each year, driven by equity offerings and/or taking on debt, at a rate of $0.28 billion each year.
Price Target: $172.28
Pessimistic Scenario
Disaster strikes, and the company achieves only 27% of revenue growth per year from 2013 to 2015 (compared to around 30% in 2012), the revenue growth is 25% in 2016 and 10% to perpetuity.
The gross margin stays at 78%, disregarding pricing and competitive pressures.
The S,G&A expenses relative to sales drop to 78% in 2013 and the company still manages to keep it under control, representing 70% of sales from 2014 to 2016 and to perpetuity.
Investing cash flows: the company spends a lot less in acquisitions and other investments
Price Target: $89.50
Weighing these three scenarios, giving a 50% chance of the "Business as usual" scenario playing out, a 35% of the optimistic scenario playing out and a 15% chance of the "pessimistic" scenario playing out, my price target for Salesforce's shares is $124.80. Standard & Poor's has a $152 price target for this stock.
Identifying irrational behavior - before reality sets in - brings rewards
Behavioral economists have done countless studies to check if people react rationally (like rational economists say they do) with issues regarding money and investments. In one experiment, a $20 bill was auctioned. The rules were simple: the highest bidder would get the $20 bill, and the runner-up will need to pay his last bid and get nothing in return. Rationality tells us nobody would pay anything above $19.99 for a $20 bill, but the results were impressive: The winner paid $28 for the $20 bill and the runner-up paid $26 and got nothing in return. This tells us of the irrational behavior of people that defies efficient market and rational economic behavior, but that is a topic for another article.
Technical picture looks bearish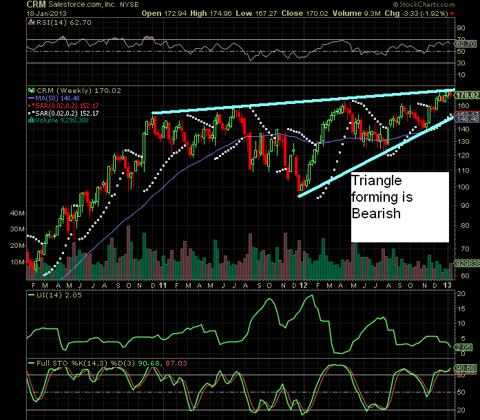 As the wedge continues to close, a rapid price drop is expected. This stock would be fairly valued at somewhere around $100-$125, and aligns perfectly with the December 2012 low.
Next Report Date
Earnings, fundamentals and technical factors will be impacting this stock before, during and after its next quarterly report, which is on February 21st, 2013.
That's why I suggest the following trade to profit from the fall of Salesforce's share price back to reality.
The Trade
While waiting for the herd of investors to react rationally, I suggest a medium-term options trade to take full advantage of the moment when fundamentals finally catch up with Salesforce's share price, which can take a while, and that's why I am giving this trade until March expiration to work in your favor.
Short call spread:
Sell to open CRM March 2013 100 strike price calls at $69.40
Buy to open CRM March 2013 170 strike price calls at $8.80
This is all done for a credit of $60.55, with a maximum loss of $9.45 per contract.
The trade will look like this at expiration: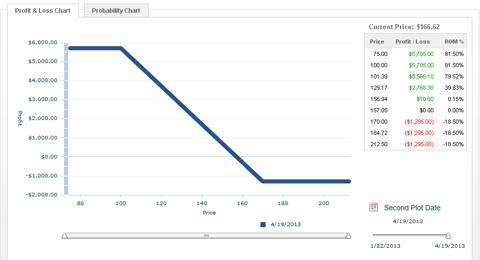 Risking $945 per contract with a maximum upside of $6,055 seems like a very acceptable risk/reward for me.
You can push the contracts to a longer time frame to give the market time to wake up, but I do think the loss or small profit the company will eek out on February 21st, combined with profit-taking by investors will be enough to take the price down.
Conclusions
While I do think the cloud industry will keep growing at a rate of above 25% for at least the next five years, the fact that this company is valuated at twice its competitor's sales is astounding and irrational. As you saw, the market loves the shares and today is at the very top of its valuation range, the "optimistic" scenario.
For everyone that is going to defend this stock because of its high institutional ownership, remember what happened to Chipotle (NYSE:CMG), which had higher institutional ownership, before its earnings, and the article I wrote just before it imploded.
Don't be suckered into buying the shares, sell the hype and short the shares before the price drops.
Disclosure: I have no positions in any stocks mentioned, but may initiate a short position in CRM over the next 72 hours. I have an open order to execute the recommended trade, still not filled as of Wedesday 24, 2013. I wrote this article myself, and it expresses my own opinions. I am not receiving compensation for it (other than from Seeking Alpha). I have no business relationship with any company whose stock is mentioned in this article.