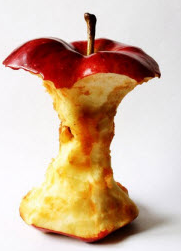 Most news away from Apple was positive. China's Mfg. PMI rose to 51.9 vs. 51.5 (best in 2 years); Europe's PMI rose to 48.2 vs. 47.02 (still below 50 but rising); and, U.S. Jobless Claims fell (330K vs. 360K expected and prior 335K). Superficially, this looks great, but little mentioned was during the first week of January about 365.8K people that lost their benefits and fell of the rolls. This means the unemployment rate should decline, but the participation rate and numbers of people working won't look good -- but, algos don't look under the hood too much. Also, Flash PMI spiked to 56.1 vs. 54 previously and Leading Indicators rose (.5% vs. .4% expected and prior 0.0%). Lastly, the little noticed Kansas City Fed Mfg. Index fell (-2 vs. 2 expected and prior -1), which is only notable since its negative reading jives with the NY, Richmond and Philly Fed readings.
Overseas markets were doing well until North Korea threatened another nuclear bomb test.
With little fanfare, the Fed announces its balance sheet is now in excess of $3 trillion. Let that swirl around in your brain.
Earnings from Netflix (NASDAQ:NFLX) allowed the stock to explode 40% even as the company will only breakeven in the next quarter. This likely was the short squeeze from hell, in addition to some irrational enthusiasm. Energy (NYSEARCA:XLE) sectors were higher, led by bigger name DJIA components like (NYSE:XOM) and (NYSE:CVX).
Risk assets like gold (NYSEARCA:GLD) and other metals remain out of favor as investors seek alpha via stocks. The dollar (NYSEARCA:UUP) was flat, and bond (NYSEARCA:TLT) prices weakened as stocks rose.
Apple (NASDAQ:AAPL) earnings caused a heavy sell-off in stocks as iPhone sales and margins remain under pressure. Apple's outsized weighting negatively affected tech (NYSEARCA:XLK) and (NASDAQ:QQQ), dragging these sectors lower. I've pointed out for some time that Apple was, by a long shot, the largest holding of hedge funds as of September 2012. Many mutual funds and pension plans held the stock as a "must own." The inevitable margin squeeze from competition is the final shoe to drop. In China, the most popular device is from China Wireless, where its Coolpad sells for $100.
Financials (NYSEARCA:XLF), transports (NYSEARCA:IYT) and select retail (NYSEARCA:XRT) sectors led markets higher despite Apple giving the market a flat tire.
Volume overall did pick up on Thursday in two-way action. Breadth per the WSJ was mildly positive.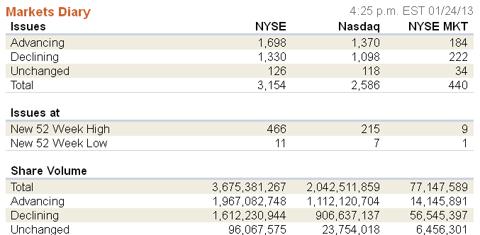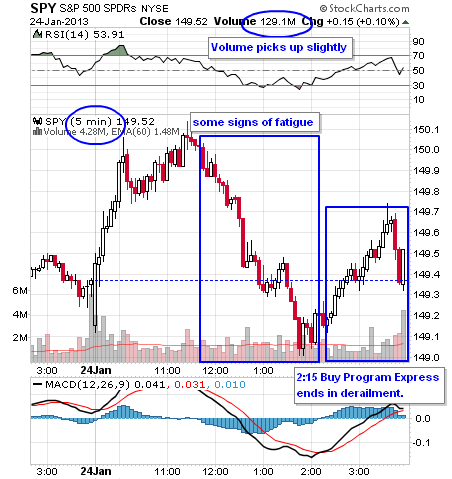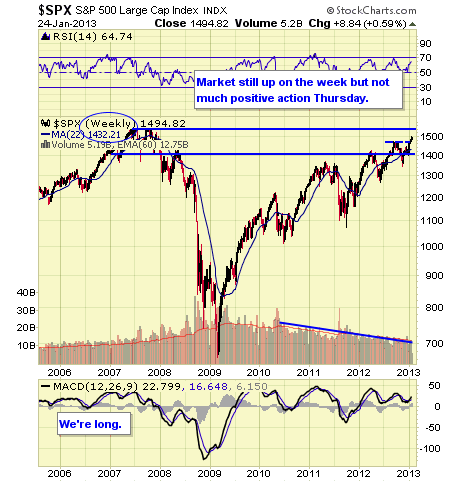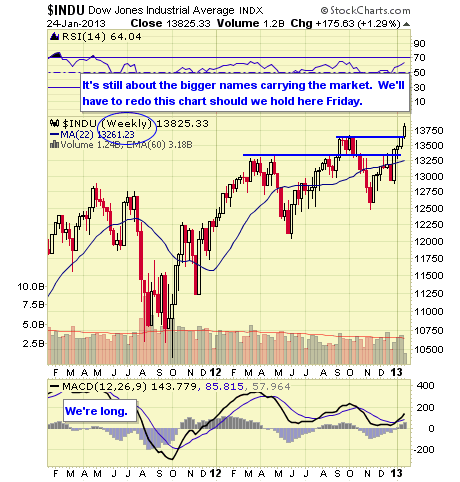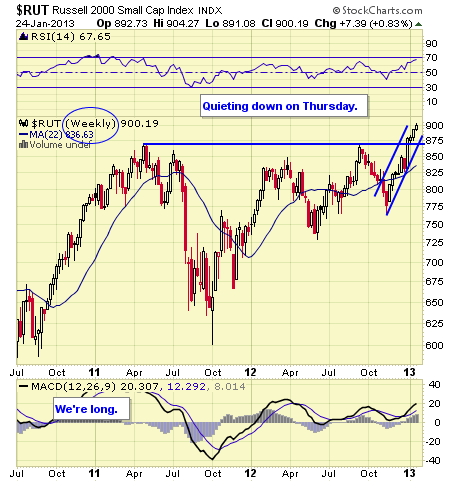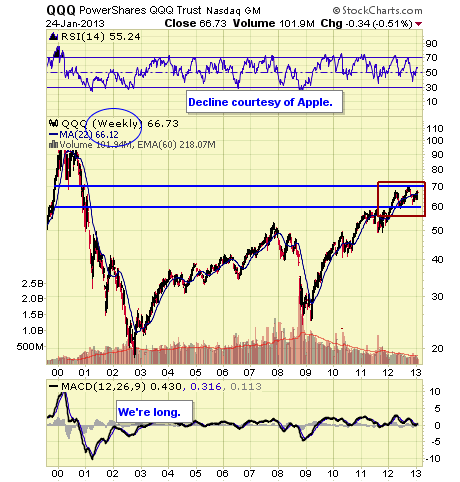 Continue to U.S. Sector, Stocks & Bond ETFs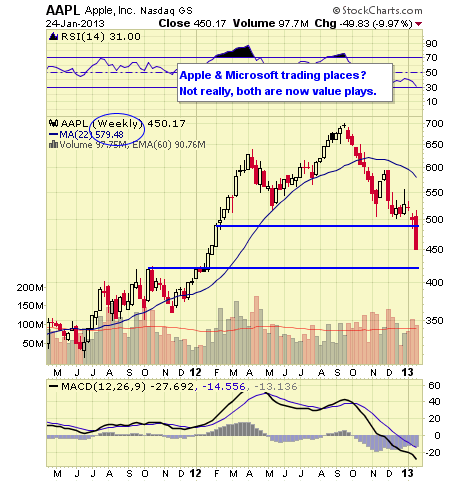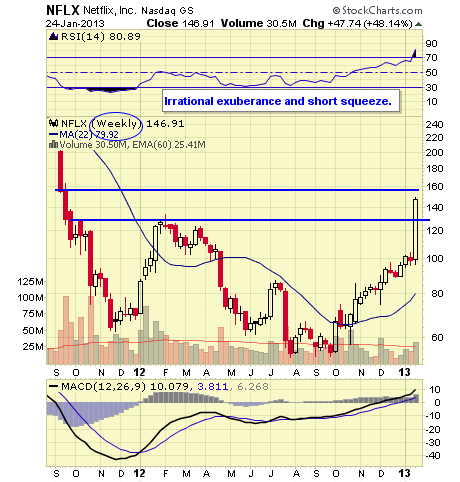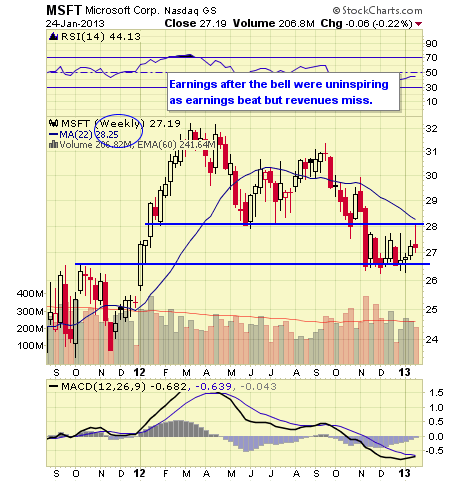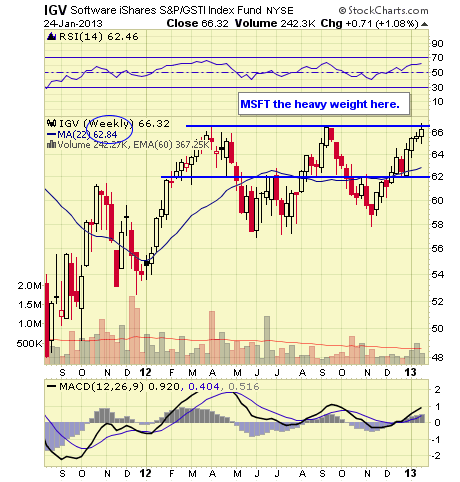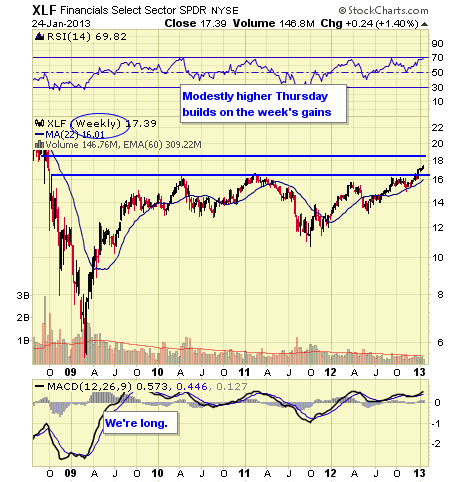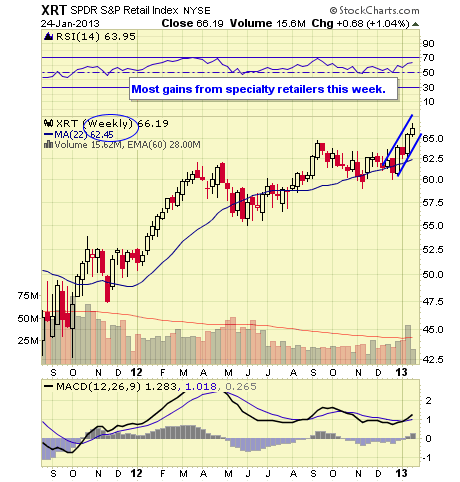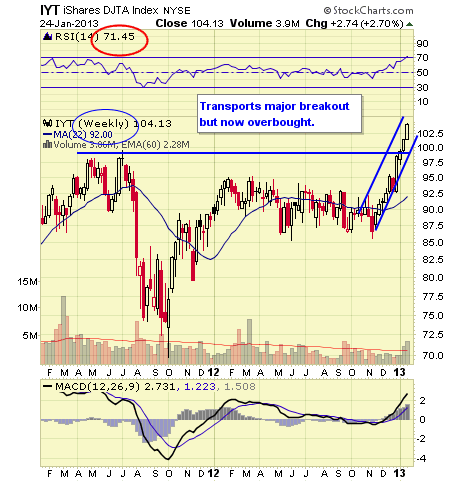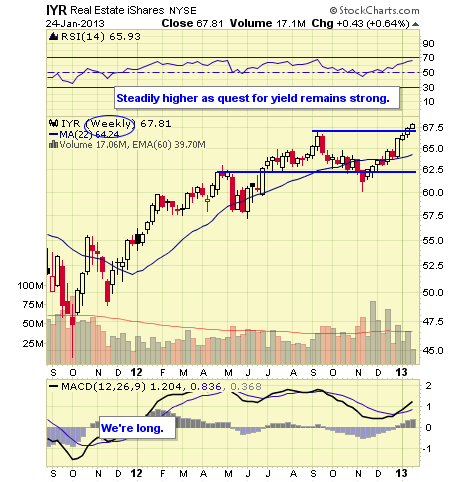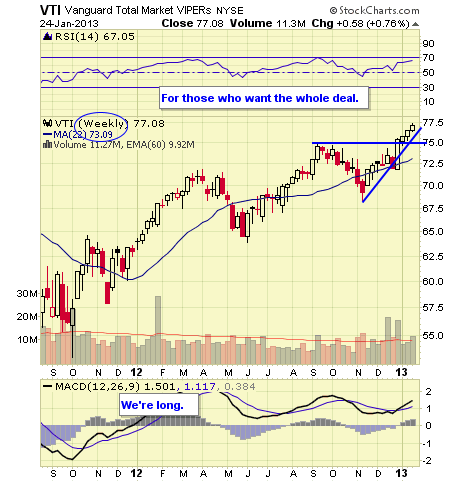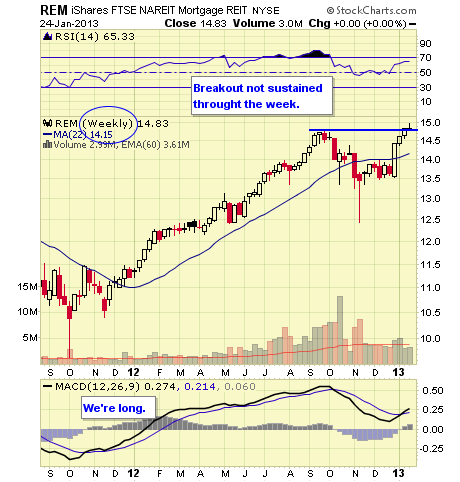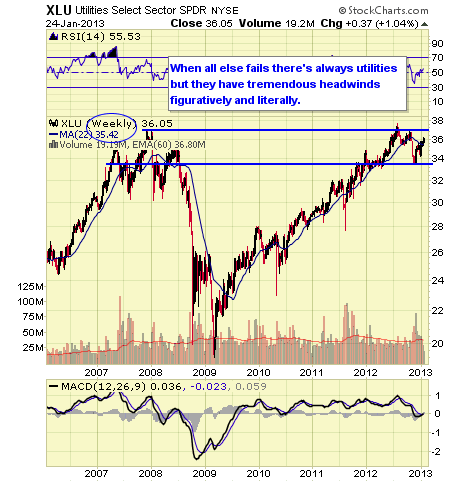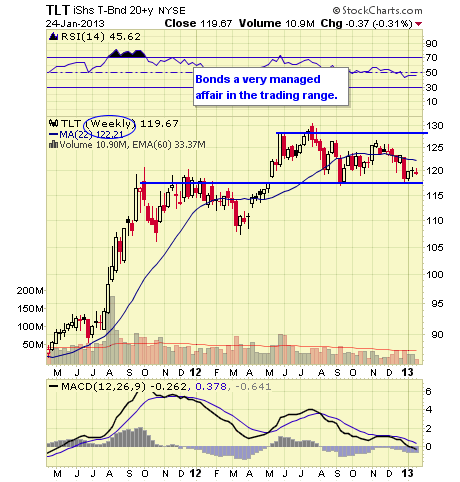 Continue to Currency & Commodity Market ETFs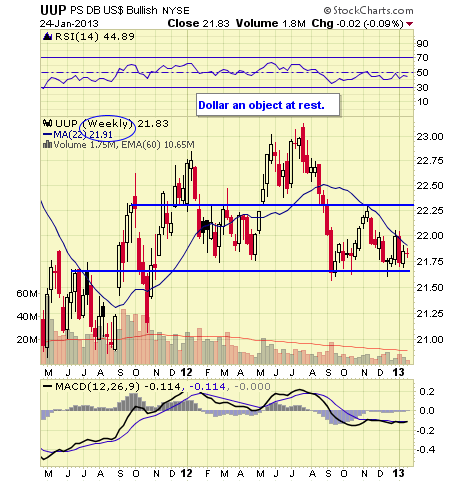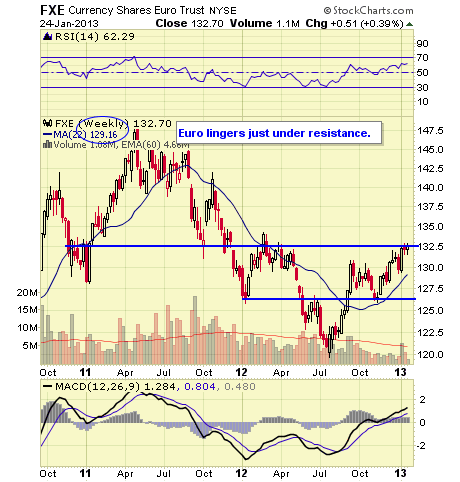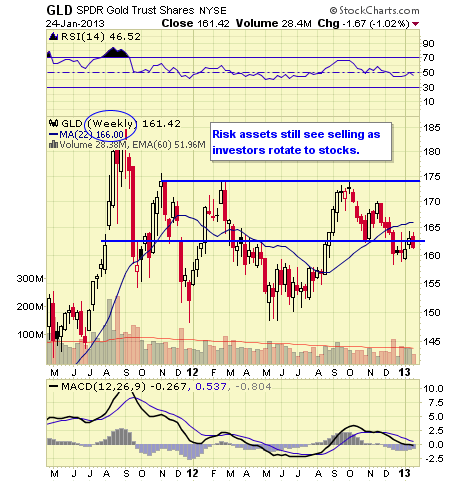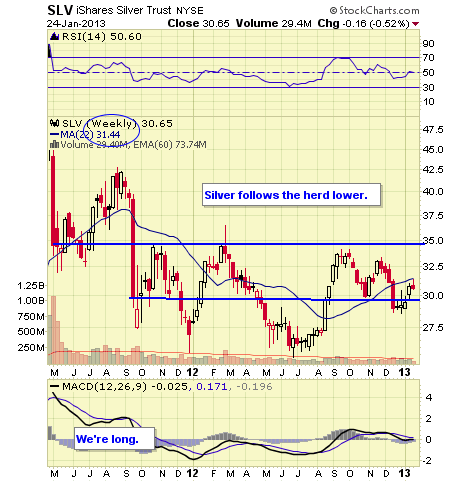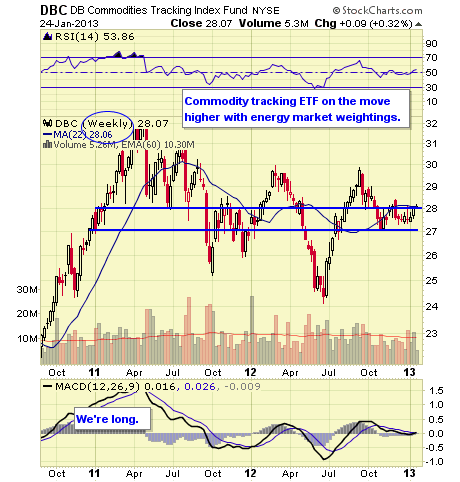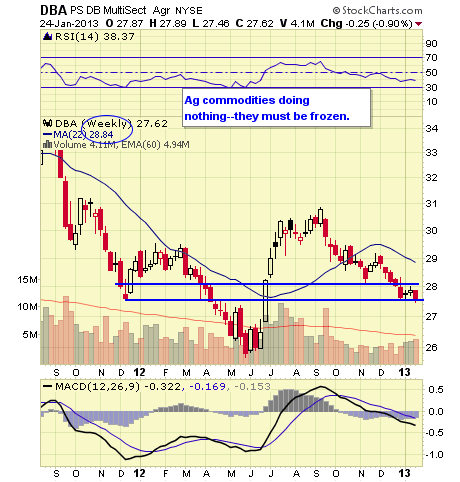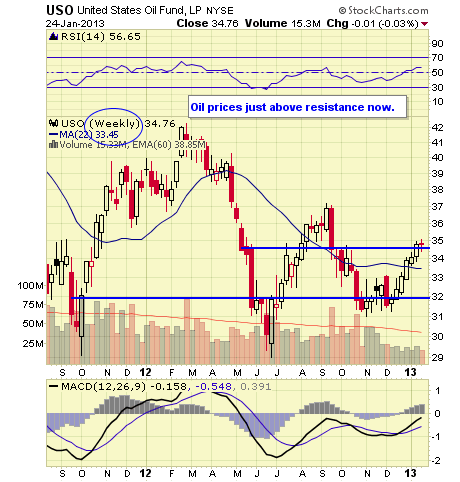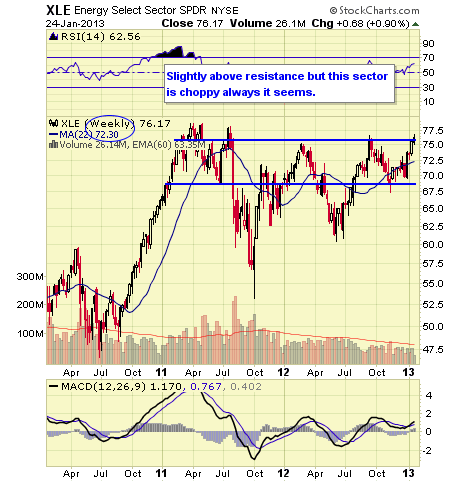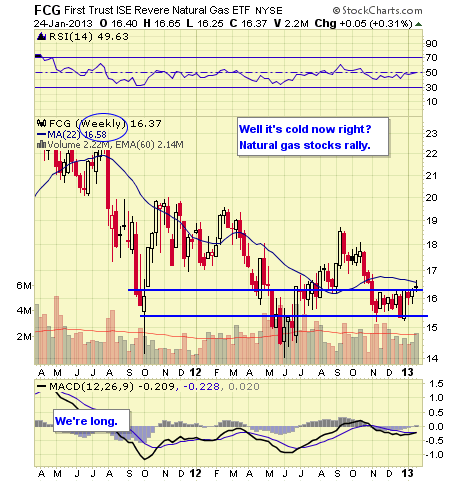 Continue to Overseas Sectors & ETFs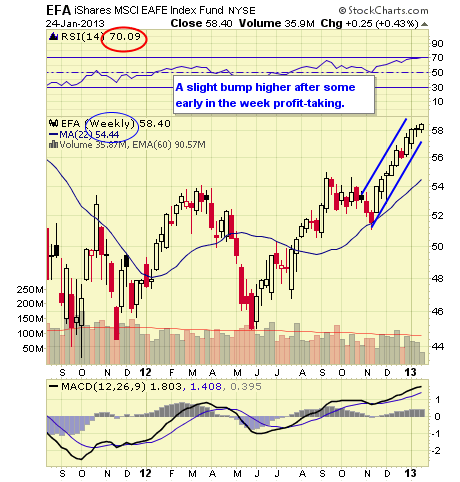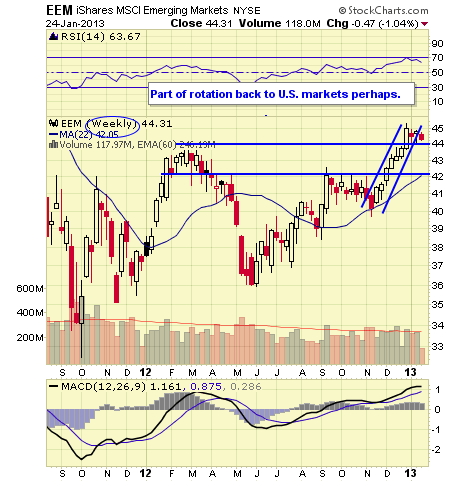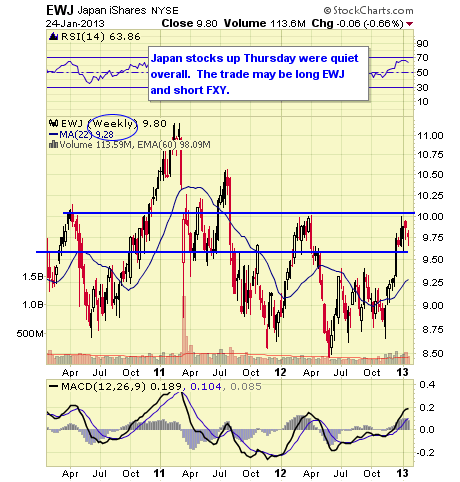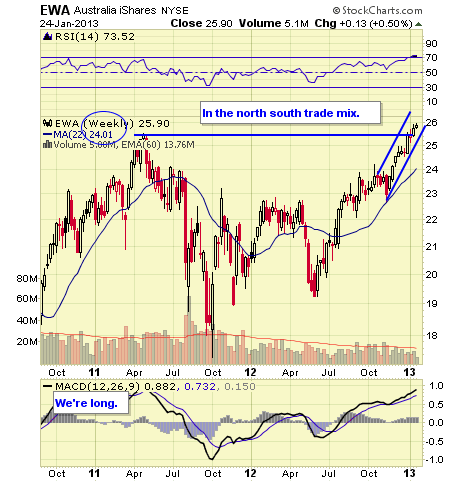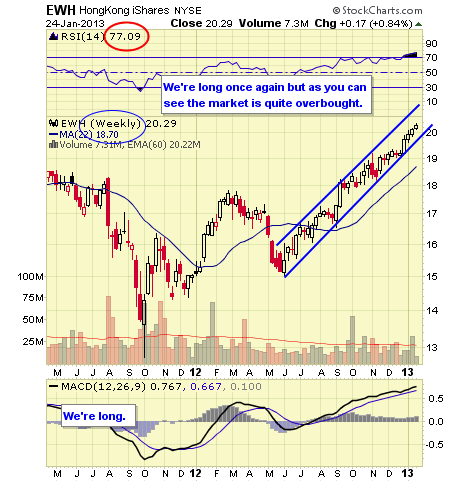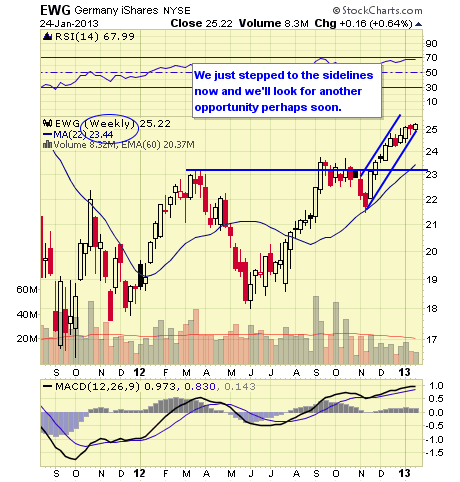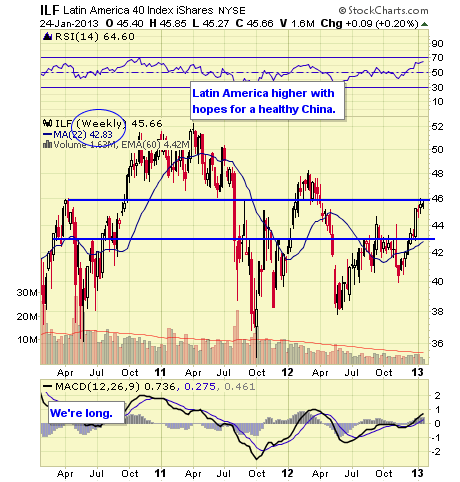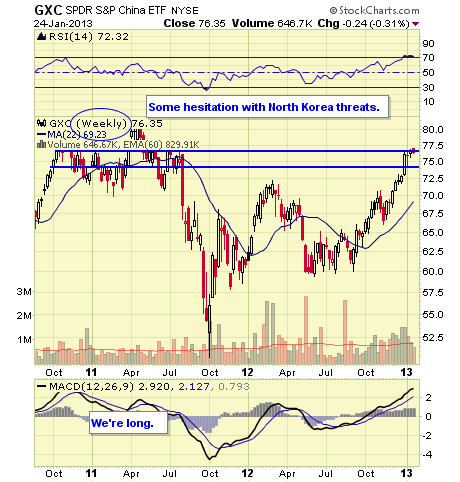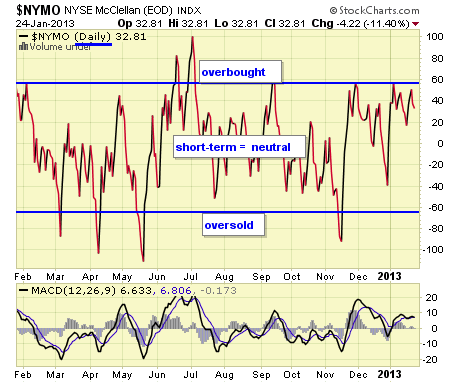 The NYMO is a market breadth indicator that is based on the difference between the number of advancing and declining issues on the NYSE. When readings are +60/-60, markets are extended short term.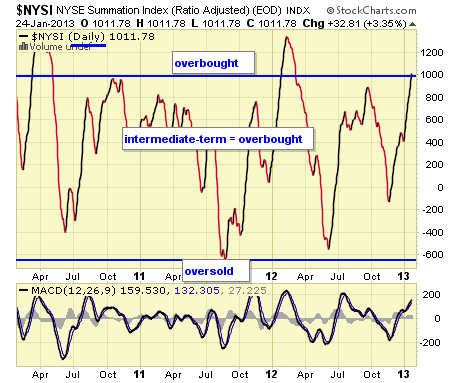 The McClellan Summation Index is a long-term version of the McClellan Oscillator. It is a market breadth indicator, and interpretation is similar to that of the McClellan Oscillator, except that it is more suited to major trends. I believe readings of +1000/-1000 reveal markets as much extended.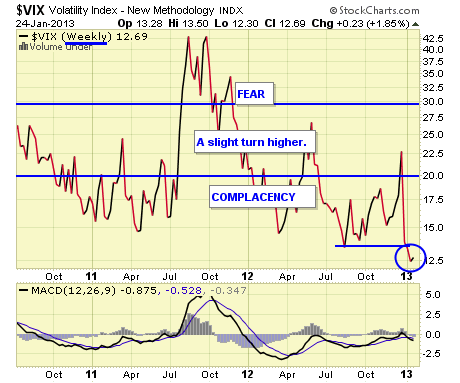 The VIX is a widely used measure of market risk, and is often referred to as the "investor fear gauge." Our own interpretation is highlighted in the chart above. The VIX measures the level of put option activity over a 30-day period. Greater buying of put options (protection) causes the index to rise.
Concluding Remarks
New Home Sales are on tap for Friday, along with earnings reports from Kimberly Clark (NYSE:KMB), Halliburton (NYSE:HAL), Procter & Gamble (NYSE:PG), Siemens (SI) and others.
Everyone is tweeting and expressing opinions on what to do with Apple. The tape has been telling investors there were problems ahead and it was over-owned. I assume this condition is being corrected. No doubt there will be many expressing views that with Steve Jobs gone, the primary innovator and driver of new product development is gone. Let's remember the company has a huge reservoir of cash. Perhaps a dividend is in order, but you would think this would have happened in 2012 before tax increases.
Disclaimer: The ETF Digest maintains an active ETF trading portfolio and a wide selection of ETFs away from portfolios in an independent listing. Current "trading" positions in active portfolios, if any, are embedded within charts: Lazy & Hedged Lazy Portfolios maintain the follow positions: VT, MGV, BND, BSV, VGT, VWO, VNO, IAU, DJCI, DJP, VMBS, VIG, ILF, EWA, IEV, EWC, EWJ, EWG, & EWU.
The charts and comments are only the author's view of market activity and aren't recommendations to buy or sell any security. Market sectors and related ETFs are selected based on his opinion as to their importance in providing the viewer a comprehensive summary of market conditions for the featured period. Chart annotations aren't predictive of any future market action rather, they only demonstrate the author's opinion as to a range of possibilities going forward.
Disclosure: I have no positions in any stocks mentioned, and no plans to initiate any positions within the next 72 hours. I wrote this article myself, and it expresses my own opinions. I am not receiving compensation for it. I have no business relationship with any company whose stock is mentioned in this article.