About a month back, I had written an article explaining why I was buying January 2014, strike 50 puts on the ProShares Ultrashort Silver ETF (NYSEARCA:ZSL), which is a 2x leveraged inverse play on the iShares Silver Trust ETF (NYSEARCA:SLV). The rationale was simple. I am bullish on silver prices in 2013, so I expect silver prices to go up, hence SLV to go up and ZSL to go down. Thus, buying puts on ZSL guarantees a good return. As mentioned in that article, if silver prices were up 15% in 2013, buying the put would yield 80%+.
Since I posted the article, SLV is up about 7.5% and ZSL, naturally, being the 2x inverse, is down 15%. The put is up about 35% in the same time. So life is good.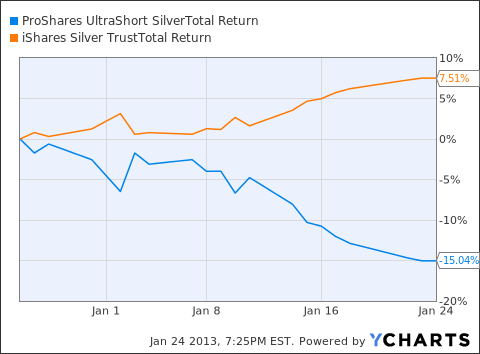 I got a message from a reader asking whether I would now repeat the same trade for the strike 45 calls, given the ZSL had already fallen below that point. At the same time, another reader asked whether buying the ProShares Ultra Silver ETF (NYSEARCA:AGQ) will be a better investment. Good question, which I hope to answer in this article.
First, we need to figure out if the fundamentals for silver are still good. I had recently written an article to check exactly that. My conclusions are that the fundamentals for silver still point upward. Here are the reasons, which I quote from my other article:
There seems to be a shortage of silver right now. This is not surprising. As industrial demand grows with the economic recovery in China, silver, a key industrial commodity, is in high demand. As reported by Seeking Alpha commentator Dave Kranzler:
I have a couple different business colleagues who have spoken with bullion smelters who say the market is in short supply right now. Furthermore, Swiss money manager Egon Von Greyerz stated yesterday that "we are now seeing very lengthy delays in getting physical silver."
How have investors reacted to the anticipated increase in silver demand, and hence higher prices? As reported by ETFtrends.com:
The iShares Silver Trust has gathered inflows of more than $600 million so far this week, which represents approximately 6% of the assets under management in the fund, to lead all ETFs.
This has led to a sharp rally in silver, as is clear from the chart above. I continue to be bullish on economic growth, especially from China. As reported by Seeking Alpha:
Chinese Q4 GDP rises 7.9% Y/Y vs. 7.8% consensus, 7.4% prior. December industrial production +10.3% Y/Y vs. 10.2% consensus. December retail sales +15.2% Y/Y vs. 15.1% consensus.
China is the engine that has been driving world industrial growth. If the outlook is positive for China, I believe that it is positive for silver as well. So, I continue to be bullish on silver.
So we've got the fundamentals covered, and they continue to be good. Now we need to forecast what will happen to AGQ and ZSL by the end of the year.
I believe silver still probably has another 10% rise left for the year. After all, we are just barely beginning the industrial production, but I also think manufacturers have bought forward contracts for large part of their needs already. The daily volatility of the SLV has been about 2.4%. With that, I ran a simulation to predict what ZSL and AGQ prices would be end of year.
The results show a 95% confidence interval of $35.8 to $38.5 for the ZSL, and $56.2 to $60.6 for the AGQ. Given current bid/asks for ZSL puts, this makes pretty much any put with a strike below 55 a losing trade. Above that strike, there is probably 10% return left in the put, which is simply not worth the risk. Investors will do well just going long AGQ instead.
So, what really happened? Since I posted the article, it seems that the puts have appreciated way too much, as the implied volatilities have gone up tremendously. They were good buys a month back, but not anymore. Given the 7.5% rise in silver prices in a month, it is quite understandable why the implied volatilities are spiking. Perhaps selling the puts for strikes below 35 may be a good trade, as long as one is willing to buy the ETF should the prices fall below that. Still, these are trading for a price of nearly five bucks, so that's a lot of upward protection in the price of silver (and downward protection in the price of ZSL).
So there you have it. If you believe (as I do) that silver still has another 10% left in 2013, it is better to buy AGQ than puts on ZSL. The time for that is long gone.
Disclaimer: This is not meant as investment advice. I do not have a crystal ball. I only have opinions, free at that. Before investing in any of the above-mentioned securities, investors should do their own research, consult their financial advisors, and make their own choice. I am merely stating what I personally plan to do for my own portfolio.
Disclosure: I am long puts on ZSL. I wrote this article myself, and it expresses my own opinions. I am not receiving compensation for it (other than from Seeking Alpha). I have no business relationship with any company whose stock is mentioned in this article.