Thursday's market sentiment was driven by extreme greed, with the Fear & Greed Index at 92, which was the same as the previous close of 92. As reported by CBOE, the total put/call ratio was 0.88 for the day. The index put/call ratio was 0.84, and the equity put/call ratio was 0.65. The CBOE volatility index (VIX) put/call ratio was 0.43. In the following, top stocks had been identified through our daily options scanning process, with the scanning criteria where the daily call volume ratio was above 2.00 (2x of the average call volume) with a call volume above 10,000.
| | | | |
| --- | --- | --- | --- |
| Name (Ticker) | Call Volume | Average Call Volume | Daily Volume Ratio |
| Qualcomm, Inc. (NASDAQ:QCOM) | 49,077 | 20,879 | 2.35 |
Source: Schaeffer's Research
Unusual option activities can be an indicator or precursor of a major movement for the underlying stock. This article will try to identify the bullish factors for Qualcomm.
Qualcomm Inc.
Qualcomm Inc. (QCOM) designs, develops, manufactures, and markets digital telecommunications products and services, including developing and licensing wireless technology and manufacturing semiconductors for mobile phones. QCOM closed at $64.40 on January 24, 2013 with a 0.76% loss. QCOM had been trading in the range of $53.09-$68.87 in the past 52 weeks.
Bullish Factors
Larger display for smartphones. The trend toward larger display screens for smartphones is a positive factor for QCOM's royalty business, where the larger display, which is more than 5 inches long, will increase 15 percent in 2013 and 20 percent in 2015 for the smartphone market share, as compared to the current 5 percent.
New Snapdragon 800 and 600 processors. The new Qualcomm Snapdragon 800 processors, which target premium mobile and computing devices, will deliver up to 75 percent better performance than the Qualcomm Snapdragon S4 Pro processor and the move to 28nm High Performance for mobile, HPm, technology node
Ensures exceptionally low power. The new Krait 400 CPU for Snapdragon 800 in quad configuration has speeds of up to 2.3 GHz per core, offering best-in-class performance per watt. The Qualcomm Snapdragon 600 processor targets high-end mobile devices, delivering up to 40 percent better performance than the Qualcomm Snapdragon S4 Pro processor at lower power. The Qualcomm Snapdragon 600 processor features a new Krait 300 quad-core CPU with speeds up to 1.9GHz, a new speed enhanced Adreno 320 GPU and support for LPDDR3 memory. The Qualcomm Snapdragon 600 processor is sampling now, and is expected to be available in commercial devices by the second quarter 2013.
New product developments. StreamBoost Wi-Fi routers can optimize the performance and capacity of home networks, which could be one of the most significant new home-networking features of 2013. The Qualcomm Reference Design, QRD, program has a commercial launch of more than 170 devices and more than 100 designs in progress, supporting various network technologies, including LTE-TD. "Qualcomm Reference Design further validates Qualcomm Technologies' commitment to provide its OEM customers with specific products, features and programs, and differentiating technology in emerging regions globally, " stated Jeff Lorbeck, senior V.P. of program management at Qualcomm Technologies.
Increasing stake in Pantech. Qualcomm will convert its existing royalty debts, which are owed to it by Pantech, into equity, increasing its stake in the South Korean smartphone maker from 11.46 percent to 13.49 percent.
Speculation for lower cost iPhones. The analysts at Detwiler Fenton think that Apple Inc. (NASDAQ:AAPL) is working on a "new product" aimed at the low-end of the market that will be built around a Qualcomm Snapdragon processor, where a less powerful lower-end Snapdragon integrated solution would help segment the product.
Fundamentally, QCOM has a solid strong balance sheet, with $12.37B total cash and a small total debt of $60.00M, with a total debt to equity ratio of 0.18. QCOM generates a strong cash flow with an operating cash flow of $6.00B and a levered free cash flow of $4.57B. QCOM has higher revenue growth (3 year average) of 22.4, comparing to the industry average of -3.5. QCOM has a stronger operating margin of 29.7%, ttm, and net margin of 32.0%, ttm, as compared to the industry averages of 9.9% and 7.3%, ttm, respectively. QCOM also generates higher ROE of 20.2 as compared to the average of 10.1. QCOM has P/E of 21.2, which is lower than the industry average of 30.4 and QCOM's 5 year average of 24.3.
Technical Analysis
The momentum indicator, RSI (14), has a slightly bullish lean at 54.16. QCOM is currently trading above its 50-day MA of $63.08 and 200-day MA of $60.56. The MACD (12, 26, 9) had been showing a bullish trend until the last trading day, and the MACD Histogram closed below 0 at -0.012 on Thursday, as seen from the chart below.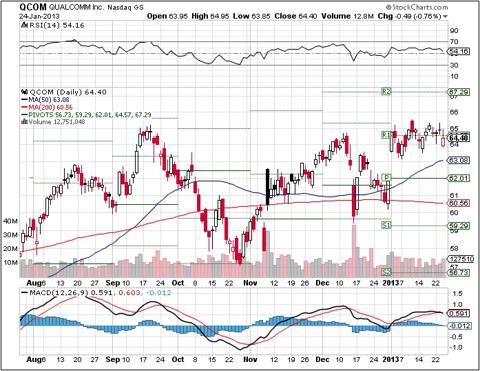 Source: StockCharts.com
Earnings
Analysts, on average, are expecting an EPS of $1.12 with revenue of $5.90B for the current quarter ending in December 2012. Analysts are estimating an EPS of $4.33 with revenue of $23.66B for fiscal 2012. QCOM is expected to release its earnings at 4 pm on January 30, 2013.
Reviewing Options
The most active call was the Feb. 15, 2013 call at the strike price of $67.50, with a volume of 24,624 and an open interest of 20,798. The implied volatility is 25.0, and the chance of breakeven is 18.21. The historical volatility for QCOM is 20.15 for 1 month, 23.79 for 3 months, and 22.93 for 1 year.
For bullish investors, the credit put spread of April 20, 2013 $55/$57.50 can be reviewed here, which will allow investors to acquire the stock at a lower price while gaining some upside potentials.
Note: All numbers/prices are quoted from the closing of January 24, 2013 with the data provided from Barron's, Morningstar, Schaeffer's Investment Research, Inc., Google Finance, and Yahoo Finance. Investors and traders are recommended to do their own due diligence and research before making any trading/investing decisions.
Disclosure: I have no positions in any stocks mentioned, but may initiate a long position in QCOM over the next 72 hours. I wrote this article myself, and it expresses my own opinions. I am not receiving compensation for it (other than from Seeking Alpha). I have no business relationship with any company whose stock is mentioned in this article.