AT&T Inc. (NYSE:T) is a holding company for AT&T, one of the United States' largest providers of communications related services, including the country's largest 4G network. The company also offers Wi-Fi, wireless and other Internet services in addition to TV services under the AT&T and DIRECTV brands. AT&T Inc. is one of the largest publicly traded companies on the NYSE with a market capitalization of $191.7B and about 5.68B shares outstanding.
Utilities and telecoms have been the great beneficiaries of low rates, primarily due to their predictable cash flows and reliable dividend yields. AT&T Inc. has participated in the so-called chase for yield investors have been on since the Federal Reserve cut its overnight rate to a mere 25 basis points, pushing the gigantic market capitalization of the company by about 50 percent in the past three years. The strong need for reliable cash flows and low volatility on the part of pension funds around the world also contributed to the healthy appreciation. Yet is the current 14.6 P/E multiple justified, and are there additional gains to be realized?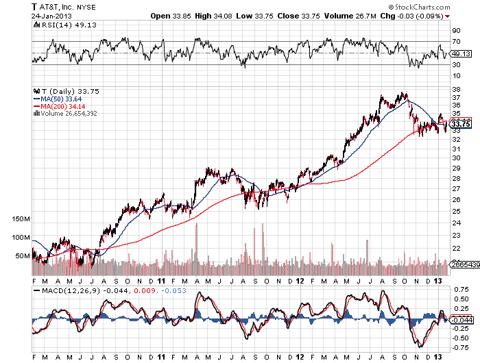 On January 24, the company reported its fourth quarter and full year financial results, and those illustrate little change over the past 3-4 years, and therein lies the problem -- lack of growth. 2012 revenues grew by 0.56 percent over fiscal 2011 revenues to $127.434B and 2.4 percent when excluding the divestment of the Advertising Solutions business unit. Earnings increased to $2.31 per diluted share in 2012, up 8.5 percent over 2011 earnings per diluted share of $2.13. Unfortunately, earnings growth per diluted share was primarily driven by the company's share repurchase program, which decreased the number of outstanding shares by about 6 percent in 2012. This leaves a true rate of earnings growth of about 2.5 percent, not enough to justify a P/E multiple of about 14.6 and therefore, the current share price.
Annual Revenues in Millions and Growth Rates: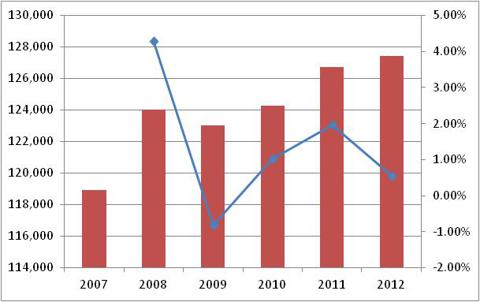 On the other hand, the company's shares offer a healthy and safe dividend yield of about 5.33 percent, considerably above its peer Verizon (NYSE:VZ), whose shares offer a yield of 4.88 percent. Although AT&T's annual dividend growth has been declining since 2008, the current yield is materially above what fixed income instruments offer pension funds that are in great need of predictable and safe cash flows. The stability of AT&T's businesses and the liquidity it offers large institutional investors is another element that, along with a juicy yield, plays in the favor of the company's shares.
Annual Dividend Growth Rate: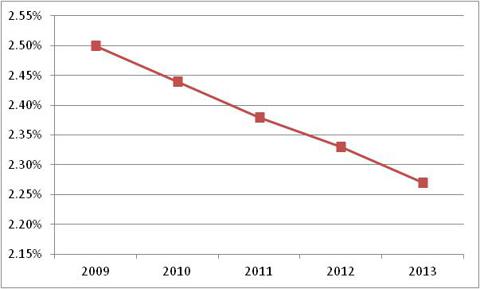 Looking ahead, the company expects that healthy growth in wireless services and wire-line consumer revenues will help 2013 annual revenues top 2 percent growth over 2012 -- again, not a growth rate that justifies a 14.6 P/E multiple. This conflict between the valuation of the company's shares and its healthy dividend yield, covered by a stable array of businesses, is difficult to reconcile, and is without a doubt due to the manipulation of borrowing rates by the Federal Reserve. At these price levels, however, investors considering AT&T as an investment need to clearly define their needs: capital appreciation or yield. Investors seeking a stable investment that pays a healthy yield will get exactly that with AT&T. However, those seeking capital appreciation are best to look elsewhere, as the company's earnings and revenue growth do not justify further share price appreciation from current levels.
Disclosure: I have no positions in any stocks mentioned, and no plans to initiate any positions within the next 72 hours. I wrote this article myself, and it expresses my own opinions. I am not receiving compensation for it (other than from Seeking Alpha). I have no business relationship with any company whose stock is mentioned in this article.