While the broad technology exchange traded funds are being weighed down by the pessimistic outlook on Apple (NASDAQ:AAPL), the largest component stock in the sector, equal-weight tech ETFs have been outperforming their market-cap counterparts.
Apple shares were down about 10% in Thursday's premarket after the Wall Street darling reported quarterly results that disappointed bullish investors.
The stock is off about 16% for the three months ended January 23.
Apple beat consensus revenue estimates and delivered net income higher than its guidance, but disappointed on iPhone and iPad sales, said Morningstar analyst Brian Colello.
"So it wasn't the sort of blow-out quarter that you might normally expect and maybe what bullish investors were hoping for in light of all of these new product launches. The bigger issue, I think, was the forecast for the March quarter, their fiscal second quarter. That was much lighter than expected," Colello said. "Again, if you had a blow-out quarter, you could see Apple maybe getting away with a lighter forecast for March, but since the December quarter was in line, that March forecast is especially disappointing."
For instance, the Nasdaq-100 PowerShares QQQ (NASDAQ:QQQ) has added 1% over the past three months, whereas the First Trust NASDAQ-100 Equal Weighted Index Fund (NASDAQ:QQEW) gained 7.7%.
Looking at the relative chart of QQEW compared to QQQ, the equal-weight fund started to turn around late September.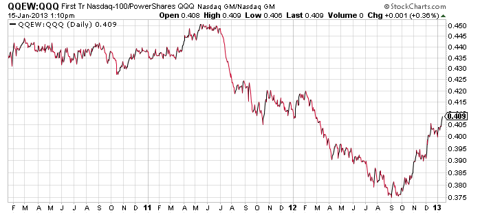 The PowerShares QQQ's top holdings include Apple 15.0%, Microsoft (NASDAQ:MSFT) 7.2%, Google (NASDAQ:GOOG) 6.1%, Oracle (NASDAQ:ORCL) 5.4% and Amazon (NASDAQ:AMZN). The market-cap breakdown includes large-cap growth 76.9%, large-cap value 8.0%, mid-cap growth 13.2% and mid-cap value 1.8%.
Apple shares have dipped under $500 per share as observers grow worried over cuts in iPhone production.
In comparison, QQEW spreads out its weighting across its 101 holdings, with the largest component, Celgene Corp (NASDAQ:CELG), at 1.2%. Market-cap breakdown includes giant 15.8%, large 34.3% and medium 49.3%.
Investors who continue to believe in the growing power of the top market capitalization companies in the sector would want stick to a market-cap weighted ETF. However, if the top companies stumble, or if the market environment favors smaller firms, an equal-weight ETF would also be a good alternative.
Other equal-weight tech related ETFs include the Direxion NASDAQ-100 Equal Weighted Index Shares (NYSEARCA:QQQE) and the Guggenheim S&P 500 Equal Weight Technology ETF (NYSEARCA:RYT).
First Trust NASDAQ-100 Equal Weighted Index Fund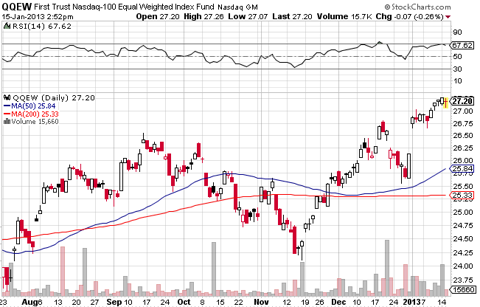 Max Chen contributed to this article.
Full disclosure: Tom Lydon's clients own AAPL and QQQ.
Disclosure: I am long AAPL, QQQ. I wrote this article myself, and it expresses my own opinions. I am not receiving compensation for it. I have no business relationship with any company whose stock is mentioned in this article.