Everyone's favorite coffee company, Starbucks (NASDAQ:SBUX), reported its first quarter fiscal 2013 results on Thursday after the close. Analysts were expecting the company to report $0.57 earnings per share with $3.84 billion in revenues. The company met analysts' consensus with $0.57 in earnings per share but were slightly lower in revenues with $3.8 billion. Shares initially traded lower right after the report but have since moved to the upside. Recently, I wrote an article giving my analysis on why the company's future growth prospects look good. In this article, I will highlight some specific details from the report and conference call as well as give my own analysis.
Highlights:
Total net revenues increased 11% to a record $3.8 billion.
Global comparable store sales grew 6%.
China/Asia comparable store sales grew 11%.
Opened 212 net new stores globally, including its first three stores in India.
Over 150,000 Verismo machines sold since its launch.
Consolidated operating margin rose 40 basis points to 16.6%.
In the report Howard Schultz, president and chief executive officer, had this to say about the quarter:
"Starbucks strong performance in Q1 demonstrates the strength, and unique resilience, of our increasingly global business, and the power and growing relevance of the Starbucks brand to consumers and communities all around the world," said Howard Schultz, chairman, president and chief executive officer, Starbucks Coffee Company. "Solid growth in our U.S. retail business, further expansion of our Channel Development initiatives and continued successful execution against our expansion plans throughout China and Asia Pacific all contributed to the record results we announced today. Starbucks has never been better positioned to achieve the goals we have set for ourselves around the world and I have never been more optimistic about our future."
Global Growth
In my last article, growth in Asia and India was one of my primary reasons for why Starbucks shares should rise. The company has now opened 700 stores in mainland China and this number is expected to grow to 1500 by 2015. On the conference call, the company reported that China will become the second largest market for the company by 2014. China/Asia-Pacific operating income increased 26% over the same period last year. As mentioned above, comparable store sales came in very strong with an 11% increase. Operating margins decreased slightly because of company spending to support continued growth in the region. Chinese demand for coffee has continued to rise and Starbucks is positioned well to meet this demand. Chinese economic data recently has been very strong which should continue to fuel and grow growth rates.
The company also announced the completion of its first three stores in India with another store in Delhi expected to open next month. Starbucks is partnering with Tata Beverages Group to strategically plan the expansion. India will be another key market for the company as demand for coffee in the region rises. India's sheer population alone makes this market very attractive for Starbucks.
In addition to China and India, Starbucks will continue to expand its U.S. base by 1500 stores. Some may be concerned with a repeated over-expansion, but I remain confident that the company will not repeat past mistakes. Howard Schultz would not allow the company to make this expansion if he was not confident the market could handle the additional stores. The prospects for Europe remain strong and in Russia specifically the new stores have been received well. Lastly, the company will open its first store in Vietnam in February creating yet another market for its specialty coffees.
Emerging Brands
The company was very positive on the future prospects of Teavana. Teavana, heaven of tea, provides customers a broad selection of luxury teas and tea accessories. Howard Schultz stated that the company plans to reinvent the $40 billion global tea market as the company did with the coffee category. By the end of the year, the company will open 30 more Teavana locations as well as the first neighborhood store. The company will begin to roll out hand crafted beverages in these new locations as well in current mall-based locations. Like Starbucks, Teavana builds a cult like following to its brands which will maintain the seemly inelastic demand for its products. The company was also positive on the Evolution Fresh and La Boulange brands and believes the brands will continue to strengthen with the expertise Starbucks has to offer.
Company executives were very positive on the future of the "ready to drink" category which will soon offer consumers more choices. The plan is to introduce a simple iced coffee drink which would attract the high percentage of iced coffee patrons. A high portion of these iced coffee consumers drink iced coffee throughout the year which will give seasonal stability to the product.
Verismo
The much anticipated Verismo made a strong debut since its release late last year. The company sold over 150,000 units and should continue to see gains through the sale of its high margin capsules. Although, the capsules are expensive compared to high quality alternatives such as Nespresso capsules. Nespresso machines have been a consumer favorite for many years and charge about $0.65 per capsule vs. about $1.00 for a Verismo capsule. Starbucks is obviously making a fortune on each capsule but I remain somewhat concerned due the moderate reviews from consumers. The online reviews have only been alright which is somewhat surprising considering the amount of pressure the machine offers. For only $200, the machines offers 19 bars of pressure which is as good as your going to get. It will be interesting to see if Starbucks is able to maintain high capsules prices but I guess it is still a cheaper alternative.
Technical Analysis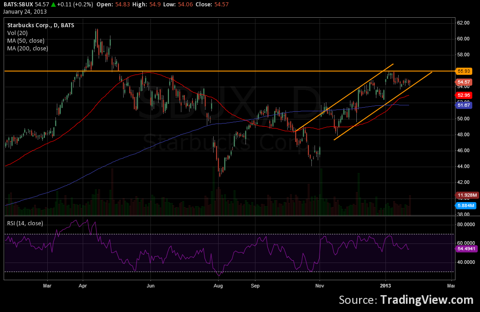 Chart created on TradingView.com
In my view, Starbucks looks great on a technical basis. After the earnings report, shares closed slightly below $56 in extended hours trading. $56 should act a significant resistance as shares have topped out at this level twice before. Shares have been rising in an upward channel since November and the range has tightened between the horizontal resistance and trend line support. This report should act as the catalyst needed for shares to make a strong break above $56. A strong close over $56 should take shares to $60 rather quickly in my opinion. The RSI has a good amount of room to the upside before signaling overbought. Lastly, the 50-day moving average recently crossed above the 200-day moving average hinting at higher prices.
Conclusion
I remain very bullish on Starbucks as it seems the company is doing everything correctly. Asia and India will continue to provide strong future growth. The global growth story remains intact for the foreseeable future. Coffee price are low compared to the last few years which should continue to help margins. Technically, the chart looks strong and is set up for higher prices. Let's not forget that the company pays a 1.50% dividend yield which isn't bad either. I reiterate my price target of $66 per share.
Disclosure: I am long SBUX. I wrote this article myself, and it expresses my own opinions. I am not receiving compensation for it (other than from Seeking Alpha). I have no business relationship with any company whose stock is mentioned in this article.
Additional disclosure: You should not treat any opinion expressed in this article as a specific inducement to make a particular investment or follow a particular strategy, but only as an expression of an opinion.