As detailed here last week, the popular iShares Silver Trust (NYSEARCA:SLV) added a whopping 571 tonnes to its holdings on January 16th, causing a good deal of speculation as to who or what was behind the change.
This added more than a half a billion dollars worth of silver to the trust and, given its history of big inflows and outflows, it should come as little surprise that, yesterday, per the latest data at the iShares website, nearly 200 tonnes exited the trust as shown below.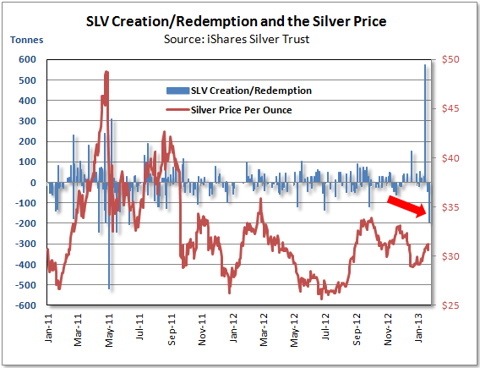 Following a smaller outflow of 45 tonnes two days ago, this leaves the holdings up over 300 tonnes in the last week.
So, what's going on?
No one really knows, however, yesterday's outflow casts doubt on the theory that last week's big inflow was due to buying by a large institutional fund. Some thought that a fund prohibited from owning physical silver bullion, but able to purchase the ETF, had taken a large position in SLV but, if so, this would more likely have been a long-term investment rather than a short-term trade.
Yesterday's big outflow now makes this explanation less likely.
Another theory for last week's big inflow was that a large short position, perhaps held by JP Morgan, was recently closed out. According to ShortSqueeze, the short position for SLV has recently fallen from over 18 million shares to about 17 million.
But, since this reduction is the equivalent of roughly 30 tonnes of silver, this change would account for only a small portion of the recent changes.
The latest bar list (.pdf) from iShares shows that the trust now has a fourth vault run by JP Morgan in New York and, according to this analysis at About.Ag, almost half of last week's addition went into this new vault.
But, none of this explains who's buying and selling large quantities of SLV shares that has resulted in huge creation and redemptions in just the last week and, as a result, big changes in the fund's silver holdings.
We'll probably never know, but, one thing seems clear.
There has been increased demand for silver in recent weeks as coin sales in both the U.S. and Canada are off to a blistering pace in the new year. Also, increased gold duties in India are said to be spurring demand for the "poor man's gold" on the other side of the world as more and more investors seem to be favoring silver over gold in 2013.
It's not surprising to see part of last week's big increase in SLV holdings reversed this week, but the important point for silver investors is that demand for SLV shares has been rising over the last month or so - up more than 700 tonnes during that time even after yesterday's decline - and this is supportive of the silver price.
The big question is whether it will continue.
Disclosure: I am long SLV. I wrote this article myself, and it expresses my own opinions. I am not receiving compensation for it (other than from Seeking Alpha). I have no business relationship with any company whose stock is mentioned in this article.
Additional disclosure: I also own silver coins and bars.