With natural gas prices plunging in 2012, even fee-based pipeline companies took a hit, as their customers curtailed drilling. One of the ugliest 2012 charts of them all belongs to Crestwood Midstream Partners, LP, (NYSE:CMLP), which fell over 32% in 2012. However, it has risen over 17% thus far 2013.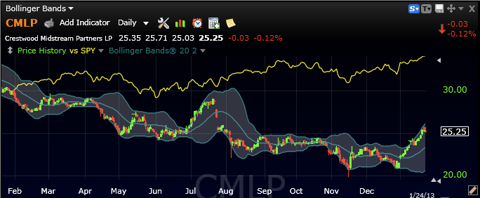 Like most of the high yielding stocks we've covered in recent articles, CMLP is listed in our High Dividend Stocks By Sector Tables.
Profile: Crestwood is a midstream company primarily engaged in the gathering, processing, treating, compression, transportation and sales of natural gas and the delivery of NGLs produced in the geological formations of the Barnett Shale in north Texas, the Fayetteville Shale in northwestern Arkansas, the Granite Wash in the Texas Panhandle, the Marcellus Shale in northern West Virginia, the emerging Avalon Shale trend in southeastern New Mexico and the Haynesville/Bossier Shale in western Louisiana. Crestwood seeks to minimize direct commodity price exposure through long-term, predominantly fixed-fee contractual arrangements with our customers. This ongoing effort is demonstrated by our current contract portfolio which consists of approximately 95% fixed-fee arrangements with maturities ranging from 2017 to 2032. (Source: Crestwood website)
Distributions: After jumping from an initial $.168 in October 2007, to $.30 in January 2008, CMLP has grown its quarterly distributions steadily each year, all the way up to its present $.51 payout. CMLP goes ex-dividend on January 29, 2013, and is currently yielding over 8%.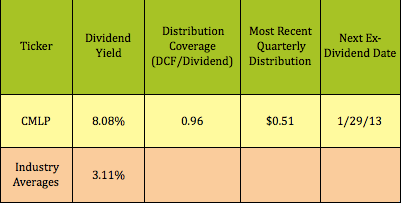 Much Better Earnings Ahead: So why the big rise in 2013? It certainly doesn't have to do with 2012 earnings, which, with just the 4th quarter left to report, are forecast to fall over 40%.
It's all about 2013 earnings, which are estimated to nearly double. Even with CMLP's historically high 42.08 P/E, 88%-plus growth in 2013 gives it a low 2013 PEG of .47, and makes it appear undervalued on a 2013 PEG basis. This, coupled with the 8%-plus yield, are most likely what's driving CMLP's 2013 price gains.
The earnings improvement is coming from bolt-on acquisitions that CMLP made in 2012 in Natural Gas Liquid rich gas shale plays such as the southwest portion of the Marcellus Shale.
CMLP's last quarterly earnings report stated,
Our business strategy going forward will focus on developing new greenfield opportunities in rich gas plays like the Permian, the Utica and the Niobrara and continuing to seek "bolt-on" acquisitions similar to our latest acquisition from Devon Energy Corporation (Devon), which will provide operating synergies and allow for the development of our business in rich gas infrastructure plays.

(Source: CMLP 10Q)
CMLP has also stated that its purchase of Antero's Marcellus Shale gathering assets will be 7 to 8% accretive to its distributable cash flow, starting in the 1st quarter of 2013.

Options: We've listed an alternative way to trade CMLP in our Cash Secured Puts Table. This 6-month trade offers a put premium that's higher than CMLP's next 2 distributions. You'd get paid the $1.45/share put option premium within 3 days of selling a put, vs. waiting for 2 quarterly distributions. (Put option sellers don't receive dividends/distributions.)
Since each option contract corresponds to 100 shares of the underlying stock, your broker will "secure", i.e. hold $2500.00 per $25.00 put sold in your account until the trade expires or is closed out.
Advantages: Quicker and higher cash payment than the next 2 CMLP distributions, and your breakeven is lower than buying the stock outright.
Disadvantages: You won't participate in any price gains, or in any distributions. Option profits are usually taxed at a higher rate than dividends.

Financials: CMLP has a high operating margin, which greatly exceeds industry averages, and its management efficiency ratios, although generally low, are still above industry averages. Its debt load is in line with its industry, and it has a 2.6 Interest Coverage ratio.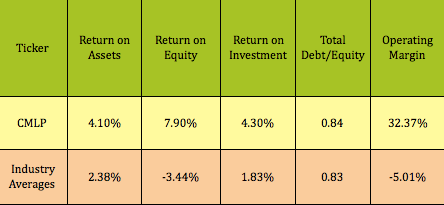 Disclaimer: This article was written for informational purposes only and isn't intended as investment advice.
Disclosure: I am long CMLP. I wrote this article myself, and it expresses my own opinions. I am not receiving compensation for it (other than from Seeking Alpha). I have no business relationship with any company whose stock is mentioned in this article.