Microsoft (NASDAQ:MSFT) reported second quarter 2013 EPS of $0.76, beating analysts' earnings estimate consensus of $0.75. Top line revenue for the quarter was $21.5 billion, 3 percent higher than second quarter 2012 and 34 percent higher than first quarter 2013. Profitability was slightly weaker compared to the second quarter of 2012 down 3.7 percent.
Sales revenue for the second quarter was driven by the Entertainment and Windows business lines which increased 94 percent and 81 percent, respectively. Increased revenue in the two divisions led to operating income increases of 15.3 percent and 14.4 percent for Entertainment and Windows, respectively.
Revenue growth in Microsoft's Entertainment and Devices division was generated from demand for Xbox, Windows Phone and Skype. Xbox grew its membership base to greater than 40 million. Halo 4 helped increase Xbox sales for the quarter and is the best-selling game in the franchise's history. Windows Phone sales also increased significantly and Skype recorded a 59 percent increase in call minutes compared to the second quarter of 2012.
In the Windows division, Windows 8 was the company's greatest growth driver. Launched in October, the newest Windows operating system has sold 60 million licenses helping to improve the second quarter's revenue for the division to $5.9 billion. Sales for the Windows business segment were also helped by Microsoft's tablet, the Surface. In February, Microsoft will launch the second version of the Surface tablet, Surface Windows 8 Pro, which should continue tablet momentum in the third quarter.
Cloud computing innovation and Bing's online service capabilities also added to second quarter highlights for the company.
In the Server and Tools segment, flexibility, portability and scale are the company's focus for cloud computing innovation. Microsoft's cloud computing systems, including Windows Server 2012, System Center 2012 and Windows Azure, continue to lead in the marketplace, providing companies with a variety of cloud computing solutions.
In Online Service, Microsoft noted its expectations for improved revenue from Bing which grew its U.S. market share 120 basis points year-over-year to 16.3 percent.
Overall, Microsoft has a positive outlook for the second half of its fiscal year 2013. Sales revenue growth will be centered around Windows 8 which will help enhance and grow revenue for a large portion of its product lines. Deferred sales realizations from Windows 8 should also continue adding to revenue growth for the remainder of the year.
Given the current market environment and sales projections for the company, Microsoft appears to have an intrinsic value price target1 of $29.06, slightly undervalued at its current market price of $27.63.
In 2013 the stock has performed well versus its peers. Year-to-date it has a return of 3.45 percent, 2.40 percent above the Dow Jones U.S. Technology sector and 18.79 percent higher than Apple.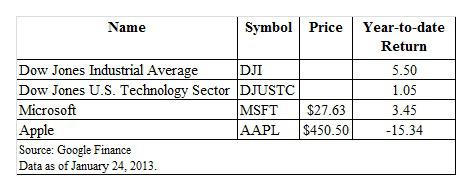 The company's positive outlook for 2013 represented by its low double digit revenue growth projections in its major business lines also reinforces its growth potential helping to make it a buy for investors seeking technology stock exposure.
1 The price target is derived from Bodie, Kane and Marcus' intrinsic value formula. The intrinsic value formula discounts the projected one-year future cash flow value by the risk-free rate on the one-year Treasury note plus a beta of 1.17 times the market's expected one-year risk premium. The market risk premium assumes stock market appreciation in 2013 to be similar to 2012 and is based on Dow Jones Industrial Average index return.
Disclosure: I have no positions in any stocks mentioned, and no plans to initiate any positions within the next 72 hours. I wrote this article myself, and it expresses my own opinions. I am not receiving compensation for it (other than from Seeking Alpha). I have no business relationship with any company whose stock is mentioned in this article.