Yesterday FedEx Corporation (NYSE:FDX) hit a new 52-week high of $102.61. The $31.99 billion transportation, e-commerce, and business service company is up over 8.9% year-to-date and the company's P/E ratio of 15.1 is trading below the S&P P/E ratio of 17.7.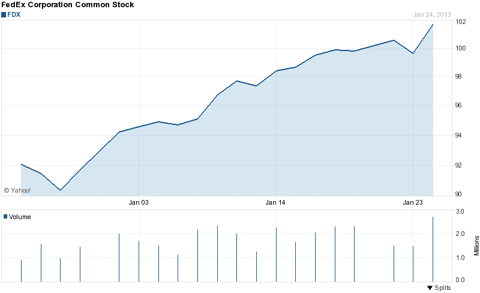 Founded in 1971, FedEx has become a stalwart example of repeatability. With over four decades of innovative growth, FedEx has become a major player in the package delivery market with "global dominance" as the world's largest airline (in terms of freight flown) and the fourth largest shipping operator (in terms of fleet size).
With over $42 billion in annual sales last year (2012), FedEx has built a world-class brand on consistency and the well-recognized global platform has been an exceptional stock to own.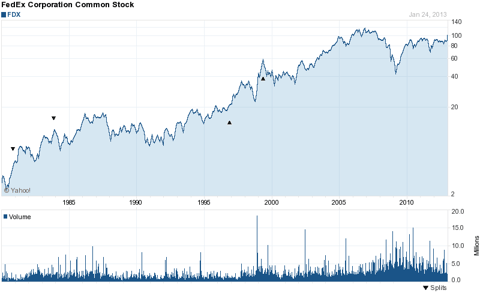 FedEx has been an incredible growth stock; however, for income investors, the world class tracking company's dividend yield has been rather weak, in fact, it's almost invisible. Seeking Alpha writer, Matthew Frankel, recently described (The Delivery Battle: FedEx Or UPS For Your Portfolio?) the value proposition for the Memphis-based company:
FedEx recently announced a profit improvement program, which the company anticipates will deliver $1.7 billion in enhanced profitability by 2016. They plan to achieve this through cost reductions, efficiency improvements, and service repositioning. FedEx has done very well for its shareholders over the past several years, rebounding from its 2009 lows of $34 to its current $95-ish level. FedEx also pays a small dividend (around 0.5%); however, it is worth noting that this modest dividend has been raised consistently, more than doubling over the past decade.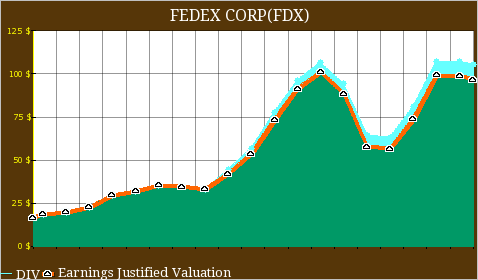 As F.A.S.T. Graphs illustrates, FedEx - even with its all-time high pricing - could have some more runway (P/E of 15.1) remaining; however, for income investors there is little opportunity to get a slice of the "packaging king." Unless…
Monmouth Can Deliver
Monmouth Real Estate Corporation (NYSE:MNR) is a just a few years older than FedEx (Monmouth is in its 45th year as a public REIT) and the small-cap Industrial REIT has also enjoyed a long-standing real estate relationship with the global shipping giant.
Monmouth, with a market cap of around $426 million, is a considerably small vendor when compared with FedEx's massive $31.99 billion platform. However, Monmouth has something that FedEx doesn't: Dividends.
Today Monmouth operates a property portfolio that consists of 73 industrial properties and 1 shopping center representing approximately 9.2 million square feet. The portfolio is highly concentrated (52% of ABR) with FedEx; the remaining portfolio is balanced with high-quality tenants such as Siemens (SI), Anheuser-Busch (NYSE:BUD), Caterpillar (NYSE:CAT), Coca-Cola (NYSE:KO), Keebler-Kellogg's (NYSE:K), Sherwin Williams (NYSE:SHW), United Technologies (NYSE:UTX), Cracker Barrel (NASDAQ:CBRL), and others.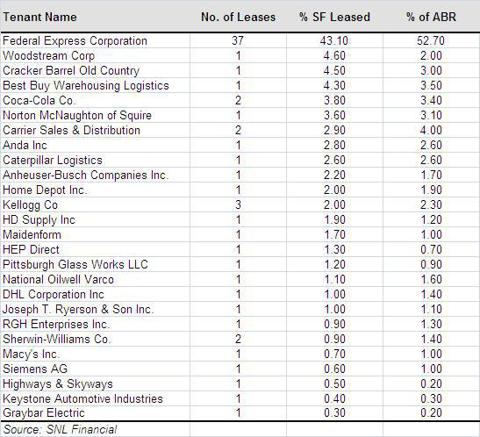 Monmouth's properties are geographically balanced in 26 states with most of the sites located in the central and eastern US.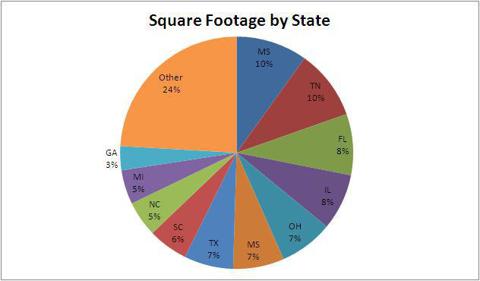 So far this year, Monmouth has acquired 2 industrial properties: 1 leased to FedEx (172,000 square feet in Livonia, MI) and 1 leased to Milwaukee Tool (615,305 square feet in Olive Branch, MS). The combined properties, acquired for around $42.4 million, grew Monmouth's portfolio by over 8.2%. Here is a snapshot of the company's historical growth in assets: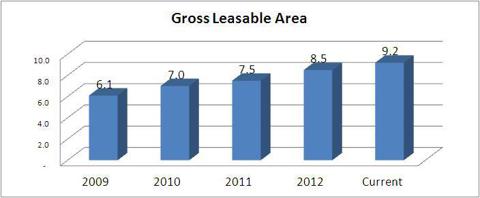 During 2012, Monmouth acquired approximately 1 million square feet of industrial space at an aggregate cost of $70.4 million. This represents a 13% increase in gross leasable area and an 8% increase in rental revenues over the prior year (2011). In addition, over the previous three years, Monmouth has successfully grown its portfolio GLA by approximately 40%.
As Monmouth's President, Mike Landy, explained during the company's most recent (Q4-12) earnings call:
All of this growth was achieved without sacrificing our high-quality standards. This growth was achieved by purchasing well-located, state of the art, new build-to-suit buildings leased to strong credit tenants, and represents some of the best quality assets in our portfolio. The weighted average age of our portfolio today is approximately ten years and is expected to continue to come down given our substantial pipeline of new construction deals currently under contract.
Clearly, Monmouth's growth and acquisition strategy has been aimed at tenants like FedEx that have demonstrated success in consistency and profitability. As part of that overall strategy, Monmouth has continued to build an enduring niche on being a landlord to very high-quality tenants that are known for enduring forms of repeatability.
Based upon Mike Landy's comments during the latest earnings call, Monmouth may be providing a similar value proposition for investors:
Looking ahead, we are especially pleased with our robust pipeline of deals. We have entered into agreements to purchase eight new build-to-suit industrial buildings totaling 1.8 million square feet that are currently being developed, approximately a third of which will be leased to FedEx Ground. The total purchase price for these eight properties is approximately $109 million. Subject to satisfactory due diligence we anticipate closing these eight transactions during F2013 and F2014. In addition, we currently have three building expansions underway totaling 170,000 square feet. Each of these expansions will result in a new ten-year lease extension.
Is Monmouth Retaining Tenants?
Clearly, Monmouth is actively adding space to its portfolio, but how is the company retaining tenants? There is no question that Monmouth has a high-quality tenant mix (80% of revenue is investment grade) with 41% of income leased to FedEx (with an S&P rating of BBB); however, Monmouth's leases average 5.5 years, so what happens at the end of the lease term?
First, let's take a look at the expiring lease schedule: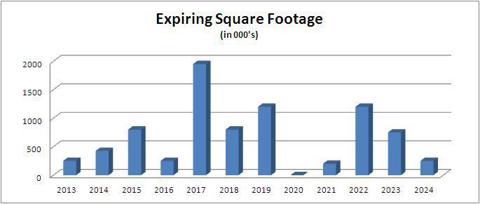 As the chart illustrates, Monmouth has well-staggered lease expirations (although 2017 is lumpy with 24% of revenue) and the next 3 to 4 years look good. Also, Monmouth's weighted average rent per square foot of $5.22 is reasonable and appears in-line with industry rates.
One concern I have with Monmouth has been the most recent occupancy reported of 95% (at year-end); however, I was pleased that the company successfully released 11 of the 12 expiring leases as well as a building that was previously vacant, representing a total of 1.5 million square feet of new leases. 10 of these new leases or approximately 1.1 million square feet were renewals with existing tenants, representing an overall 86% retention rate.
As Monmouth continues to grow its portfolio, I suspect the occupancy rate will move closer to its historic occupancy rate of 96%.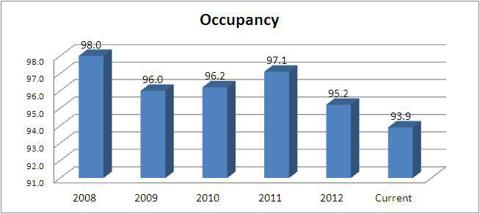 What's Driving the Growth?
To fund the company's growth, Monmouth has opportunistically accessed the public capital markets, raising a combination of common and preferred equity throughout 2012. With current average weighted mortgage debt of approximately 5.9%, there is considerable upside for Monmouth to continue to refinance assets similar to the record low 3.0% to 4.0% rates achieved on recent borrowings.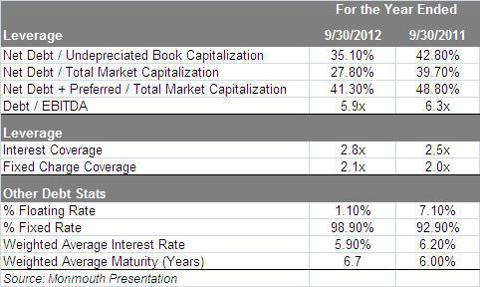 Monmouth's conservative capital structure consists of around 13% of preferred equity, 31% of debt, and 56% in equity. At the end of the latest quarter (Q4-12), Monmouth's capital structure consisted of approximately $252 million in debt, of which $238 million was property-level mortgage debt, $8.6 million was convertible subordinated debt and $5.2 million in loans payable. 99% of the total debt is a fixed rate with a weighted average interest rate of 5.9%. This compares to a weighted average interest rate of 6.2% in the prior-year period.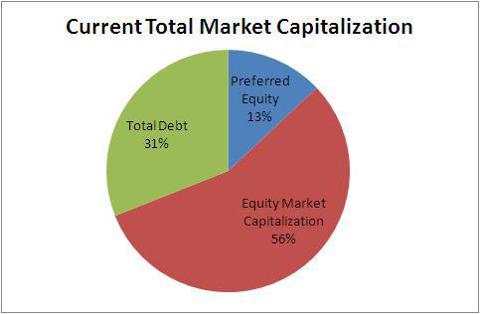 Part of Monmouth's consistency is due to the company's conservative capitalization strategy. The company has a debt-to-market cap of 28% and a debt plus preferred equity market cap of 41%.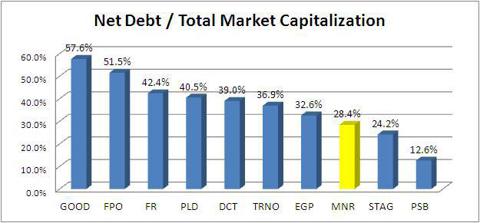 Similar to CapLease (NYSE:LSE), Monmouth utilizes considerable asset level financing as the company has around $238 million of mortgage debt (94% of debt) with very few maturities through 2016.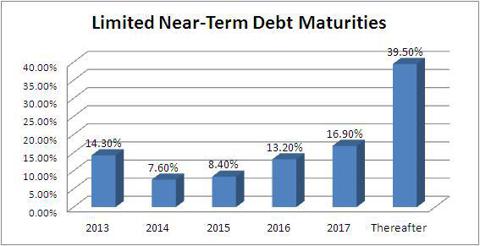 One unique part of Monmouth's capitalization is its rather strong liquidity position and especially its investments in REIT Marketable Securities. As of January 2013, Monmouth has around $61.7 million invested in a diverse portfolio of preferred stock (39%) and common stock (61%). In 2012, Monmouth recognized around $5.4 million in unrealized gains and $6.0 million in realized gains.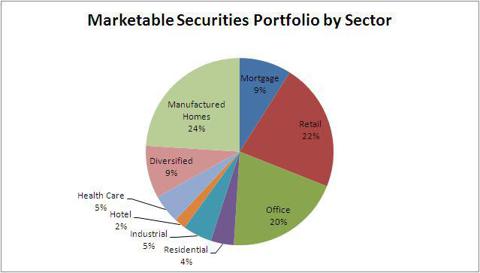 I will admit that I have never been a huge fan of REITs investing in other REITs simply because I feel as though management should be focused on running its "own ship" and time is better allocated to maximize the "ship we are sailing" as opposed to utilizing company resources to invest in others. Although, there is also the argument that a REIT should invest in a peer REIT to gain a competitive advantage (although this is not the case with Monmouth).
A few months back, I asked Eugene Landy, founder, chairman, and CEO about Monmouth's REIT investments (around 10% of overall assets) and he explained:
Our program of "REITs investing in REITs" continues to be successful. It is based on the simple premise that, when REIT shares sell at a discount from net asset value, they become excellent investments. There is an improvement in the yield and there is improvement in the safety of the investment. Investors invest for current yield plus appreciation. Appreciation is the future increase in value of the properties over an extended period of time. When you purchase REIT shares at a discount to asset value, appreciation can be both future gain and the realization of the current discount. We buy securities for yield spread investing, appreciation and liquidity. Liquidity is paramount to operating a REIT through multiple business cycles.
At the end of the day, I am neutral on the REIT ownership issue. However, I would like to see the company begin to move away from the internalized asset selection approach (I also would like to see reduced exposure in office and manufactured housing with more focus on healthcare).
Enough of Other REITs. Would You Invest in Monmouth?
Funds from operations for F4Q 2012 were $4.2 million or $0.10 per diluted share. This compares to FFO for the same period one year ago of $4.7 million or $0.13 per diluted share. Funds available for distribution, which excludes securities gains or losses, were $3.4 million or $0.08 per diluted share for the quarter compared to $4.5 million or $0.12 per diluted share a year ago.
FFO was impacted by approximately $1.1 million or $0.03 per diluted share of additional preferred dividends following our latest preferred stock offering and the subsequent deployment of our capital which is still ongoing.
For Monmouth's full year (2012) the company's FFO was $26.1 million versus $22.9 million in 2011. On a per share basis, FFO was $0.66 per diluted share in 2012 compared to $0.65 per diluted share in 2011. This represents a 2% increase in FFO per share. Adjusted FFO (or AFFO) in 2012 was $26.8 million versus $23.3 million in 2011. On a per share basis, AFFO was $0.67 per diluted share in 2012 versus $0.66 per diluted share in 2011. AFFO (an adjusted AFFO) for F2012 included $6.0 million in securities gains compared to 2011's securities gains of $5.2 million (hence, I can't fault Monmouth for picking REIT stocks).
Although Monmouth did not report strong growth, the year was marked by another year of consistency - marked by 21 years in a row of dividends paid and NO DIVIDEND CUT.

Monmouth has a higher payout ratio (93%) than many of its peers; however, Eugene Landy addressed the dividend payout ratio on the latest earnings call:
We're very confident in the dividend. The dividend's been covered for several years. We've covered it this year and as for the year ending September 30, 2013, it's a further dividend that will be covered. The main factors are very positive. Michael's pointed out the size of our pipeline and to the extent we borrow to fund the pipeline our interest costs are sub 4%, and Michael stated it's 7.4% on the cap rate. So we've developed nice margins and we have substantial cash, proceeds from securities offerings that took a while to put to work and will take a little while in F2013; but as we go and complete the transactions we put the money out. And so we're very confident that the dividend is well covered.
So Does It Make Cents to Be a FedEx Landlord?
There is no doubt that Monmouth has been a very consistent, but low growth REIT over the years. On the other hand, the company has paid an uninterrupted dividend (no dividend cuts) since 1993. However, perhaps due to the low growth rate, Mr. Market has generally priced Monmouth below its FFO justified valuation. But it's important to recognize that most of the discounted pricing was occurring in a different interest rate environment than we have today.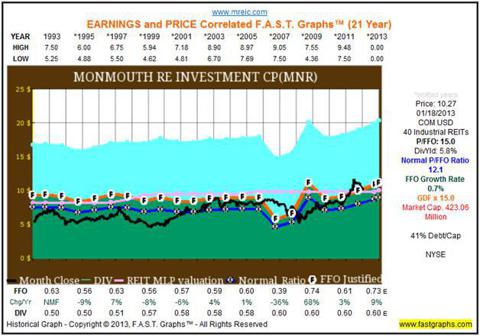 The following graph plots Monmouth's Price-to-FFO (the blue line with dots) and interest rates on the 10-year Treasury note (the burgundy area) since 1993. The important takeaway is that Monmouth's P/FFO has steadily increased as interest rates on the 10-year Treasury note have fallen. Therefore, there is justification for today's higher valuation based on the current low level of interest.

On the dividend cash flow table below (light blue highlighted area) we see a consistent record of dividends since 1993. This record of uninterrupted dividend payments with no cuts implies that Monmouth's dividend record is analogous to that of a fixed income instrument or perhaps a low growth utility stock.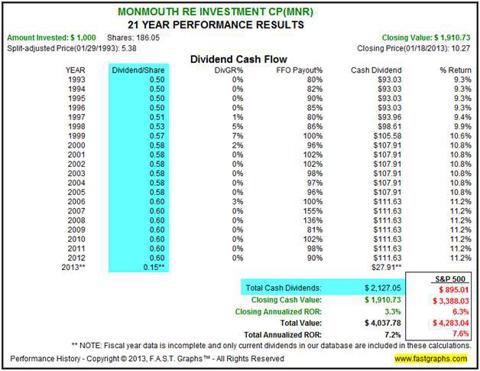 When looking at Monmouth since 2005, we are examining its history when beginning valuation was very similar to what it is today. Therefore, we are examining a time frame that closely correlates to the current valuation and dividend yield on Monmouth.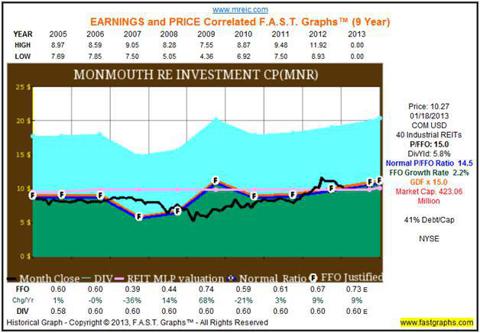 When examining the performance results since 2004, we discover that MNR generated similar capital appreciation to the S&P 500, however, we also see that the total cash dividends distributed were significantly greater than what could have been earned with a similar investment in the S&P 500.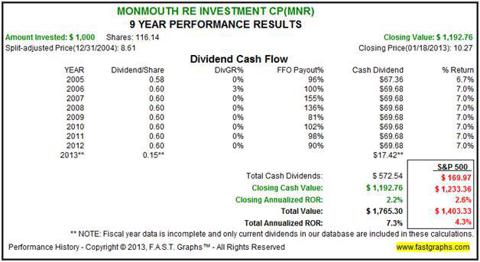 With a 5.6% dividend, Monmouth's yield appears risk-aligned and it certainly demonstrates the value proposition anchored in the highly concentrated exposure with FedEx. Quite clearly, Monmouth is valued more as a bond-replacement stock than a high growth REIT and that is precisely why I recommend the selection.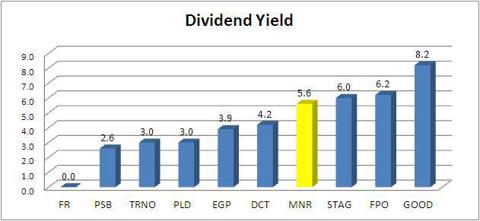 Accordingly, and as I wrote in a recent article,
I think it is important to balance your portfolio with a diverse number of REITs - some more focused on income and others more focused on growth. It's what I like to call the "anchor and the buoy" strategy.

The reason is simply that investors should not be fooled by a REIT that appears to be an anchor, but is really not. An anchor should be a sound stock that has demonstrated a track record of consistency and growth. There is no better benchmark than a dividend contender like Realty Income (NYSE:O), National Retail (NYSE:NNN), or W.P. Carey (NYSE:WPC).
Although Monmouth has not maintained a consistent track record for increasing dividends (year after year), it does deserve to be included alongside the others for its exceptional performance of consistently paying dividends. For there are just a handful of REITs that did not cut dividends and investors should discern the fact that Monmouth paid a dividend "in good times and bad."
In summary, I consider Monmouth to be a Sleep Well at Night (SWAN) REIT and I think there is good reason to believe that the dividends will keep rolling in just like the FedEx delivery truck. If Fed Ex delivers, so can Monmouth.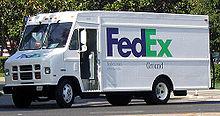 Footnote: Michael Terry wrote an article on Monmouth's Cumulative Redeemable Preferred Stock (Series B) shares here.
Source: Monmouth Presentation, SNL Financial, F.A.S.T. Graphs
Disclosure: I have no positions in any stocks mentioned, and no plans to initiate any positions within the next 72 hours. I wrote this article myself, and it expresses my own opinions. I am not receiving compensation for it (other than from Seeking Alpha). I have no business relationship with any company whose stock is mentioned in this article.