As earnings season starts ramping, it is time for both investors and traders to figure out just what they want to keep holding, what they want to buy, and what they even may want to short going into earnings reports. In particular, I have been bullish on shares of Nvidia (NASDAQ:NVDA) for quite some time, and continue to be going into its earnings report set for February 14th.
I will begin by recapping the long thesis, especially at these levels, and then I will preview the earnings report from the pictures painted by the Advanced Micro Devices (NYSE:AMD) and Intel (NASDAQ:INTC) earnings reports.
The Long Thesis: Growth & Deep Value
The first major component to my long thesis is solid top and bottom line, driven by the following:
Market share growth in the core discrete graphics market, driven largely by the strength of the firm's "Kepler" products. 2010 and 2011 were tough for Nvidia in this regard as the firm's strategic focus in the core gaming graphics markets was not as well aligned with the market demands as competitor AMD's were. The "Kepler" generation not only brings strong performance/watt from a gaming perspective, but the solution is generally considered superior from a software standpoint (drivers, features, etc.). Q3 saw Nvidia take 65% market share, and I believe that there may have been some additional share gains during Q4 from the AMD results (-15% GPU sales Y/Y, offset by stronger console revenues, implying a wider discrete GPU share loss).
Strength in tablet chip sales driven largely by a number of high profile design wins such as the Google (NASDAQ:GOOG) Nexus 7, ASUS Transformer Prime, and Microsoft Surface RT. The company has established itself as a reliable supplier in the tablet market, so it is well positioned to ride the secular growth wave. Further, as Texas Instruments (NYSE:TXN) has left the tablet chip business, additional opportunity for share gains open up. The primary risk here is Intel's entrance into the space offsetting potential for share gains.
Smartphone SAM will see outsized growth in the 2H 2013/1H 2014 timeframes. While Nvidia is set to release its Tegra 4 paired with discrete LTE baseband, which should help smartphone sales, the much larger opportunity at the low end with an integrated apps processor + baseband solution with the "Grey" system-on-chip will begin to generate material revenue for the company by 1H 2014.
Rebound in professional graphics solutions driven by the recent refresh of the product line to the higher margin, more efficient "Kepler" chips. I believe that the recent slump in this area was driven by conservatism in enterprise spending, but as the macro situation improves, and as the fiscal cliff seems to have been averted, sales here should pick up in 2013. This segment has ~50% operating margin, so any upside here could be significant particularly to the bottom line.
Continued strength in High Performance Computing, driven by the competitive position of "Tesla" based on the latest, "GK110" architecture. While Intel's "Xeon Phi" is a strong competitor in the space which, by virtue of there being a second source, will lead to share erosion, the TAM is likely to continue to grow at a rapid clip. Further, Nvidia's product offers superior performance/watt metrics in this area, which should put a cap on the potential market share loss to Intel in the near term.
The next major component to the long thesis is the deep value that the company itself provides by way of the strength of the balance sheet in addition to the magnitude of free cash flow.
At a market capitalization of ~$7.6B, and with $3.43B in net cash on the balance sheet, the company is effectively trading at ~$6.7/share ex-cash. With TTM free cash flow of $419M, the firm trades at less than 10x FCF ex-cash. Further, I believe that over the next year, and certainly within the next two years, the consumer products business will start to turn an operating profit as volumes ramp. This will not only relieve the negative pressure on EPS (boosting valuation metrics significantly), but it will likely be accretive to EPS exiting CY2014.
The dividend yield of 2.5% at current levels can help to make the wait for this long-term thesis to play out even better.
The Q4 Report: Coming Soon
I believe in Q4, we will see continued momentum through share gains in the graphics division, although seasonality suggests that Q4 will be down sequentially in this business. The consumer products business should also be sequentially down as the big holiday tablet build already occurred during Q3 for sales of devices during Q4. Finally, the professional graphics market is also likely to be down sequentially, as the segment is still weak, although the AMD report in which it reported "best ever" workstation card sales gives some glimmer of optimism for a rebound in this segment. Offsetting the weakness in workstation graphics should be continued strength in the "Tesla" HPC card sales.
According to the firm, here's what the guidance is:
Revenues: $1.025B - $1.175B.
GAAP gross margins of 52.9%.
GAAP operating expenses of $400M.
GAAP tax rate of 20%.
Depreciation between $58M - $60M.
Diluted share count of 629M.
Running the numbers, that means we should have an EPS range of $0.18 - $0.28. This is actually quite a broad range, which means that there is some room to make an educated "bet" on the earnings report. So first, let us look at the consensus values:
Consensus Revenue: $1.10B (against midpoint of $1.1B, +15.7% Y/Y).
Consensus EPS: $0.24 (against midpoint of $0.23, +26.3% Y/Y).
This means that the revenue consensus is exactly at the midpoint, and the EPS consensus is 4% higher than the midpoint. This implies that a revenue miss/beat is essentially a coin-toss and the consensus EPS is actually stacked slightly against us as there is more room for a "negative" surprise versus a positive one. However, it is encouraging to note that in the last 4 quarters, Nvidia has met consensus twice on EPS and beaten twice (by 35.7% in the July quarter and by 10% in the October quarter).
Another wildcard in favor of the longs is that Nvidia recently extended its buyback program, so the diluted share count could actually be lower which could stack the odds in favor of the longs should the Nvidia management team make sure to "engineer" a beat with a set of tactical buybacks.
Q1 Guidance: This Will Make Or Break The Stock
While investors care about the current results, they care about the future much, much more. Here's what the consensus estimates for the Q1 guide are:
Consensus Revenue: $1.07B (+15.8% Y/Y).
Consensus EPS: $0.21 (+110% Y/Y).
The revenue increase Y/Y should be driven by:
GPU share gains over the year-ago quarter.
Ramp/shipments of the latest "Tegra 4" system-on-chip for Android tablets + smartphones.
Additional revenue potentially from shipments of the firm's i500 baseband (although this could actually be in the next quarter).
Ramp of Apple's (NASDAQ:AAPL) iMac/MacBook Pro shipments (which were supply constrained during FQ4).
On that point, I am not sure if Nvidia was conservative or aggressive in its Q4 guide with respect to Apple. In the former case, then there shouldn't be a problem. In the latter, we may see revenues skewed towards the bottom end of the range.
More importantly, should Nvidia's revenues come in strong for the current quarter even without the Apple sales, then Q1 could be particularly strong (i.e. upside surprise) since both the latest iMacs and the MacBook Pros (15") use Nvidia GPUs.
Should Nvidia beat on forward guidance, I expect the stock to make a very swift recovery into the $13+ range. In fact, let's go into why the stock is actually mind-bogglingly cheap today and why it is just asking for any kind of catalyst to relieve the significant short interest.
A Year Ago Vs. Today
A year ago today, Nvidia traded at ~$15/share. Today it trades at a mere $12.19/share: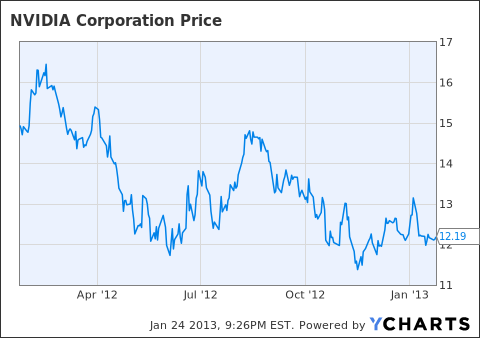 In that time, the fundamentals have actually improved quite significantly: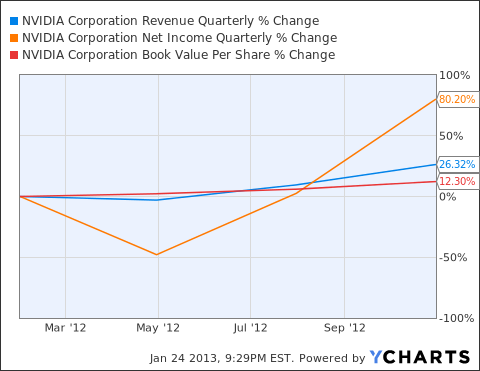 NVDA Revenue Quarterly data by YCharts
The positives that have mounted are enormous:
Net income up.
Book value is up.
Revenue up.
Now has the Apple graphics account for both MacBook Pro and iMac.
Tegra 3 featured in many high volume/popular products, Tegra 4 will continue momentum.
Nvidia now has an LTE baseband solution sampling.
Nvidia has taped out a fully integrated apps processor + LTE part for the mass market smartphone space.
Nvidia now pays a dividend.
Further, in light of these positives, the short interest has actually increased Y/Y from ~19M shares short to ~20M shares short, even at these depressed prices.
The share price drop in light of improving fundamentals and corporate momentum is quite baffling. Y/Y sales growth, strengthening margins, a stronger competitive positioning in core markets, and participation in new high growth markets is not a reason to sentence a stock to the 52-week low pile.
While only Nvidia's management knows what's in store for us on the February 14th earnings report, I am hopeful that investors will be pleasantly surprised with continued momentum in the business.
Disclosure: I am long NVDA, INTC, AMD. I wrote this article myself, and it expresses my own opinions. I am not receiving compensation for it (other than from Seeking Alpha). I have no business relationship with any company whose stock is mentioned in this article.