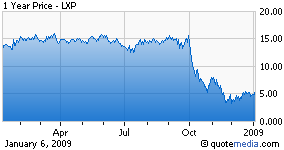 The first REIT that I'm taking a closer look at is Lexington Realty Trust (NYSE: LXP). Lexington Realty Trust owns 288 properties totaling 48.8 million square feet in 44 states. The company focuses on triple-net leased properties, which would normally suggest a high percentage of retail properties. However, Lexington's portfolio is 74% office, 18% industrial, and 8% retail. At the end of its most recent quarter, its portfolio was 93.8% leased.
Cash Flow
Lexington reported Funds from Operations of $43.3 million or $0.40 per share in the third quarter. The previous year, the company reported $50.4 million in Funds from Operations or $0.46 per share. Across its portfolio, Lexington reports $442 million in annualized cash rent from its 48.8 million square feet of space, approximately $9.06 per square foot. Total vacant square feet of three million increases operating costs (as it does not receive reimbursements), and drives down the rental rate per square foot.
The cost of annualizing property-operating costs comes to about $81 million in expenses. General and administrative expenses basically cover management of the properties and corporate overhead. These costs are approximately $34 million on an annualized basis, or 7.7% of annualized lease income. This would be considered high on a property-by-property basis as a stabilized; triple-net leased property would general have a management fee of 2-3%. The additional expense is likely the result of running a publicly traded REIT plus value creation strategies such as property development activities.
I'll assume (very conservatively) that rent on vacant space can be leased for $10.00 per square foot, triple-net for the remaining space. I back this out again, but I'd like to keep it as a separate item for now. A simple cash flow statement looks like this:
Gross Potential Rent: $472 million
Less Vacancy: ($30 million) - 6.4%
Effective Gross Income: $442 million

Operating Costs: ($81 million)
Management and Admin: ($34 million)

Net Operating Income: $327 million
Debt Service: ($149 million)
Net Cash Flow After DS: $178 million

DSCR: 2.20x

At $178 million, FFO per share would be $1.62. Lexington has guided between $1.56 and $1.64 per share for 2009.
Leverage
I believe that the value of Lexington's real estate holdings is worth a bit more than cost. Total real estate holdings are listed at $3.8 billion on its balance sheet. Assuming an 8.00% capitalization rate, which is still conservative despite the general economic conditions, its real estate portfolio is worth $4.1 billion. This value, too, may be understated, as administrative and corporate overhead is included in this number. Also, keep in mind that Lexington successfully sold 15 properties last quarter at an average capitalization rate of 6.6%. The value per square foot based on the $4.1 billion value is $84. Again, a very conservative estimate of value considering Lexington's portfolio is 74% office.
Lexington has debt outstanding of just under $2.5 billion, indicating a loan to value ratio of 61% based on fairly conservative assumptions. All of this excludes the $135.5 million in cash that the company held at quarter-end.
Portfolio Risks
According to presentation material on Lexington's web site, 53% of its tenants are investment grade, 32% are unrated, and 15% are non-investment grade. The company has exposure to Daimler-Chrysler (DCX), Tower Automotive, Dana (NYSE:DAN), Tenneco (NYSE:TEN), Circuit City (OTC:CCTYQ), and Bally's. Dana Corp., for example, represents 2.2% of its tenant base. Potential lease defaults from these and other non-investment grade tenants could certainly result in additional vacancy at a time when leasing is more difficult.
More than anything else, the significant decline in Lexington shares is likely due to $267 million in debt maturities due in 2009. Financing has rapidly become scarce over the last year, and financing that seemed like a sure bet 18 months ago is now in question. However, in the company's third quarter press release, Lexington noted that the gross book value of properties securing these loans is $1.4 billion, and the annual cash revenue produced by these properties is $121 million. An 8.0% cap rate suggests a portfolio value of $1,512 million based on this rental income. Based on the $1.4 billion gross book value, the loan to value ratio for this portion of its portfolio is 19%. Even in these times of scarce financing, it seems likely that Lexington could find financing for this portion of its portfolio.
Stressed Cash Flow
Lexington has done a good job in maintaining occupancy rates through 2008. Many markets have seen vacancy rates rise over 2% since the middle of 2008, yet Lexington noted that it leased 770,000 square feet in the third quarter and by the time of its earnings report had leased 1.3 million more square feet. This is impressive in this market.
In its supplemental information, Lexington notes that 25 leases representing 9.0% of its portfolio cash flow expires in 2009. In my stressed cash flow below, I will assume that none of this is re-tenanted in 2009, and I will assume that an additional 5.0% of space is lost to tenant defaults.
Gross Potential Rent: $472 million
Vacancy: ($95 million)
Effective Gross Income: $377 million

Operating Costs: ($81 million)
Management and Admin: ($34 million)

Net Operating Income: $262 million
Debt Service: ($149 million)
Net Cash Flow after DS: $113 million
DSCR: 1.76x

FFO/share: $1.03
Dividend Outlook
As noted above, Lexington announced that it is cutting its dividend back to $0.72 per share in 2009. Based on my stressed cash flow scenario above, it looks like this dividend level is very safe. Excess cash flow will be used to support de-leveraging of the company.
In the long term, Lexington looks to have plenty of room for increasing dividends beyond 2009. At its recent share price of $5.00 per share, the current yield is 14.4%.
Company Strategy Amid Crisis
2008 has been a year where every financial company has been in a race to reduce leverage, and Lexington has been no exception. However, I am impressed by how opportunistic the company has been in achieving these ends. Asset sales at a 6.6% cap rate certainly do not look like a fire sale. It looks like the company achieved some good prices. The company plans to market $400 million in properties for sale in 2009 not because it has to, but because it sees an opportunity to repurchase debt at a discount.
During the third quarter, Lexington repurchased $25.5 million in exchangeable notes at a 10.7% discount. Subsequent to quarter-end, an additional $32 million in exchangeable notes were repurchased by the company, which resulted in a yield to maturity of 16.3%. The debt markets are certainly not nearly as efficient as the real estate market. Returns in commercial real estate are nowhere near 16.3%. Lexington has taken advantage of this opportunity.
Conclusion
In a recent post, I noted that REITs could be a high-yield opportunity in this market. Lexington certainly appears to have conservative leverage levels and a smart strategy for dealing with this crisis. Debt maturities in 2009 appear to be mitigated by extremely low leverage levels. Portfolio occupancy is also mitigated by relatively low debt levels. Even if portfolio occupancy falls from 93.8% to 80%, Lexington can still meet its dividend level in 2009 and beyond.
Disclosure: I have no position in Lexington shares.