A long-term choice
There is a strong chance that, in the near future, many stocks may underperform and with relevant volatility in play, it is necessary to cover those risks and make a well-elaborated stock choice.
It is my purpose to identify a solid company with potential upside share prices that presents strong value and suitable annual growth translating to sound profits and dividends. My goal is to show a guide to long-term investment on the stock market.
I intend to analyze Companhia Vale do Rio Doce (NYSE:VALE) in order to confirm if it matches those demanding attributes.
VALE is the world´s biggest iron ore producer (estimated market share of 24.3%) and also operates in other mineral sectors like nickel (world's second-largest producer), copper and coal. Besides, the company has other complementary areas like fertilizers and several projects and partnerships in order to keep global competitiveness.
The company is also one of the world's largest producers of manganese ore and ferroalloys and is actively engaged in mineral exploration efforts, in 27 countries around the globe.
As the global leader in iron ore, VALE's business also builds up by other ways. As a matter of fact, it shows improvement of quality with the development of five new large mines with higher than 65% Fe content. This is extremely helpful to beat competitors and get better prices when selling iron ore.
In nickel, VALE has large scale mining operations and refineries in North America, Europe and Asia producing high quality nickel products for non-stainless steel applications.
It is also necessary to mention that to reduce costs and be self-sufficient on shipping production, VALE expanded its global distribution network with an estimated fleet of 20 Valemax vessels in 2012.
Market Conditions
REVENUES (3Q12)
| | | | | | | | |
| --- | --- | --- | --- | --- | --- | --- | --- |
| | Iron Ore | Pellets | Nickel | Phosph | Copper | Coal | Others |
| Business | 50.5% | 15.4% | 8.3% | 7.1% | 5.9% | 2.1% | 10.7% |
| | China | Brazil | Japan | Germany | Sth Korea | Italy | Others |
| Country | 32% | 21.4% | 11.2% | 6.0% | 4.7% | 2.6% | 22.1% |
During the first 9 months of 2012, VALE worked in adverse conditions due to lower prices created by a global economic deceleration, with weaker demand for minerals and metals. In light of prospects of a more moderate expansion of the world economy in the years to come, the company has programmed ways to ensure that its solid position remains consolidated, defining measures of higher productivity and lower cost levels. The scenario of growth and structural transformation of emerging market economies are driving forces which will help to achieve value over the next years.
Iron ore prices
In spite of a difficult 2012, when prices of iron ore have been down for the most part of the year, VALE as a cyclical company managed to maintain a remarkably solid balance sheet.
IRON ORE (US$/T)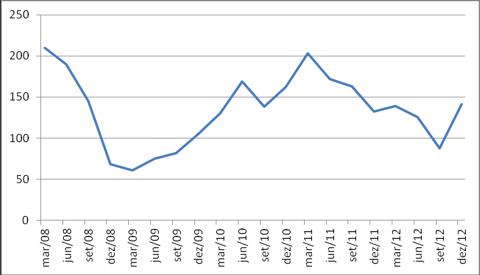 Click to enlarge
Before analyzing the chart above we must remember that iron ore is the main commodity used in steelmaking and is perceived as a proxy for industrial activity and construction in China, which imports more iron than half of the world's total.
Iron ore prices fell in September to a three-year low of $88/t as the Chinese economy slowed. Many analysts have seen the price drop, from a record high of $200/t in early 2011, as a warning that the commodities super-cycle was over. That conclusion misidentified the real situation as Chinese imports rose by 8.7% in the first nine months of 2012 when compared to the same period of last year. As a confirmation, prices have rallied to hit an eight-month high of $140.75/t at the end of 2012.
US$ million

2007

2008

2009

2010

2011

2012*

Revenues

32,242

37,426

23,311

45,293

58,990

46,510

Net income

12,627

13,476

5,456

17,453

22,652

11,013

Net Margin

39,2%

36,0%

23,4%

38,5%

38,4%

23,7%

Dividend

1,875

2,850

2,724

3,000

9,000

6,000

Dividend p/share

0,39

0,56

0,53

0,57

1,74

1,18

Dividend yield

1,4%

5,6%

2,1%

1,9%

8,7%

5,9%

EPS

2,41

2,58

0,97

3,23

4,33

2,13

P/E**

11,6

4,1

27,0

9,8

4,7

9,8
*Last quarter is a prevision and is considered to represent 35% of 2012 due to rising iron prices
** Share prices of the end of each year
VALE is trading at a price-to-earnings ratio (P/E) of around 10 which shows straight away that its market price is undervalued as earnings and dividends have been historically large and solid.
We observe that Net Margins have been excellent on the last 6 years at a level of 33% on average.
Even with the many ups and downs of these six years in analysis, VALE has shown a truly firm presence on selling production, proving to put in place cost saving ways with strategic sense, and has demonstrated to be increasingly shareholder friendly and value committed.
Valuating VALE
Using the method of Discount Cash Flow with conservative assumptions, I will produce a common valuation as shown in the table below:
US$ million

2012

2013

2014

2015

2016

2017

Revenue

46,510

51,161

56,277

61,905

68,095

74,905

Growth

10%

10%

10%

10%

10%

Margin

23,7%

35%

35%

35%

35%

35%

Net Profit

11,013

17,906

19,697

21,667

23,833

26,217

Residual value

148,310

Free cash Flow

11,013

17,906

19,697

21,667

23,833

174,526

WACC (Discount Rate)

10,0%

NPV (Net Present Value)

167,722

Minus: Long term Debt

22,000

Total Market Value

145,722

FD Shares Outstanding

5,215

million

Price Per Share

27,9
The reached price per share (27.9) is exceptionally good considering the high discount rate of 10% I used. To keep it clear, I must stress that the assumption of growth is modest as I believe that, on the long run, the reality will be better. The Net Margin considered is very near of what the company already achieves. So the real variable is iron ore prices, everything else being normal. Even in serious conditions like those present in 2012, the company could do things exceedingly well. Furthermore, if iron prices climb, the company will be a winner.
Charts courtesy of StockCharts.com at http://stockcharts.com.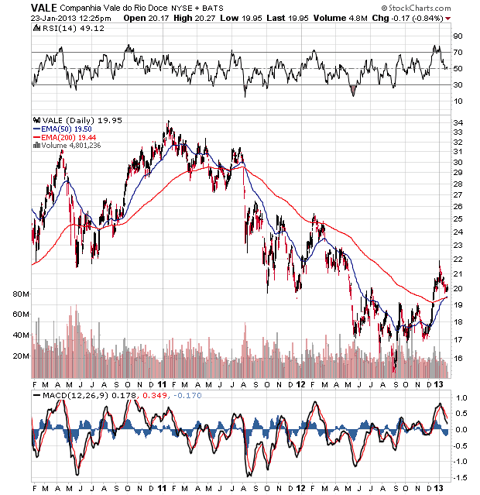 Click to enlarge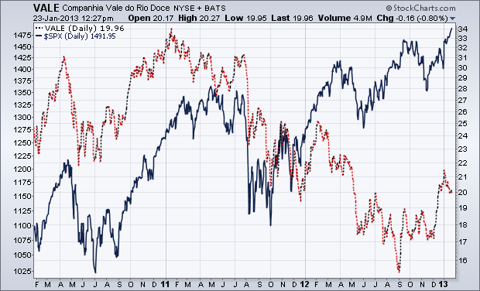 Click to enlarge
Technical analysis
Looking at the charts above, we may easily see that VALE has a most relevant potential upside. Naturally, the company has no direct correlation with S&P 500 and shows weakness only because the low part of the iron cycle happened in 2012. That is another reason to believe that, with fair or normal iron ore prices, VALE will most probably rise. On the three-year VALE chart, we may see the present possibility of a real breakout. Prices are already above EMA50 and EMA200 after more than one year of a profound downtrend. September bottom was really a buying opportunity as prices were severely beaten and reached a three-year low.
Conclusion
VALE is a high quality company, world leader in some valuable mining productions that managed to remain solid and profitable even during the difficult year of 2012 due to the decelerating global demand.
I think that, with iron ore at reasonable prices, superior quality production and high management standards will drive the company to a decidedly good performance. In addition, with strong market leadership, VALE deserves to be named as a value company and also a potential growth one (despite its cyclical stance). Not many stocks may present a so-clear policy of sustainable dividends with an excellent yield. A wide business chain accounts for a strong level of cash flow, which easily supports a high payout ratio.
Each year VALE reinforces the base of a reliable and rewarding future for shareholders despite the current low level of its stock price, which at this stage represents, in my opinion, a good time to buy, always thinking on the long run.
Disclosure: I have no positions in any stocks mentioned, and no plans to initiate any positions within the next 72 hours. I wrote this article myself, and it expresses my own opinions. I am not receiving compensation for it (other than from Seeking Alpha). I have no business relationship with any company whose stock is mentioned in this article.