With the goal of seeking investment income through a safe dividend portfolio capable of weathering another recession, it's important to concentrate on stability without sacrificing yield. For developing such a stable dividend portfolio, it's important to take into consideration the growth of the dividends within. Established companies that are able to continuously improve their yields are often the enterprises that stand as the most attractive investments to institutional investors. Such predictability found in increased dividend yields often result with decreased volatility found in steady share prices.
The following companies were chosen for several reasons. First, each company has a market capitalization in excess of $20 billion. This decision was made in order to ensure market leadership. Second, each company has a focus on the consumer staples of everyday individuals. This measure takes a conservative approach to the market by concentrating on the products and services that people tend to depend on. Last of all, each company must have global exposure. This factor adds another layer of diversification away from a particular region, which may be subject to economic risk.
A look at the following graphic illustrates a portfolio of five proven companies and their ability to consistently raise their dividend yields. Correspondingly, these companies have seen their share prices consistently rise in a relatively tight range as seen in the chart below. All values below were taken as of January 23, 2013.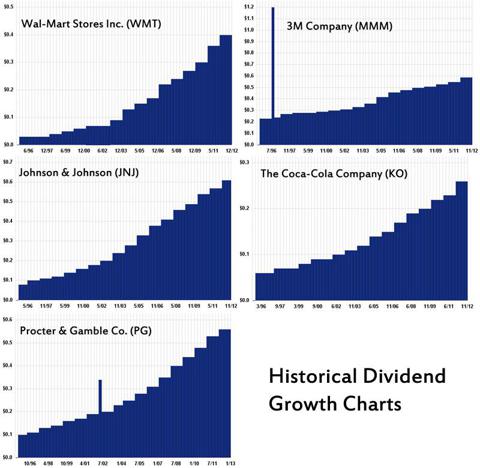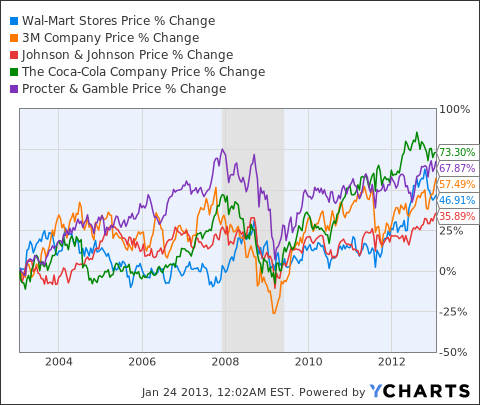 WMT data by YCharts
Wal-Mart Stores Inc. (NYSE:WMT). Wal-Mart operates as a large discount department store chain through its various brand names and has operations around the world. The company is currently the biggest private employer in the world with over 2 million employees. The company currently maintains over 10,000 retail units in over 27 countries. Wal-Mart Stores currently supports a market capitalization of $232 billion and an average forward price-to-earnings ratio of 12.92. Trading with lower volatility than the market, it currently maintains a beta of 0.38. The company offers a forward annual dividend of 2.3% with a quarterly rate of $0.398. The company maintains a comfortable payout ratio of 32% and has been raising its dividend since 1975.
Comparing Against The Market.
Yet no dividend portfolio is complete without the confidence of knowing that the portfolio is beating the market average. As a stock index that follows the common stock prices of 500 publicly traded American companies, the S&P 500 is often referred to as a benchmark measure of the market itself. The current average dividend yield of the S&P 500 now sits at 2.09% as of January 23, as seen here and in the graphic below. For investors capable of obtaining a similar yield or greater, they are able to maintain an income stream that stands a head above the market as a whole.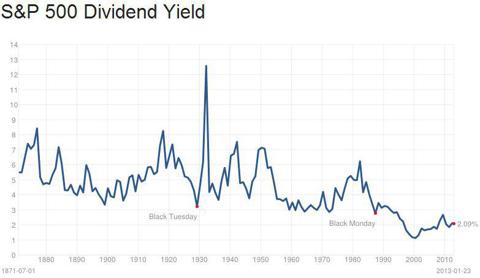 | Ticker | Beta | Quarterly Dividend Rate | Annual Dividend Yield % |
| --- | --- | --- | --- |
| WMT | 0.38 | $0.398 | 2.3% |
| MMM | 1.03 | $0.59 | 2.4% |
| JNJ | 0.44 | $0.61 | 3.3% |
| KO | 0.39 | $0.255 | 2.7% |
| PG | 0.23 | $0.562 | 3.2% |
Overall, while the S&P 500 averages a dividend yield of 2.09% this consumer-based dividend portfolio offers an average 2.78% annual yield. Collectively, the portfolio also maintains an average beta of 0.49. As the average beta of the market is 1, this also indicates that our portfolio continues to trade with less volatility when compared against the market. Above all, each of these companies has exhibited a strong history of dividend growth, which suggest a stable trend of increasing investment income in the years to come.
Disclosure: I have no positions in any stocks mentioned, and no plans to initiate any positions within the next 72 hours. I wrote this article myself, and it expresses my own opinions. I am not receiving compensation for it (other than from Seeking Alpha). I have no business relationship with any company whose stock is mentioned in this article.