By: Brendan Gilmartin
VMware (NYSE:VMW) is slated to report 4Q 2012 earnings after the close of trading on Monday, January 28. The results are typically released immediately after the closing bell and will be followed with a conference call at 5:00 p.m. ET. VMware is a leader in desktop virtualization and cloud-computing benefiting from rapid growth in enterprise and business spending.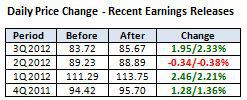 Outliers And Strategy
Key measures:
Non-GAAP Earnings Per

Share

: The current Street estimate is for Non-GAAP EPS of $0.78, the high end of the projected range of $0.74 to $0.79. (Source:

Yahoo

Finance)
Revenues: VMware previously reported it expects 4Q revenues in the range of $1.26 and $1.29 bln. The current consensus is $1.28 bln. The company noted in the 3Q conference call that it was "confident" in its 4Q outlook.
Revenue

Guidance (1Q 2013): The current consensus is for revenue of $1.25 bln for 1Q 2013. If the low end of the range provided by the company is >$1.27 bln, VMware could see more upside. However, if the high end of the range is <$1.25 bln, VMware faces potential downside risk.
Revenue

Guidance (FY 2013): Revenues for 2013 are seen growing 18.1% to $5.42 bln. Anything less may be seen as a disappointment given the magnitude of the recent advance.
As of December 31, 2012, EMC Corp. owned about 41 million shares of VMware, equating to a stake of 32%. As a result, keep close watch on EMC as the shares tend to react off the results from VMware.
Recent News
01/17: Craig-Hallum reiterated a Hold rating and a $94 price target on VMware, according to Barron's Online. The firm also reduced its earnings and revenue estimates for 2013, amid concerns that competition from the likes of Microsoft would reduce license revenues in 2013, along with a saturated marketplace for virtualization and cloud-computing.
11/29: VMware announced that its Board of Directors has authorized the purchase of up to $250 million of its Class A common stock through the end of 2014.
11/14: Hilliard Lyons initiated coverage on VMware with a Buy rating and a $100 price target, according to a post on Benzinga.com. The firm cited several factors for its positive outlook: Integrated solutions with former parent EMC Corp.; Global leader in virtualization software; Strong growth prospects in cloud infrastructure, particularly enterprise; Solid management team; Robust financials.
Technical Review
VMware shares are trading in a fairly narrow range in advance of the 4Q 2012 earnings release. Should earnings and guidance surprise to the upside, there is soft resistance near recent highs around $98.00, with room to run toward $100 and beyond. Conversely, support is at the 200-Day SMA just above $94.00, with downside risk to the 50-Day SMA near $92.50, followed by $88.00. (Chart courtesy of StockCharts.com)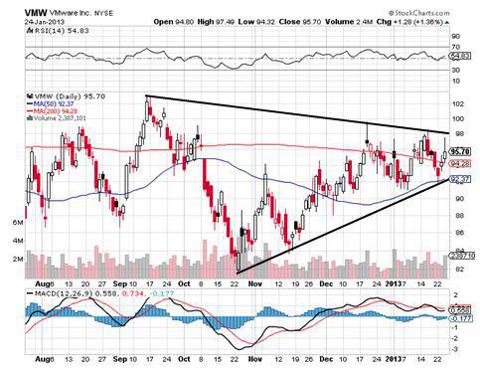 Summary
VMware is nestled in a fairly narrow trading range in advance of the 4Q earnings release. The provider of virtualization solutions and cloud infrastructure is experiencing solid growth, particularly in the business and enterprise segments. But expectations are pretty high ahead of the earnings release, with estimates for earnings, revenues and guidance near the high end of the Street forecasts. With that being said, VMware is vulnerable to any missteps, particularly with the shares trading at nearly 30x forward earnings, 9x sales, and a FWD PEG ratio of 2.4. Note that short interest has also been creeping higher - an indication that any downside could be limited on a weak report.
DISCLAIMER: By using this report, you acknowledge that Selerity, Inc. is in no way liable for losses or gains arising out of commentary, analysis and or data in this report. Your investment decisions and recommendations are made entirely at your discretion. Selerity does not own securities in companies that they write about, is not an investment adviser, and the content contained herein is not an endorsement to buy or sell any securities. No content published as part of this report constitutes a recommendation that any particular investment, security, portfolio of securities, transaction or investment strategy is suitable for any specific person.
Disclosure: I have no positions in any stocks mentioned, and no plans to initiate any positions within the next 72 hours. I wrote this article myself, and it expresses my own opinions. I am not receiving compensation for it (other than from Seeking Alpha). I have no business relationship with any company whose stock is mentioned in this article.