For some stocks everything goes right, and stock prices rise in a straight line. For others everything seems to go wrong for a short period of time, and investors lose faith in the stock. In some cases this loss of faith is justified. In other cases the loss of faith is an artifact of the media storms surrounding the bad news. The latter seems to be the case for Gold Resource Corp. (NYSEMKT:GORO). This means that an astute investor can pick up a great company at a greatly reduced price. This is what you should do with Gold Resource Corp.
What problems has Gold Resource Corp. had? It has strongly implied (if not stated) that its main ore concentrate buyer was altering its delivered ore for many months (effectively stealing). The concentrate sampling at the buyer did not match the concentrate sampling at the mine for many quarters in 2012. Once GORO instituted a guard for the concentrate at the buyer's warehouse until after the sampling, the problem disappeared. Without sufficient proof of what happened GORO settled for the months in dispute. GORO now believes the problem has effectively been resolved.
GORO has had problems with excess water in its underground mine (La Arista vein) when certain cuts opened up watercourses. This disrupted development in Q2 2012. However, the company has dealt effectively with the water problems it encountered. Plus it has made adjustments such as new pumping stations to make future disruptions much less likely and less disruptive. The company asserts that if you mine below a water table, you will inevitably encounter some water problems.
GORO had a problem with CO2 gas. It is not poisonous, but it does displace oxygen. This makes the air in the mine much less breathable. The company has made adjustments to provide much more ventilation to the surface and/or to higher levels in the mine. It is now down to level 13 in the La Arista vein. On October 30, 2012 two new 120,000CFM exhaust fans went into operation. Plus the company fully intends to incorporate air quality issues in lower layers more fully into its planning of future development.
GORO has also had a problem with dilution of its mined vein ore with what is essentially extraneous material such as dirt. This meant the ore taken to the mill had lower concentrations of the desired metals such as gold, silver, copper, zinc, and lead in it. This effectively made the milling process slower and less cost efficient. GORO believes it has addressed this problem to a large degree with new hires. GORO hired a new COO, Rick Irvine, in March 2012. It hired a new General Manager, Jesus Rivera, on October 18, 2012. It hired a new Vice President of Exploration with 31 years of industry experience, Barry Devlin as of January 5, 2013. The improved management has already made significant headway on the dilution problem. It expects to make even more with the arrival of Barry Devlin.
GORO's main production mine currently is the El Aguila. The La Arista vein is the main vein in this mine. It has five other exploration mines in a 48 kilometer mineralized structure corridor over 200 square miles: El Rey, Alta Gracia, Las Margaritas, El Chamizo, and Solaga (this last is away from the corridor). These mines are all in the state of Oaxaca, Mexico.
On January 8, 2013, GORO announced preliminary Q4 2012 production of 90,432 AuEq ounces. This was an approximate 37% increase in production over FY2011. GORO set its 2013 production outlook at 80,000 to 100,000 AuEq ounces. This would be an 11% increase in production over FY2013 production on the high end of the range. Since GORO produced 23,783 AuEq ounces in Q4 2012, logic says it may well produce more than 100,000 AuEq ounces in FY2013. After the problems encountered in 2012, it is likely GORO wants to be ultra-conservative in its forecast(s) for FY2013. Otherwise it could leave itself open to lawsuits. It is already facing some over 2012 problems. One might reasonably expect the FY2013 forecast to rise as the year goes on (and a significant amount of AuEq has already been produced). Also the planned floatation mill expansion to 1,500 tonnes per day throughput capacity may result in some delays during the year. Mill production may have to be stopped at some phases. Still this does mean eventual growth. Plus the company would not be undertaking the expansion at this time if considerable expansion of production were not a sure thing.
Also on January 8, 2013 GORO reported high grade Las Margaritas drill intercepts. These returned 2.85 meters of 27.90 grams/tonne of gold and 2600 grams/tonne of silver. The Las Margaritas property was historically mined before 1910 with great success. Some ores reached a value of 18,000 ounces of silver to the ton. Since this mine has been dormant following 1910, many expect it to yield great results with modern mining techniques, which may also go much deeper. GORO believes it has a whole 48 kilometer long corridor of great deposits from El Aguila to El Rey.
Some of the vein intercepts from the El Rey property are:
1 m of 132.5 g/tonne of Au.
1.4 m of 55.3 g/tonne of Au.
9 m of 19.4 g/tonne of Au.
1 m of 66.4 g/tonne of Au.
1 m of 31.8 g/tonne of Au.
1 m of 30.3 g/tonne of Au.
1 m of 29.1 g/tonne of Au.
1 m of 23.7 g/tonne of Au.
Some Alta Gracia results include:
#101814 0.4 m 2590 g/tonne of silver and 4.75 g/tonne of gold.
#101815 1.2 m 604 g/tonne of silver and 1.32 g/tonne of gold.
#101817 0.3 m 431 g/tonne of silver and 1.08 g/tonne of gold.
#101820 0.3 m 801 g/tonne of silver and 1.69 g/tonne of gold.
#101828 0.5 m 356 g/tonne of silver and 0.39 g/tonne of gold.
#101837 1.0 m 287 g/tonne of silver and 2.08 g/tonne of gold.
#101841 0.3 m 560 g/tonne of silver and 0.36 g/tonne of gold.
#101793 0.3 m 926 g/tonne of silver and 2.10 g/tonne of gold.
Some of the El Aquila (La Arista vein) samples are in the table below.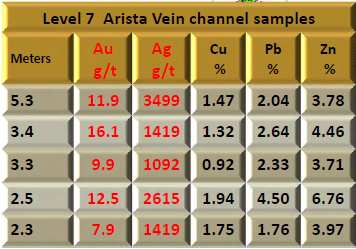 The La Arista deposit currently covers approximately 500 meters of strike and approximately 500 meters of depth. However, the company is continually finding further deposits in the area. GORO has substantial mines.
Many investors are concerned with the cost of mining gold and silver. With all of the problems GORO encountered in 2012, one might expect this cost to be high for GORO. The opposite is actually true. The chart below shows a comparison of GORO's cost per gold equivalent ounce for Q1-Q3 in 2012 to the industry average.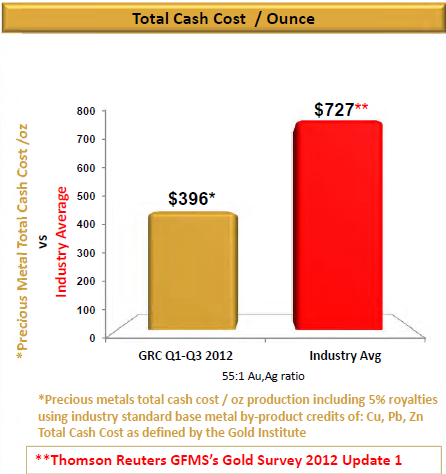 The charts below show GORO's revenue distribution and growth forecast for the next several years. As you can see, the company still expects to grow relatively quickly. With its cost structure this should mean great profits.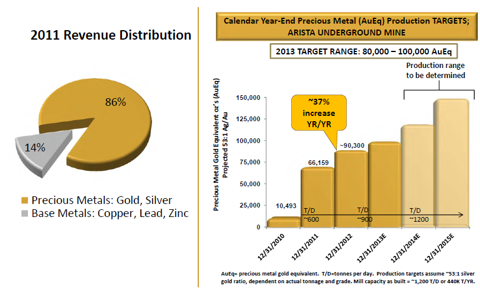 Click to enlarge
The growth figures could easily be much higher than those given. The company is likely being overly cautious after the problems in 2012. The approximate silver to gold ratio is assumed to be 53:1.
There is also the worry that the price of gold may go down, or the price of gold relative to silver may change dramatically. This is likely not much of a worry. The trend over the last 20 years has been for silver to gain in value relative to gold (see chart below).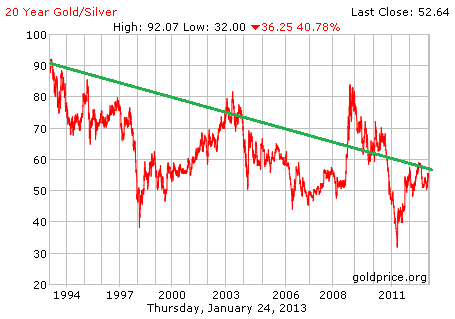 As you can see from some of the mining core samples listed above, GORO produces far more silver than gold. It should benefit if silver gains relative to gold. GoldCore recent data show that many investors seem to be turning from gold to silver. Silver has been going up dramatically recently. The holdings of the iShares Silver Trust are up 604.9 tonnes this year as of January 22, 2013 (nearly +6%). As of January 22, 2013, silver prices had risen 6% year to date. In contrast the SPDR Gold Trust holdings have seen an outflow of nearly 15 tonnes over the same period.
The US Mint has sold out of 2013 American Eagle silver coins. HSBC alone bought $876 of silver. Analysts' say Chinese investors' interest in silver is continuing to rise. Many are looking to silver as a cheaper alternative to gold. Silver imports in China were 228 tonnes in December 2012. The Indian government imposed new taxes on gold in 2012 to try to curb its importation. Gold importation accounts for a significant part of India's trade deficit. Rumors say the government may increase taxes on gold importation further in 2013. In any case, some investors are bound to prefer to invest in a material that is not subject to a surtax.
All this is extremely bullish for silver. Plus don't forget that many central banks worldwide are pursuing easy money policies. The US Fed alone is buying $40B/month in MBS (QE3) and $45B/month in long term Treasuries (QE4). The BOJ and the ECB are pursuing similar tacks. This is highly inflationary behavior. With GORO's huge silver production (and gold equivalent production), this situation is extremely bullish for GORO.
The two year chart of GORO provides some technical direction for this trade.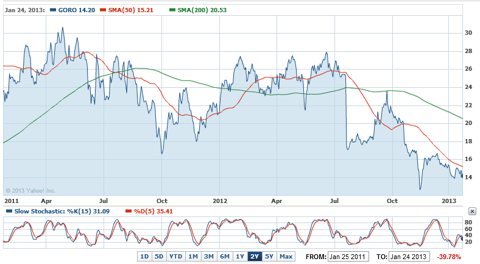 Click to enlarge
The slow stochastic sub chart shows that GORO is near oversold levels. The main chart shows that it is in a strong downtrend. After its preliminary Q4 production results and its latest drilling results, this trend is likely to reverse soon (if not immediately). With GORO's huge percentage of silver production, rising silver prices have to be fundamentally bullish for GORO. GORO trades at a reasonable PE of 12.90. It pays a terrific 5.07% dividend (from about one third of its revenues), which is high for a mining stock. Plus the average analyst forecasts GORO to grow EPS by 63.60% in FY2013.
If you look closely at GORO's holdings, you realize that good growth could go on for a long time. GORO is a buy. The average analyst rates it 2.5 (a marginal buy). This recommendation seems likely to improve in 2013. In this case, I think you have to realize the bad news is far overblown. Now is a good time to get in. If you are worried about a downturn in the overall market due to US austerity, you may wish to average into a position over the course of 2013.
NOTE: Some of the fundamental financial information above is from Yahoo Finance.
Good luck trading.
Disclosure: I have no positions in any stocks mentioned, but may initiate a long position in GORO over the next 72 hours. I wrote this article myself, and it expresses my own opinions. I am not receiving compensation for it (other than from Seeking Alpha). I have no business relationship with any company whose stock is mentioned in this article.