Netflix (NASDAQ:NFLX) rallied more than 40% on Thursday after posting better than expected results on Wednesday afternoon. Shares hit a new 52-week high above $149 before retreating slightly to close at $146.86. Friday morning, Netflix continued to rally, hitting a new intraday high at $167.77. On the whole, Netflix's Q4 results were very solid. The domestic streaming subscriber base grew to 27.1 million (roughly 2 million net adds), and the international business also grew rapidly with 1.8 million net adds. Perhaps most impressive from an investors' perspective, the domestic streaming contribution margin grew by 210 basis points sequentially, to 18.5%, well ahead of projections. This was fairly surprising, insofar as sequential margin growth had slowed to 80 basis points in Q3. I had previously projected that streaming contribution margins would top out near 20%, but it now looks like they can go higher, perhaps to 25%.
Nevertheless, the stock still seems vastly overpriced after its remarkable run from 52-week lows below $55 in late September. Streaming costs will continue to increase, with current content liabilities up nearly 50% year-over-year. Meanwhile, rising competition and market saturation will make it increasingly difficult for Netflix to maintain strong domestic streaming subscriber growth. Netflix has been very aggressive with free trials recently (the number of free trial customers increased in all three business units last quarter), but ultimately it will need to convince those users to pay up. Lastly, the streaming business is very different from the now-dying DVD business, and provides Netflix with a much smaller moat. All of these factors point to the new Netflix bubble being short-lived.
Rising Competition in the U.S.
With 27.1 million U.S. streaming subscribers, Netflix's market penetration is already fairly high. That's roughly 9% of the U.S. population, but many Netflix accounts are held by households with more than one person. According to the Census Bureau, there are 115 million households in the U.S.; by that measure, Netflix's U.S. market penetration is already nearly 25%. There is certainly still room to grow, but as Netflix passes the 30 million mark next year and begins to approach 40 million U.S. subscribers, the company's high market penetration will become a liability in terms of future growth.
This is exacerbated by the arrival of various new competitors. Netflix's biggest competitor for the past year or two has been Amazon.com's (NASDAQ:AMZN) Prime Instant Video service. Amazon underprices Netflix's $96 annual cost at $79/year ($39/year for students) and also offers free 2-day shipping on physical goods and other benefits as part of the subscription. While Amazon still has less streaming content than Netflix, it is rapidly closing the gap, and adding its own exclusive programming. Given that Amazon is investing heavily in content, it seems very likely that the company will make a strong push to grow the Prime subscriber base in 2013 and beyond. This poses a significant risk to Netflix's future growth. Moreover, with Amazon competing for exclusive content, Netflix is likely to face continued cost pressure.
Furthermore, Redbox Instant, a joint venture between Coinstar (NASDAQ:CSTR) and Verizon (NYSE:VZ), will soon launch after going into beta testing recently. While initial reviews of the service were mixed at best, the service will probably be superior to Netflix for customers primarily interested in new release movies. The streaming library will be geared more towards this type of user, and the $8/month subscription will include 4 credits for DVD rentals at Redbox kiosks. AT&T (NYSE:T) is also launching a low-cost streaming service, although for now it is only designed for its own U-Verse customers.
None of these services holds a trump card over Netflix. But they each have various advantages (including options that are cheaper than Netflix's $7.99/month flat rate). The combination of heavier competition and increasing market penetration will make it hard for Netflix to maintain its 2012 level of streaming growth in the U.S.
What's the Netflix Advantage in Streaming?
More troubling than the existence of new competitors is that Netflix has no real moat in the streaming business. Netflix's DVD business rapidly overcame Blockbuster and other movie rental chains because of its unparalleled selection of roughly 100,000 titles and competitive price. For whatever you wanted to watch, you could get it from Netflix; this made a Netflix subscription a great value for movie buffs.
By contrast, Netflix has been very selective recently in terms of buying streaming content. This has included allowing some content deals to lapse, while adding new content at a slower pace. Netflix's management argues that it is fine for the company to have gaps in its content library, as long as it has content that subscribers want (particularly exclusive content). In the Q4 letter to shareholders, Netflix's management pointed out that of its top 100 movies and top 100 TV shows (by viewer popularity), most were not offered by Netflix competitors. The company provided the following graphic: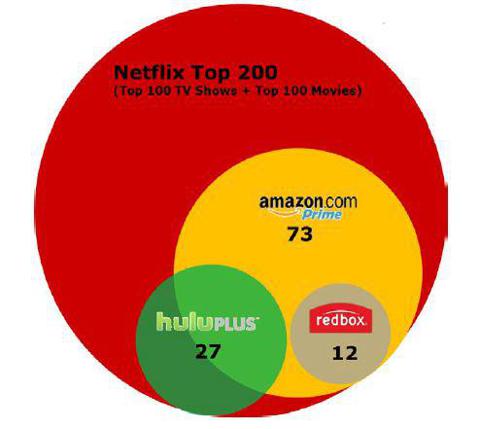 However, offering more content or different content than competitors is not the same as having a comprehensive content library. This is the key reason why Netflix does not have the same kind of moat in streaming as it does in the DVD business. If no service offers a comprehensive streaming catalog, many price-sensitive customers (i.e. those who cannot afford to subscribe to every service) will gravitate towards the lowest-cost options. After all, each major video service (I'm excluding AT&T here) has enough content that pretty much anybody can find something to watch.
Netflix can try to combat this problem by paying up for exclusive rights to a few movies and TV shows that it thinks customers "need to have." Still, since Netflix (like its competitors) has many gaps in its streaming library, people who just want to find "something to watch" have no particular reason to choose Netflix over another service. This is a very different situation than in the DVD segment, where Netflix really could be a first and last stop for content.
Conclusion
While Netflix produced a solid performance in Q4, the competitive environment is still heating up. Netflix faces a paradox where it can't afford a comprehensive streaming library, but it cannot differentiate itself well from competitors when every service has its own strengths and weaknesses. With two major competitors offering additional value beyond streaming (free shipping for Amazon Prime, free DVD rentals for Redbox Instant), Netflix subscriber growth is likely to drop off in the next year or two. With the company trading at more than 2X sales despite tiny margins, Netflix is ripe for another crash in 2013. I see the stock as a good short candidate for risk-tolerant investors, once the current rally peters out.
Disclosure: I am short NFLX, AMZN. I wrote this article myself, and it expresses my own opinions. I am not receiving compensation for it (other than from Seeking Alpha). I have no business relationship with any company whose stock is mentioned in this article.