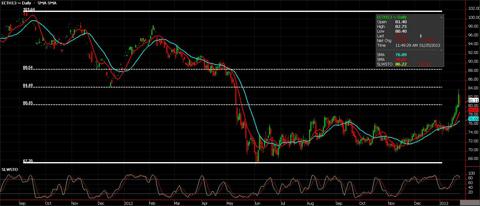 Whenever a commodity market moves this much and I'm not in it with clients, it is frustrating… almost as frustrating as being in the market positioned the wrong way. Cotton prices are higher by 13% in the last 2 weeks and 20% in the last 2 ½ months. When this move got started, I thought we had the potential to fill the gap in the chart from May, see chart above. However, I did not think it would happen in such a short time frame. As seen in the chart of March futures, prices have moved from oversold to overbought, having nearly completed a 50% Fibonacci retracement looking at prices back to early 2012.
I think we are in the 8th or 9th inning of the move, and see limited upside from here. I am waiting for confirmation of an interim top, and have interest in bearish trade with more evidence. I have started to price out both bearish futures and options strategies for clients. Assuming we start to roll over from around these levels, a 50% Fibonacci retracement of the latest leg would put March futures near 76 cents. I am not ruling out fresh lows by late 2013, so look out to longer dated contacts.
Global stocks of cotton are projected to be at an all-time high… nearly 9 months of usage is on hand. On top of that, the stocks/usage number is at an all-time high, even with a significant drop in acreage. It is rumored that it will likely take more than 1 year to ease the burdensome supplies. The fact that prices have appreciated so much creates a great entry to open bearish trades, in my opinion.
Risk Disclaimer: The opinions contained herein are for general information only and not tailored to any specific investor's needs or investment goals. Any opinions expressed in this article are as of the date indicated. Trading futures, options, and Forex involves substantial risk of loss and is not suitable for all investors. Past performance is not necessarily indicative of future results.
Disclosure: I have no positions in any stocks mentioned, and no plans to initiate any positions within the next 72 hours. I wrote this article myself, and it expresses my own opinions. I am not receiving compensation for it. I have no business relationship with any company whose stock is mentioned in this article.