By: Jayson Derrick
Netflix (NASDAQ:NFLX) recently released quarterly results which can be seen here. Strong fundamental performance across all three business segments should solidify Netflix as the biggest winner this earning season. However this does not automatically translate to a buy rating in my opinion. There are still a lot of "grey areas" for Netflix that need to be addressed.
Looking at a SWOT, table the outlook for Netflix is not as positive as a 40% overnight gain usually indicates.
Strengths

Netflix still remains the oldest company in the industry with a loyal subscriber base dating back to 1997.
Netflix is still the largest company in the industry with a content portfolio that is unrivaled.
Simple and easy pricing with no hidden costs or strings attached: All you can watch for $7.99 a month.

Weaknesses

Subscribers can cancel at any time and they have. In October 2011 Netflix announced they lost 800,000 subscribers.
International content is extremely limited when compared to the US library. International deals must be negotiated on a country-specific basis.
Limited financial flexibility: Netflix has always and continues to lack the financial resources to acquire the most meaningful content.
Losses from international operations reported at $105 million.

Opportunities

Netflix can negotiate global content deals to leverage costs.
Netflix can take advantage of low interest rates to raise capital.
Operating margin expansion as business model shifts away from DVD rentals to streaming.
Reduce churn and drive margin expansion.
International market share expansion could drive multiple expansion once breakeven is realized in the UK.

Threats

Higher content costs especially Disney.
Much deeper-pocketed competitors such as Amazon (NASDAQ:AMZN) offering cross promotional materials (free 2 day shipping on all Amazon products and free kindle books).
Studios continue signing with competitors. For example HBO recently signed a deal with Universal which will prevent Netflix customer's enjoying Universal Pictures content for at least the next 10 years.
Domestic business is possibly entering a stabilization phase as the growth profile reaches maturity.
Churn rate can hamper growth.
With that being said I will present the bull, base and bear case for Netflix.
Bull Case: Target price of $200-$220 a share.
Netflix is able to reduce churn and drive incremental subscriber growth by delivering strong original programming and not facing any serious competition. International operation shows promising subscriber growth but still runs breakeven or at small losses. The company is able to increase the price of their services without feeling any backlash. Under this case Netflix can impress investors by showing an EPS of over $6 a share.
Base Case: Target price of $140-$160 a share.
Netflix is able to take advantage of domestic contribution profit due to disciplined content acquisition that provides value. International growth remains strong and bottom line continues to improve but still operates at large losses. Competition heats up from Amazon as Amazon Studio claims a roster of writers that include Daily Show's Kristen Schaal, Kevin Sussman and John Ross from The Big Bang Theory and The Onion's Will Graham and Dan Mirk. EPS will run at a respectful $4 a share.
Bear Case: Target price $80-$90 a share.
Churn continues to hamper growth and Netflix falls behind the financially stronger competition. Netflix continues to lose out on major deals with studios, but Netflix's strategic value alone justifies a price range of $80-$90. EPS will disappoint some shareholders at $2 a share.
My Take: Pricing, Pricing, Pricing!
The big elephant in the room remains Netflix's pricing structure and is making investors and analysts nervous especially when the stock is trading in the mid $100s level. In my previous article on Netflix I explored the cost of the Disney deal and the possibility of raising subscription fees. Many investors believe that Netflix will face significant backlash from consumers if it tries to raise their prices again. I believe on the other hand that Netflix not only can raise their price, the company must do so to continue providing shareholders with a strong return. Netflix should also pick up another output deal, increase its load of original programming and continues to offer the deepest catalog of serialized TV drama. The company should be able to claim that their content portfolio is on par if not better than premium cable channels. Price increases will be justified because the consumer is getting more content on virtually any electronic device from cell phone to computer without being tethered to a cable or satellite subscription.
A modest 50 cent increase a year for eight years starting in 2016 when Netflix will begin streaming Disney content can result in $1.8 billion of profit flow-through by the time the full $4 of additional revenue per user is passed through. The incremental revenue will be needed to help cover the cost of the Disney deal which is considered by some a gamble and valued at least $300 million annually. I believe this will be heavily debated for years to come.
Until then, I will remain a very happy Netflix customer catching up on Breaking Bad and Prison Break. However with the extremely rapid appreciation in the share price to ~$140 a share I will certainly pass at the investment opportunity to go long and jump on the NFLX bandwagon. Going short or buying put options is also not on the table for me at this point. There needs to be a "cooling down" period before any new positions can be explored and additional news and announcements from the company are released. Until then I am comfortable sitting on the sidelines waiting for an opportunity.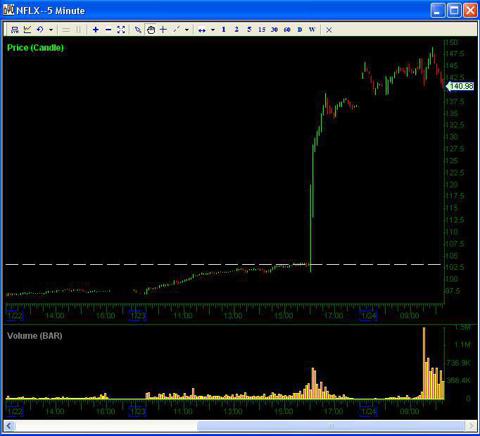 Click to enlarge
Netflix stock up ~40% in one day should be reason enough why I am staying on the sidelines for now.
Disclosure: I have no positions in any stocks mentioned, and no plans to initiate any positions within the next 72 hours. I wrote this article myself, and it expresses my own opinions. I am not receiving compensation for it (other than from Seeking Alpha). I have no business relationship with any company whose stock is mentioned in this article.