Travelzoo (NASDAQ:TZOO) is an internet based company that provides travel and entertainment companies a platform, or the means to reach a wider audience. The company informs its millions of subscribers around the globe on travel and entertainment deals, in addition to offers from local businesses. Travelzoo's primary method of revenue generation is through advertising fees. The company trades on the NASDAQ with a market capitalization of $362.62M and currently has about 15.8M shares outstanding.
On January 24 the company reported its full year and 2012 fourth quarter results, which were followed by an enthusiastic reaction in the company's share price. Closing at $19.21 a share the day before earnings were released, the company's shares propelled on the 24th to close the day at $23.88, a 24.3 percent increase over the prior closing price. This reaction in perplexing as this investor can find nothing in the company's earnings to justify the excessive appreciation in the company's shares.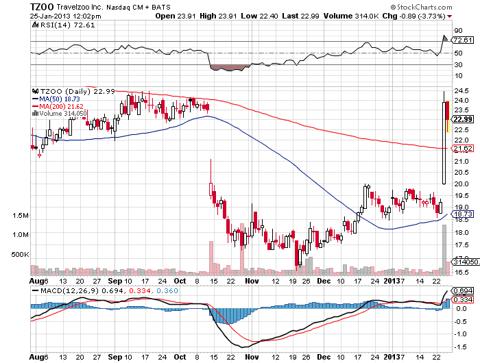 Where did investors find the extremely good news? Was it in the company's revenues?
Fourth quarter revenues came in at $37.028M, a 5.3 percent increase of the same period last year. Similarly, 2012 revenues amounted to $151.168M, a 1.9 percent increase over revenues generated in 2011. Which is it that justified a 24 percent increase in the company's shares, the modest 5 percent fourth quarter revenue growth, or the meager 1.9 percent annual revenue growth? Truth is none justifies the reaction and the lofty valuation the company's shares currently trade for.
Was the reaction justified by the company's earnings perhaps?
Earnings per share in the fourth quarter dropped a whopping 40 percent to $0.24 a share from the same period last year. This was due primarily to higher sales and marketing expenses, which increased 32.8 percent in the quarter. More importantly, full year earnings came in at $1.15 per share, an impressive increase over last year's earnings of $0.20 a share. However, how can it be that the company managed to earn so much, when its top line growth over 2011 was a meager 1.9 percent?
Digging deeper, one will immediately notice a gigantic $20M expense classified as "un-exchanged promotional merger shares" expensed by the company in 2011. This expense skews 2011 and 2012 earnings dramatically, making 2012 earnings per share growth seem sensational. However, when one adjusts net income to this particular expense, keeping income tax constant for simplicity, one will notice that net income actually declined in 2012 from 2011. As the table below illustrates, adjusting net income by this abnormal expense in both 2011 and 2012, respectively; one arrives at a net income of $21.198M for 2012, less than the $23.319M net income of 2011.
| | | |
| --- | --- | --- |
| In millions | 2012 | 2011 |
| Net Income | 18.198 | 3.319 |
| Plus: Un-exchanged promotional merger shares | 3 | 20 |
| Adjusted Net Income | 21.198 | 23.319 |
To conclude, Travelzoo's January 24th earnings report does not justify the 24 percent share price appreciation that followed. Prudent investors that dig deeper into the numbers and ignore the simple and easy to use headline number will understand that the market overreacted to results that are tolerable at best and disappointing when considering the rich multiple the company is trading at. Indeed, the twenty plus price-to-earnings multiple is simply too excessive for a company whose revenues grew a meager 1.9 percent in the past year.
Disclosure: I have no positions in any stocks mentioned, and no plans to initiate any positions within the next 72 hours. I wrote this article myself, and it expresses my own opinions. I am not receiving compensation for it (other than from Seeking Alpha). I have no business relationship with any company whose stock is mentioned in this article.