With the buyout talks of Dell heating up and the rekindling of a potential buyout of Best Buy back on the table, we decided to find out what one of billionaire David Einhorn and Greenlight Capital's top picks has been up since its run in with the LBO markets in 2010. Seagate Technology (STX) rejected a potential buyout in 2010 by private equity firms, claiming that the price was too low. Since the tech company rejected the buyout bid in 2010, the stock has surged 145%, compared to the NASDAQ Index's 25%. Many hedge funds, along with Einhron, have been buying up shares of Seagate, including Jim Simons and Ken Griffin (check out all the hedge funds in love with Seagate).
Billionaire David Einhorn of Greenlight Capital jumped into Seagate during the first quarter of 2011 by buying up 3.2 million shares. At the time he joined fellow billionaire Eddie Lampert of ESL Investments who owned 7.9 million shares. Since then ESL has dumped almost all of its shares, but Einhorn has managed to up his ownership to 16.5 million shares -- almost 5% of Seagate's outstanding shares (check out Lampert's newest picks).
Buyout rejection. Seagate ended the latest buyout talks in 2010, which would have been its second takeover in the last decade. While some analysts thought that the termination of a buyout was no surprise, citing the fact that the industry was in decline and fundamentals would remain weak for the foreseeable future. This has not been the case. After the buyout of Seagate was abandoned, some analysts noted that the future free cash flow for the hard disk drive makers was highly uncertain, where one ThinkEquity analyst estimated the numbers to be $1.2 million annually, an underestimate to say the least.
Lots of cash. In early 2012, Seagate upped its stock buyback plan to an authorized $3.5 billion in an effort to return cash to shareholders. Returning cash to shareholders should continue to be the norm, where the company has already amassed $2.4 billion.
The free cash flow generation by Seagate has been very impressive over the past few years:
| | | | | | |
| --- | --- | --- | --- | --- | --- |
| Seagate ($ in billions) | TTM | 2012 | 2011 | 2010 | 2009 |
| Free Cash Flow | $ 5.33 | $ 2.62 | $ 0.42 | $ 1.29 | $ 0.19 |
Seagate's dividend of $0.38 (quarterly) makes up an earnings payout of only 13%. Going a step further, this $0.38 per share dividend, which his a total payout of $513 million by the company annually, is well covered by the $2.4 billion the company has in cash on hand.
Industry remains in an uptrend. Forbes sees the amount of digital content that needs to be stored as still growing at a robust rate, suggesting a peak in hard disk drive drive being many years away. Coughlin Associates believes the industry still has room to grow, suggesting the demand for hard disks will continue to grow through 2017. This includes the notable rise in disk drive demand for use in mobile devices.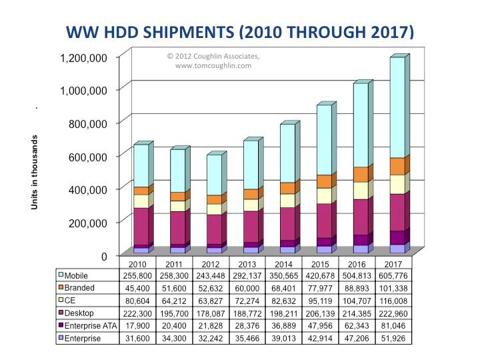 Source: Coughlin Associates, Forbes
Room to move higher. Seagate has been hitting on a number of cylinders and the numbers suggest upside for the stock remains.
Other notable companies operating in the computer parts business includes Western Digital (NASDAQ:WDC), Micron Technology (NASDAQ:MU), SanDisk (NASDAQ:SNDK) and Intel (NASDAQ:INTC). Of these major competitors, Seagate trades near the very bottom on a forward price to earnings basis and the lowest on a price to sales:
| | | | | | |
| --- | --- | --- | --- | --- | --- |
| | Seagate | Western Digital | Micron Technology | SanDisk | Intel |
| Price to Earnings (next year earnings) | 6.2 | 5.8 | 15.7 | 13.8 | 11.7 |
| Price to Operating Cash Flow | 3.55 | 3.88 | 8.59 | 17.20 | 6.12 |
This low valuation versus other major tech peers is low in my opinion. The other companies have much more exposure to the declining PC industry and do not as robust industry drivers, where even Gartner expects worldwide HDD shipments to grow at a 5.1% compound annual growth rate from 2011 through 2016.
Although 2013 might be a down year for Seagate, as it continues to feel the pressure of a struggling global economy and weak IT spending, 2014 is expected to rebound nicely:
Seagate

2012A

2013E

2014E

Earnings

(per share)

$ 6.75

$ 5.22

$ 5.43

Revenue

($ in billions)

$ 14.90

$ 14.20

$ 13.70
I believe that Seagate could easily see multiples expansion, namely its price to earnings ratio, thanks to market share gains and higher expected prices. The flooding in Thailand had little impact on Seagate, but strained Western Digital and Toshiba's manufacturing capabilities, allowing Seagate to capture more of the market. Seagate also snapped up Samsung's hard disk business in late-2011, which has been expected to expand Seagate's production capacity by as much as 33%.
Also driving top line growth should be a return to higher prices in the hard disk drive market, where IHS iSuppli believes pricing should reach pre-flood levels in 2014.
Applying the peer average forward price to earnings ratio from above to Seagate's 2014 expected earnings offers investor's the following:
| | |
| --- | --- |
| Peer Average (forward P/E) | 11.75 |
| 2014 (Jun.) Target Price | $ 63.80 |
| Current Stock Price | $ 36.60 |
| Total Potential Upside | 74% |
| Annualized Return | 47% |
The suggested gross undervaluing of Seagate shares does not account for its 4% plus dividend yield or potential share buybacks.
In stacking Seagate up against its top competitor Western Digital, we still find significant value opportunities in Seagate shares:
Western Digital is trading at an EV/EBITDA (enterprise value to EBITDA) multiple of 3.8, compared to Seagate's 2.75. Assuming Seagate should trade more in line with Western Digital's 3.8, the stock could be undervalued by as much as 25%. Billionaire activist investor David Einhorn increased his stake by 60% during the second quarter last year, giving another boost of confidence to the company (check out all of Einhorn's top picks).
Disclosure: I have no positions in any stocks mentioned, and no plans to initiate any positions within the next 72 hours. I wrote this article myself, and it expresses my own opinions. I am not receiving compensation for it (other than from Seeking Alpha). I have no business relationship with any company whose stock is mentioned in this article.