Apple (NASDAQ:AAPL) shares hit a peak of $700 in September 2012, valuing the company at close to $660 billion. Since then, Apple has lost 35% of its value or about $230 billion, more than the entire worth of Chevron (NYSE:CVX), the second largest American oil concern.
Analysts believe that Apple is losing the screen-size war with demand moving away from the iPhone's 3.5 inch and 4 inch screens to screens of 5 inches offered by rivals such as Samsung (OTC:SSNLF), HTC (OTC:HTCKF) and Nokia (NYSE:NOK).
One of the main casualties of the screen war is Cirrus Logic (NASDAQ:CRUS), a developer of semiconductor components that lost over $1.2 billion of its peak 2012 value, more than $200 million just on Thursday as Apple shares got hammered.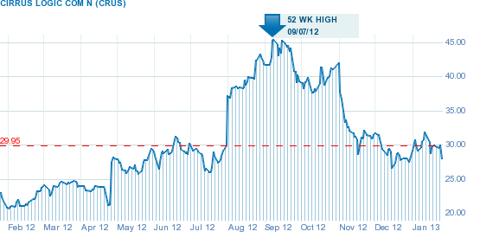 Apple is one of the largest purchasers of semiconductors. It consumes 10% of worldwide content, an impressive $30 billion out of the industry's $300 billion plus sold every year. So it is no surprise that Apple's troubles impact the semiconductor chip sector.
Cirrus, a developer of largely proprietary semiconductor components and a recognized leader in analog and mixed-signal audio converter and audio digital signal processing (DSP) products, has been identified as having the largest exposure to Apple, with an estimated 72% of its calendar 2012 revenue derived from the iPhone maker.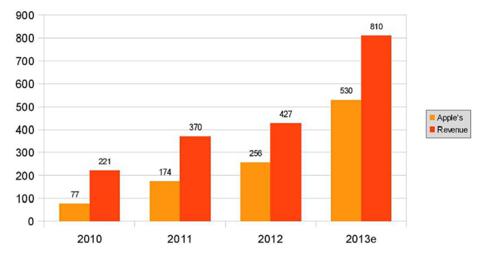 Data are for Cirrus fiscal years which end in March. Mid-year guidance for 2013. Sources of Apple's share are Cirrus' annual reports for fiscal 2010 - 2012 / eReports estimates for fiscal 2013.
According to Cirrus, Apple purchased through multiple contract manufacturers approximately 35%, 47% and 62% of its components during fiscal years 2010, 2011 and 2012.
During the six month period between April 1st 2012 and September 30th 2012 (Cirrus fiscal 2013 half year), the company generated $293 million, of which an estimated $210 million was accounted for by Apple purchases.
Cirrus started to push catalog products to diversify its customer base starting October 2012 and our analysts estimate that Apple's share might stand at 65% for full fiscal 2013.
Cirrus is one of the pioneers of fabless manufacturing. It designs and markets its patented components and semiconductor chips but does not manufacture them. Instead it out-sources all the fabrication to specialized semiconductor foundries, typically in China.
The company has less than 640 full-time employees, 54% in research and development, 34% in sales, marketing and general administration and only 12% are engaged in manufacturing-related activities.
So Cirrus is definitely resilient and can, relatively speaking, weather the storm. Its sales, which are made primarily pursuant to short-term purchase orders from its customers, are frequently revised.
According to Cirrus, customers typically request delivery in six to ten weeks. So backlog analysis gives little indication of its future business, except on a short-term basis, typically two or three months. So inventory is not a major issue.
Furthermore, Cirrus has virtually no debt, plenty of cash, $148 million at calendar year end, and in November 2012, Cirrus authorized the repurchase of up to $200 million of its shares.
I believe Cirrus is a solid investment, hold on to it and have a Cigar. If you're wild at heart, the company might be in play and, at current valuation, makes a great acquisition candidate for one of the larger semiconductor manufacturers, or even for Apple itself in a defensive move to protect its supply chain and consolidate all those Cirrus patents.
Disclosure: I have no positions in any stocks mentioned, and no plans to initiate any positions within the next 72 hours. I wrote this article myself, and it expresses my own opinions. I am not receiving compensation for it (other than from Seeking Alpha). I have no business relationship with any company whose stock is mentioned in this article.