Helmerich & Payne, Inc. (NYSE:HP) is an energy-oriented company engaged in contract drilling, primarily in the U.S. and South America. H&P owns and operates land rigs in the U.S. and in various international locations and offshore platform rigs in the Gulf of Mexico. The Company endeavors to deliver well cost savings to its customers through ongoing improvements and leadership in drilling efficiency and safety. The company reports that as of December 4, 2012, their existing fleet included 290 land rigs in the U.S., 29 international land rigs and 9 offshore platform rigs.
As technology stocks like Hewlett Packard (NYSE:HPQ) and Intel (NASDAQ:INTC) will probably continue to struggle in the near term, it's a good time to take a step back and look at the "other" HP as an investment opportunity. In this article we'll look at HP's past growth, review their estimated growth and Intrinsic Value, and then look at a few key "Sanity Check Metrics" I like to use before making a buy decision.
HP Is Demonstrating Positive Growth and Strong Intrinsic Value
In their FY10, HP had operating revenues of $1.8B, with a gross margin of 42.8%. Their FY2012 ended in September, and reported operating revenues of $3.2B with a gross margin of 44.5%. HP was able to generate a 78% increase in revenue, while also being able to create a 4% increase in operating margin. According to most analyst estimates, this growth with continue this year, with a consensus Y/Y Earnings forecast of 7.5% (courtesy Yahoo). Also of note is that this estimate has been steadily increasing over the past 90 days.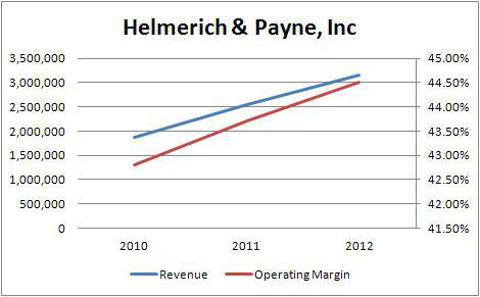 When looking at this future growth from an Intrinsic Value perspective, I like to use the discounted cash flow model to calculate a stock value per share. With the EPS of HP at $5.34, and an average analyst estimate for growth at 7.5% over the next 5 years, I set the future growth rate at 3% thereafter with a discount rate of 12%. I believe this calculation to be conservative, and it yields a stock value per share of $73.43, which is a 20% upside from the current trading valuation. Since the average growth of the company has been in double digits the past few years (28.56% over the past 3 years), HP crossing $70 in the first half of this year is a real possibility.

Also worth of a brief note, is the HP FlexRig Program, which is a company designed and operated drilling rig first deployed 1998. It allows an efficient drilling operation through a computerized design that allows operators to leverage variable frequency drives to precisely control the weight applied to the drill bit, amount of torque and the pressure of the drilling fluid. This advanced design enables productivity efficiencies by being able to quickly drill and then move from well to well. Since inception, this proprietary design has now reached its 5th- generation design, and orders continue to come in from customers due to the drilling capabilities and performance improvements demonstrated. This year the company is scheduled to complete another 8 new FlexRigs under long-term contracts with customers at which time the global land fleet is expected to have a total of 327 land rigs. The long-term customer demand for these FlexRigs will continue to help HP fuel growth and market share, and is a major discriminator in the drilling market.
HP is scheduled to report this quarter's earnings on Jan 31st, and has recently delivered two consecutive positive surprises of 18% and 9% respectively.
Sanity Check Metrics
As habit, I always perform a check of a company's performance against a set of academic-related metrics to determine how rigorously to review financial performance before placing a buy order. While I won't describe the methods used by each, a simple Google search can provide full details of the research performed.
First, I like to check the Piotroski score, which leverages the academic work of University of Chicago Professor Joseph Piotroski. He devised a simple scoring mechanism two measure 9 simple indexes, and give a binary rating against each. His research proposed that firms scoring between 7-9 should typically outperform the market. The HP Score is 7, which is a Pass.
Next, I always review the Altman Z-Score, which is another academic metric based on the work of Edward Altman from NYU. His research creates a scoring mechanism that has been demonstrated to predict company bankruptcy. If a company scores greater than 2.99, they are considered financially safe from distress, while anything under that requires further investigation into the company's viability. The HP score is 4.09, which is a Pass.
Additionally, I like to review the M-Score, an academic metric based on the work of Messod Beneish of Indiana University. This research provides an indicator of risk that Earnings have been manipulated to paint a more favorable picture of performance than should be recognized. An M-Score of less than -2.22 suggests the company is not manipulating earnings and requires no further investigation. The HP score is -2.52, which is a Pass.
Finally, I also check the firm's Dividend History, believing in the Graham model that a strong company should provide a stable, consistent payout to shareholders. In this case, while the yield is currently low (~1%) for HP, the company is easy to analyze by using the outstanding Dividend research done by SA's own David Fish. His U.S. Dividend Champions spreadsheet shows HP has proven itself to be a Dividend Champion, raising dividends consistently for 41 years. In addition, HP's payout is currently only 5%, and on December 4th showed a renewed commitment to its investors by announcing it was more than doubling its payout, which is now set at $0.15 per share (With the next Ex-Dividend date of 2/15/13).

Summary
As this article presents, I believe HP is currently undervalued, and presents a strong investment candidate in the near term. Using the Intrinsic Value of $73.43, a good price target is anywhere under $62.42 (a 15% Margin of safety from the IV).
Data sourced from Yahoo, Morningstar and GuruFocus.com.
Disclosure: I have no positions in any stocks mentioned, but may initiate a long position in HP over the next 72 hours. I wrote this article myself, and it expresses my own opinions. I am not receiving compensation for it (other than from Seeking Alpha). I have no business relationship with any company whose stock is mentioned in this article.
DIsclaimer: I am not a financial professional, and so this article should not be considered financial advice. Please perform your own research before making any investment decisions.