Introduction:
I work for a privately held company that has, in the last 5 years, seen explosive growth in new customers, new revenues, and increasing profits. Sometimes, the company objectives seem to be way out of reach, but we have always set the bar high and the sales force has delivered against the objectives. Our owner is a guy who believes in the cliché "If you don't have a plan, you are planning to fail."
As a commissioned salesman, I sometimes feel that when we get our plan for the New Year, that our owner has "lost his ever-loving mind." However, because every salesman in the company has a mission to meet or exceed, the notion of "having a plan" becomes paramount in any success that each of us will have, moving forward.
Working at this company has forced me to look objectively at my own performance. I will sit down in my office and take the time to go through my prospect base and prioritize those potential customers into a list of customers that I want to add to our customer base.
I am forced, not only to have a plan of attack, but to monitor that plan on a regular basis and be objective as to how well or how poorly I am executing against that plan and then making changes in order to meet my objectives for the year.
The same is true for my investment portfolios. First, I have to have an objective in place. What do I want to accomplish? What are my goals for the next 12 months? Do I want income? Do I want capital gains? Do I want total return? What is my mission, in other words.
Once I've defined my objective (the end result), the next thing I need to do is put a plan into place. How do I plan on accomplishing my objectives and how am I going to go about monitoring my success against those objectives?
What I Know:
The Perfect Portfolio was created to replace income from my mother's laddered CD accounts. As interest rates dropped and the individual CD's matured, our objective was to replace that income stream so that we could supplement her other income to pay for her living expenses.
Since the income that was previously coming from interest was taxable and since we needed income to supplement her cash flow, we opened a taxable brokerage account at Charles Schwab to reinvest the maturing CD's into individual Dividend Growth stocks.
Even though my mom has passed away, the objectives of the portfolio remain the same. The portfolio exists for the purpose of generating income. Income that can be used to supplement my own income from my job that allows me to have extra income to use as opportunities present themselves.
What You Should Know:
The reason we call this portfolio, "The Perfect Portfolio" is rather simple. I believe that there is a "perfect portfolio" for every investor at any given point in time.
Not to long ago, CD's were a very good investment for folks who did not want to have any risk. Rates of 4-6% were readily available and an investor could have easily laddered CD baskets to insure a longer term interest income stream. But, that changed and CD's were no longer a "perfect investment" for the financial situation that existed.
In my opinion, when interest rates are low, stocks are a good place to put your money. When interest rates are high, then stock returns might not be as strong and there are other places to invest. CD's and bonds.
A bond investor who bought at the period of time where interest rates were high has the opportunity to see his bond appreciate in value when interest rates drop. Bonds in that environment tend to be a very good investment choice.
Each of us has our own "perfect portfolio." It is unique to us and it may or may not appeal to someone else. How you find your own "perfect portfolio" is up to you. As an aside, I have a good friend who is investing in residential real estate right now. For him, that is his personal "perfect portfolio." It is not my place to encourage or discourage him. He's an adult and so are you. Your choice of investing strategies has to be unique to you.
How Things Have Worked Out:
In order to fully understand this investment and how it was created, it would help new readers to follow these links to Part One, Part Two, and Part Three of this series.
We had three 100k laddered CD's. As each matured, we invested the 100k into a group of 10 stocks initially. With the second CD, we purchased equal amounts of the same 10 stocks. With the third CD, we added 5 new stocks with initial investments of 10k each and added an additional 5k to each of the original 10 selections.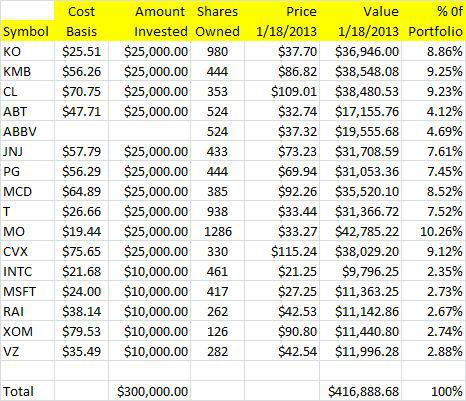 The initial 300k invested has grown to 416k as of January 18th. Dividends were not reinvested. Remember, the purpose of this portfolio was to provide income to replace interest from CD's.
This table shows the dividends received for each position in 2012. Based on my statement from Charles Schwab, I will owe taxes on $14515.92 when I file this year.
If you have a similar issue as I do with this kind of portfolio, filing quarterly tax payments might be a real good idea.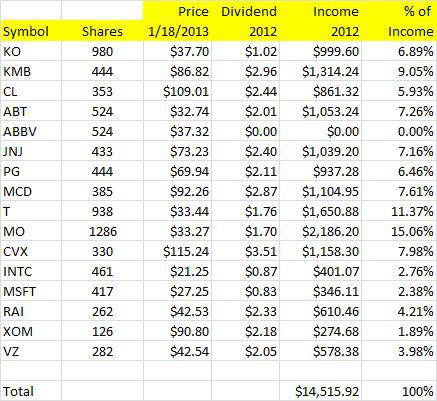 There are a number of reasons why we chose these stocks. As a DG investor, I want to own stocks that have a history of raising dividends on an annual basis and do so at a rate that is larger than inflation.
With this table, I think you can see the Dividend Growth Rates for each of the positions, clearly defined.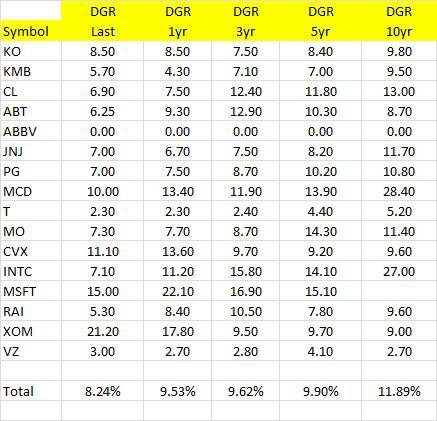 Conclusion:
I anticipate that the stocks currently held in The Perfect Portfolio will increase dividends in the coming months. I believe that our income stream will appreciate from our 2012 results and we will be making some changes in our portfolio, adding new companies to enhance or income stream by paring back on some of our holdings.
That will put us in a capital gain tax situation, but those are the rules of the game. As I approach retirement, this income stream will be used to supplement my Social Security (only two years to go!) as well as our other investments in tax deferred accounts, which I will hold off on taking distributions until age 70.
Disclosure: I am long KO, KMB, CL, ABT, JNJ, PG, MCD, T, MO, CVX, INTC, MSFT, RAI, XOM, VZ, ABBV. I wrote this article myself, and it expresses my own opinions. I am not receiving compensation for it (other than from Seeking Alpha). I have no business relationship with any company whose stock is mentioned in this article.