The news flow has turned negative in the U.S. for the first time since August. This came along with a positive and rather strong performance of the stock market (SP500 up 5.9% over 3 months). The disconnect between the two is clearly visible on the chart below (left).
Over the last few years (late 2011 and late 2012), the slope of the U.S. Treasuries curve (10-year minus 2-year yields) failed to steepen as much as the news flow would have suggested. This can be explained by the non-conventional monetary policy of the Fed. At this point, there is no clear disconnect between the messages sent by the news flow index and the recent changes in the yield curve.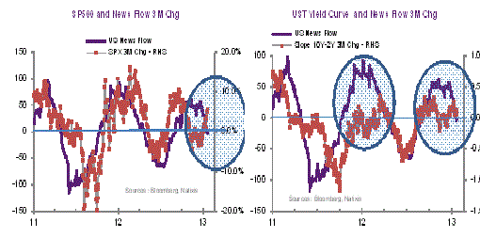 Click to enlarge
The question now is whether we should be wary of a forthcoming correction of stock prices, even though I remain sharply bullish for the year.
Bull/Bear indicators (AAII, % stocks above their 50-day moving average) are getting close to their peaks. However, the ongoing earnings season has been rather upbeat, with positive sales and earnings surprises. On the macro front, data in the U.S. may have been skewed to the downside by the uncertainty surrounding the fiscal cliff, but this seems to have been resolved (at least in the short run, even if the long-term solution has been relegated to the spring).
According to the IMF, 2013's output will be "better but not great," which has already been taken into account by the EPS forwards of the SP 500. As can be seen in the chart below, the global PMI is above 50 (the expansion threshold), and is guiding EPS upwards (note that eurozone PMIs suggest that the rate of decline in activity will ease somewhat in the coming months, and China's PMI has just risen to a two-year high).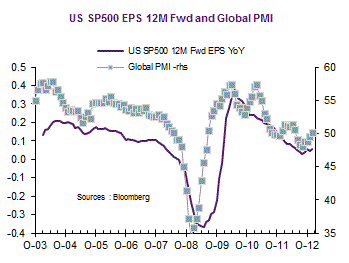 Relative to other asset classes, the U.S. equity market has outperformed the High Yield corporate sector, but the disconnect seen on the chart below does not appear to be a cause for concern.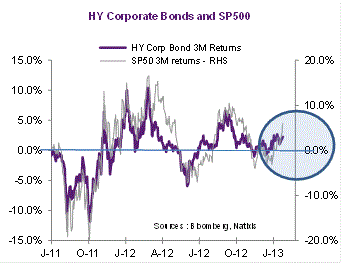 2013 might be the year of the "Great Rotation" from bonds to stocks (valuations remain attractive for stocks), but there will always be some short-term corrections.
Investors might be tempted by a temporary exit (or underweight) of stocks in the short run. I would recommend waiting, for now, as the signal is too weak in comparison with the strength of the current momentum (something confirmed by the technical analysis below: a break above 1515 could bring the SP 500 to 1576 very quickly).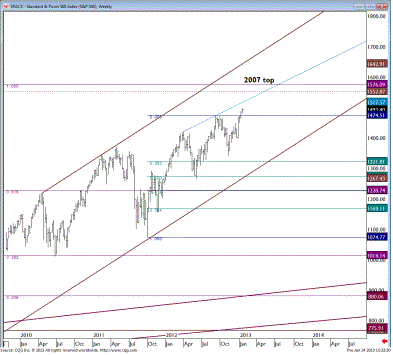 Disclosure: I have no positions in any stocks mentioned, and no plans to initiate any positions within the next 72 hours. I wrote this article myself, and it expresses my own opinions. I am not receiving compensation for it (other than from Seeking Alpha). I have no business relationship with any company whose stock is mentioned in this article.