What a ride it's been for Netflix (NASDAQ:NFLX) this past week. The genesis of the hysteria this past week started on Wednesday after-hours, when Netflix demolished earnings like a ping pong ball being run over by a 50-ton freight locomotive. Netflix posted an EPS of $0.13 and revenues of $945.239 million, crushing estimates of an EPS loss of $0.13.
Netflix offered up the following condensed financial data: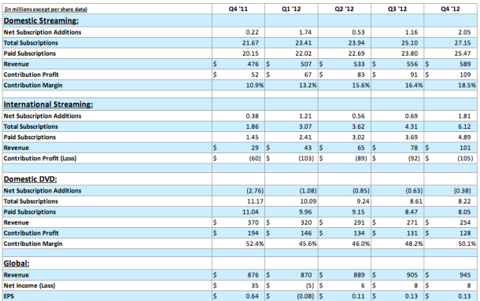 On the heels of that good news, Netflix stock jumped over 40% in after-hours trading and following through the next day. Today, Friday, Netflix is up over 10%, trading around the $165/share area. As Tom Kennedy points out, they're trading at over 30 times peak earnings. See if you can't pick out the slight jump in the six month chart: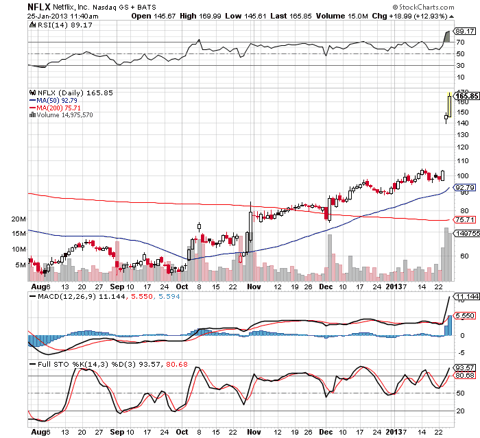 But, haven't we seen this movie before?
I started in on a little research this morning and came up with five serious, concrete reasons to short Netflix right now.
1. Retail buyers are in a buying frenzy.
As an investor, I love playing the opposite trend of the public a lot of times and will often buy on bounce plays and short into a buying panic. While I consider the 40% increase to be alright and somewhat priced in correctly, today's buying is strictly on hysteria and mania. The ask is being systematically mowed down today as retail buyers watched the spike earlier in the week and want to be on the next Netflix gravy train to leave the station. At almost ten times its 22 Day Volume average right now, it's safe to say that the retail buying bubble is getting so big, it's not long before a correction.
This points out a massive short opportunity, sans fundamentals, strictly on a retail correction that could come as early as Monday when funds begin to profit take and short down.
2. While streaming subscribers are up by 2 million, DVD-by-mail subscribers are floundering.
DVD-by-mail subscriptions continue to be a quarterly loss but have been offset by streaming subscription additions. At some point going forward when the streaming market is in the forefront of all media, Netflix is trending towards eventually losing all of its DVD-by-mail subscribers.
Here, from the Netflix 2012 Annual Report:
If subscriptions to our domestic DVD segment decline faster than anticipated, our business could be adversely affected

The number of subscriptions to our DVD-by-mail offering declined significantly following our price change. We anticipate that this decline will continue. We believe, however, that the domestic DVD business will continue to generate significant contribution profit for our business. In addition, we believe that DVD will be a valuable consumer proposition and studio profit center for the next several years, even as DVD sales decline. The contribution profit generated by our domestic DVD business will help provide capital resources to fund losses arising from our growth internationally. To the extent that the rate of decline in our DVD-by-mail business is greater than we anticipate, our business could be adversely affected. Because we are primarily focused on building a global streaming service, the resources allocated to maintaining DVD operations and the level of management focus on our DVD business are limited. To the extent that we experience degradation in service in our DVD-by-mail business, subscribers' satisfaction with our service could be negatively impacted and we could experience an increase in cancellations, which could adversely impact our business.
3. Technical indicators
Love charting or hate it, you have to realize that there is still a good amount of the investing community that does trading based on chart indicators. My two favorites (and the two most commonly used) price trend indicators are the RSI and Full Stochastics. As you can see on the chart above, the RSI is near 90, indicating that Netflix is extremely overbought and has sustained extreme overbuying since earnings. The Full Stochastics below the chart indicate the same sentiment - that the high in price has been sustained and has only one way to correct come first thing Monday morning.
4. Significant increased competition in streaming media
From Apple to Amazon, Hulu to Crackle - everybody is getting into the business of streaming media. The argument could be made that since it's an emerging market, there's plenty of room for growth, but with Netflix having its DVD by mail segment floundering, it absolutely cannot afford increased pressure from other competitors in its streaming media segment.
Again, we'll let Netflix say it best in the 2012 Annual Report under Risk Factors:
If the market segment for consumer paid commercial free Internet streaming of TV shows and movies saturates, our business will be adversely affected.

The market segment for consumer paid commercial free Internet streaming of TV shows and movies has grown significantly. Much of the increasing growth can be attributed to the ability of our subscribers to stream TV shows and movies on their TVs, computers and mobile devices. A decline in our rate of growth could indicate that the market segment for online subscription-based entertainment video is beginning to saturate. While we believe that this segment will continue to grow for the foreseeable future, if this market segment were to saturate, our business would be adversely affected.
5. International operations reported a $105 million loss
Expanding internationally is going to cost money and resources. The question remains about Netflix's international operations. They need to find a way to turn international operations profitable, which they haven't been able to do.
A suggestion would be to work in a different pricing model overseas - one similar to companies like Apple (NASDAQ:AAPL) - where people pay on a per watch basis as opposed to one flat fee. If the user base cannot support that model during growth, international operations remain a liability.
There's a case for going long here, with the great earnings and added subscribers - but there's a difference between panic buying and overvaluing a company and buying it up to its book value. In this case, Netflix is, in this investor's opinion, overvalued and a great quick short opportunity.
Disclosure: I have no positions in any stocks mentioned, and no plans to initiate any positions within the next 72 hours. I wrote this article myself, and it expresses my own opinions. I am not receiving compensation for it (other than from Seeking Alpha). I have no business relationship with any company whose stock is mentioned in this article.