Both major retail book chains weathered the ongoing financial storm, and had solid (if unspectacular) holiday seasons. Barnes & Noble (NYSE: BKS) was the stronger of the two with an increase in monthly spend per customer of 5% from December 2007's $43.87 to $46.18, and an increase of 33% from November's $34.81. Rival Borders (NYSE: BGP) also showed increases from the previous month but was essentially flat from the previous year, gaining 25% from November 2008 and 0.2% from December 2007 to $48.85. Sales data was compiled by Geezeo, for its Main Street Spending Index (MSSI).
click to enlarge image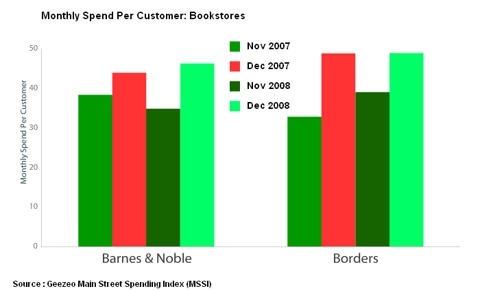 For Barnes & Noble, the increase in spending from November to December was stronger than in the corresponding period one year ago, with a one month increase of 33% compared to 15% in 2007. For Borders, the increase was slightly smaller than last year's exceptional 49% gain.
In these tough economic times people are splurging on less expensive luxuries, like books, which should help Barnes & Noble and Broders in the near future.