The movie Groundhog Day immediately comes to mind when considering today's short data released by the Nasdaq for Sirius XM (NASDAQ:SIRI). For those unfamiliar with the movie, it's about a man who must relive the same day of his life over and over and over again. Repetition at its finest, he's given the opportunity to make small changes and see how they affect the outcomes of each and every day in comparison to the previous ones. The main character learns from failures and attempts alternate paths to get his desired result. Makes sense, and I think it's safe to say that most sane individuals would pursue similar courses of action.
Well, another two weeks have passed and another set of short data numbers have been released. And much like in the movie Groundhog Day it seems that the story here is again the very same as it has been for some time now. Shorts have increased their bets yet again and in such a horribly predictable fashion that I wrote 95% of this article before the data was released.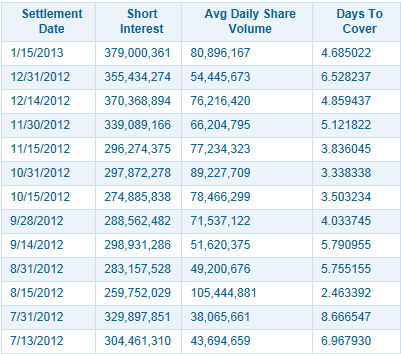 Yet unlike the movie, it seems that the shorts are not learning from their mistakes.
Consider what I wrote many months ago on September 26th 2012. At the time of writing, Liberty Media (NASDAQ:LMCA) had filed several form 4's indicating that it was buying shares of Sirius XM on the open market. At the same time, Sirius XM's share price had increased and on top of this the short interest in Sirius XM had increased in size by 39 million shares sold short. I concluded with the following:
Shorts have sold right into Liberty's hands, and Liberty will not be divesting itself of this position any time soon. Because of this, these shares are not in the hands of traders, and not in the weak hands of retail longs who might sell on a moment's notice. They are, for all intents and purposes, removed from regular trading. That could present a problem for those currently holding short positions, and they may not find suitable prices at which to cover at a profit until the next jump up.
And what happened? Those very same shorts were forced to cover at higher prices. Those very same shorts competed with each other and Liberty Media as Liberty continued its buying spree on its pursuit of control of Sirius XM. The data could not be more clear in the table above. Shorts covered to the tune of 24 million shares on the next leg up through October.

That's covering at a loss no matter how you cut it. The fascinating thing here is at this point it was obvious to anyone who follows Sirius XM that Liberty would be exerting increased buying pressure going forward to the tune of hundreds of millions of dollars worth of stock. Yet not only did shorts provide many of the shares Liberty Media needed, they provided far more than I expected, with the outstanding short interest at the close of the year up by 96 million shares to 370 million. Not only were these shorts now severely underwater, but each and every one of them was subject to paying out $0.05 in a special dividend announced by Sirius XM in September.
And now these 370 million shorts, which is a record high number for the last 12 months for Sirius XM, are facing share prices that seem to be holding quite steady in the $2.90s. In two days, Sirius XM's dividend will hit long's accounts to the tune of hundreds of millions of dollars, and those with similar sentiment to my own will likely use the pay out to buy more shares of Sirius XM. On top of this, 2013 guidance is just around the corner, Sirius XM has secured a new (even if temporary) CEO, auto sales continue to show strength, and a full-year subscriber total for 2012 will be known. That subscriber total I believe will top 2 million net additions for 2012 and shows the strength of demand for the company's product, especially in the same year the company instituted a price increase.
Third time's the charm? Perhaps. While these shorts chose to again cover at higher prices to the tune of 15 million shares recently the current data shows they followed up by increasing short positions to a record high of 379 million shares.
And with Liberty Media's move to control, now holding over a 50% stake in Sirius XM, and Liberty Media's recent purchase of 50 million shares, it seems that once again shorts have sold directly into the strong hands of Liberty Media.
Some may see this data and say "Aha! But now that Liberty is done buying, the buying pressure is gone and shorts may get their chance to cover at much lower prices!" Sorry. I find that unlikely.
You see, Liberty's in control now. Sirius XM has announced a $2 billion share buyback plan, and Liberty has expressed interest in getting the "bait" money back, approximately $1.7 billion worth, on the high basis shares it had to purchase to get control of Sirius XM. Not only should investors expect $2 billion to flow into the stock in the future, but investors should also expect that Liberty will guide a buyback plan to best effect for the share price of Sirius XM, and thus to best effect for Liberty.
With buying pressure set to continue, and with the company performing so well, investors should not ask themselves "What do the shorts know?"
Investors should ask themselves "When are the shorts going to learn?"
Disclosure: I am long SIRI. I wrote this article myself, and it expresses my own opinions. I am not receiving compensation for it (other than from Seeking Alpha). I have no business relationship with any company whose stock is mentioned in this article.
Additional disclosure: I am long SIRI Jan 2014 $2 call options.