During tough economic times, shoppers focus more than ever on finding good deals. Among children's clothing retailers, this tendency has benefited the inexpensive Children's Place (NASDAQ: PLCE) at the expense of their competitors.
While competitor The Gymboree Corporation (NASDAQ: GYMB) has uncharacteristically seen a sharp 38% fall in spending per customer from November to December, Children's Place has seen an increase of 5.5% from $42.43 to $44.66. In addition, they've registered a 2% increase from December 2007 levels, while Gymboree has seen a 14% decrease from $73.15 to $60.74. This data was compiled by Geezeo for their Main Street Spending Index (MSSI).
image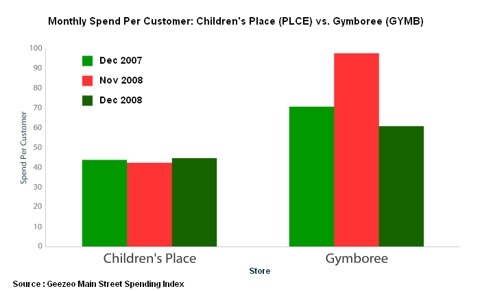 While Gymboree actually outperformed Children's Place in terms of visits per customer, they lost most of their lead over Children's Place in terms of spending per visit. In December 2007, Gymboree customers spent $53.34 on an average visit, while Children's Place customers only spent $38.89. In December 2008, Gymboree had fallen to $43.82, while Children's Place had increased slightly to $39.08.