Google's earnings, reported on Tuesday, resulted in the stock ripping higher by over 5% on Wednesday on some better than expected metrics. Before we look into why, here are some of the important takeaways from the Google (NASDAQ:GOOG) earnings call:
Earnings came in at $10.65 for Q4 2012, a 12% year over year (YOY) increase over last year's $9.50 in Q4.

Revenue grew 36% YOY.

Motorola posted its second quarter of losses, this time at $353 million.

Paid clicks were up 24% in constant currency terms, decelerating from 34% growth in Q4 2011.

Cost Per Click [CPC] was down 4% in constant currency terms. The decline is almost certainly due to a shift into mobile internet use.
Data from Google 2012 Q4 Earnings Conference Call
The stock is up due to the cost per click numbers, which were seen as less of a decline than expected. Wall Steet seems to be reading this as a sign that Google is better monetizing its mobile search, and that Cost Per Click declines have reached an inflection point.
The Deceleration Continues
In my January 8th article, I cited a number of metrics that were declining long-term. The paid clicks increase of 24% year on year shows a continued long-term deceleration, with the previous year's Q4 increase of 34%. Earnings growth deceleration is even more marked. Updating the data, we can see that earnings growth is still slowing.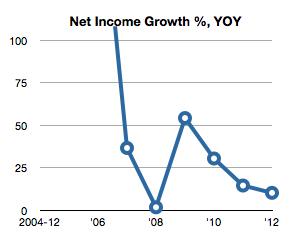 Data from Morningstar
I also looked at the long-term decline in Asset Turnover, Return on Assets and Return on Invested Capital. Although the data for those figures have yet to be compiled, these trends have almost certainly followed net income growth in its downward trend. And while Google has only limited disclosure for business unit performance, I cited a number of factors that could be dragging metrics down -- these included Android and Chrome.
Daniel Ernst, an analyst for Hudson Square, also sees the declines in profitability from Android and Chrome. Ernst notes that while these products have solidified Google's search dominance, they have also increased the costs of the core business.
In addition to those unprofitable additions, Motorola continues to lose money. In Q4, the loss narrowed to $353 million from the $500 million last quarter, likely due to seasonal strength. Barclay's analyst Anthony DiClemente, concerned about declining revenue and mounting expenses, asked management how long Motorola was expected to post losses.
Giving a typical Google answer, CFO Patrick Pichette tangoed around the question, but said Google was still working through Motorola's 12-18 month legacy pipeline. Does that mean they expect Motorola to start turning profits in 12-18 months? Nobody really knows. Analyzing a Google call can be like interpreting a Picasso painting.
Sentiment Or Substance
Google shares have jumped since the earnings announcement on the one "less bad" Cost Per Click number. Many apparently see it as mobile ceasing to ravage the CPC numbers. Frankly, I'm confounded by the move upward. Though Google's stock price declined to below $700 briefly, it is now at $754, about $30 above where I sold it.
In my previous article, I called Google stock "frothy" in an implication that it was over-owned. Judging by the price action, I might have been wrong on that. Time will tell whether these levels are a rebound from a $690s trough, or if expectations of a turnaround in the core business are too exuberant.
Please stay tuned. Google is a business that I follow closely, and I intend on providing update articles when meaningful changes like this one occur.
Disclosure: I have no positions in any stocks mentioned, and no plans to initiate any positions within the next 72 hours. I wrote this article myself, and it expresses my own opinions. I am not receiving compensation for it (other than from Seeking Alpha). I have no business relationship with any company whose stock is mentioned in this article.